DragonImages - Fotolia
Plantronics releases USB video system for huddle rooms
The new Polycom Studio from Plantronics is a USB video system for huddle rooms. Research released this week shows USB cameras are the fastest-growing segment of the video conferencing market.
Plantronics is targeting small meeting rooms, or huddle rooms, with a new all-in-one USB video system, Polycom Studio. Businesses are increasingly deploying that type of hardware as a cheaper alternative to codec-based room systems.
Polycom Studio connects to computers -- whether a user's laptop or dedicated room device -- via USB cord. The equipment includes a 4K high-definition camera, audio speakers and a microphone.
Polycom, which was acquired by Plantronics last year, already makes a room system for huddle rooms, RealPresence Group 310. Unlike Polycom Studio, that offering includes a video codec as a separate piece of hardware from the camera.
Codec-based room systems offer more consistent and reliable audio and video experiences, but are less flexible and more expensive than USB-based systems. Polycom Studio will be compatible with any online meeting platform, including Zoom, BlueJeans, Cisco Webex and Microsoft Teams.
Polycom Studio offers several advanced features that set it apart from competing, similarly priced products, such as active speaker tracking and background noise suppression, said Rob Arnold, analyst at Frost & Sullivan.
Unlike many USB video systems, Polycom Studio can wirelessly connect to a company's network, so IT administrators can manage its software and settings.
The market for relatively inexpensive collaboration technology for huddle rooms has matured significantly over the past year. Businesses can now choose between USB cameras, like Polycom Studio; room systems, like Cisco Webex Room Kit Mini; and wireless sharing devices, like Lifesize Share.
Polycom Studio will begin shipping around the end of February, at a suggested retail price of $949.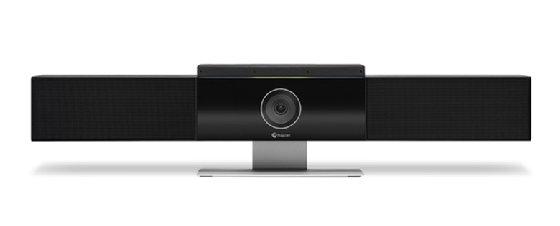 Plantronics USB video system follows market trend
USB-based video rooms are the fastest-growing segment of the video conferencing market, which is projected to reach $6 billion globally in 2019, according to data released this week by Synergy Research Group, based in Reno, Nev.
Revenue from the sale of USB cameras grew by 43% in 2018, compared to 17% growth in the video conferencing market overall, the firm said. Between 2016 and 2018, the percentage of video-equipped meeting rooms that rely on USB cameras increased from 5% to 20%, while the share of codec-based room systems decreased from 90% to 70%.
Last year, Cisco and Polycom led the market in sales of codec-based room systems, while Logitech and AVer led the market for USB cameras, according to Synergy.
An expansion of video-based collaboration is fueling the demand for USB video systems. More small businesses are investing in video technology, while large companies are expanding video deployments beyond boardrooms, said Jeremy Duke, Synergy's founder and chief analyst.
"It's video conferencing for the masses, as it were," Duke said. "USB conference rooms deliver a business-call video collaboration experience at a compelling and affordable cost, which is easy to use and manage."
Dig Deeper on Video conferencing and visual collaboration