FotolEdhar - Fotolia
Poly Studio X Series natively runs Zoom video app
The Poly Studio X Series will natively run the Zoom video app at launch, with additional partnerships with online meetings vendors planned in the coming months.
SAN JOSE, Calif. -- Poly will release an all-in-one video room system that natively runs Zoom's cloud meetings app. In the coming months, Poly plans to integrate the product -- the Poly Studio X Series -- with video software from Microsoft, BlueJeans, Amazon and Google.
Hardware vendors like Poly and Logitech have traditionally sold room systems that bundle their audio and video devices with third-party computers and tablets to process video and provide a user interface.
Poly's new product combines all of the technology necessary to support a video meeting -- camera, microphone, speaker and codec -- into a single piece of equipment, paired with a Poly-manufactured tablet to perform tasks such as joining a meeting.
At launch in December, the product will natively run Zoom's video conferencing app, but Poly plans to add support for meeting software from other leading cloud video vendors over the next six months. Poly unveiled the Studio X Series at Zoomtopia 2019, Zoom's annual user conference in San Jose, Calif.
The launch of the Studio X series represents a shift in Poly's approach to working with video partners and is perhaps the most significant release for the company since Polycom and Plantronics merged to become Poly earlier this year.
To date, Poly's room systems have varied based on the video software partner for which they were designed, often containing three or four pieces of equipment from at least two vendors.
Poly now offers a single device that will soon natively run the software of multiple video partners, a strategy that should reduce the complexity of its portfolio moving forward.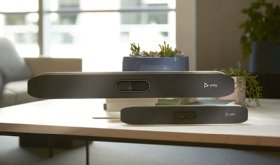 "No one has just one solution, especially a large enterprise. It's really important to have the hardware and the platform … that are going to work across different services," said Blair Pleasant, principal analyst at COMMfusion LLC.
Meanwhile, the Studio X Series should help Poly's software partners, like Zoom, compete with Cisco, whose all-in-one room kits are generally considered easier to deploy and manage because all the software and hardware is made and supported by Cisco.
"When I talk to customers for Zoom Rooms, the satisfaction level is mixed," said Zeus Kerravala, founder of ZK Research. "I think the big advantage Cisco has over Zoom is Cisco's room [system] is 'plug and play.'"
The Studio X Series helps close that gap, Kerravala said.
Poly designed the Studio X 30 for small conference rooms, known as huddle rooms, that fit up to four people. The Studio X 50 can handle midsized conference rooms that fit up to eight people. The larger device can link up with two monitors simultaneously.
The product works with any HDMI-enabled display and can also connect to any video conferencing software compatible with Session Initiation Protocol (SIP) or H.323 standards. It also supports wireless content sharing through Apple Airplay and Microsoft Miracast.
Dig Deeper on Video conferencing and visual collaboration