DragonImages - Fotolia
Logitech Tap meant to simplify meeting room controls
Logitech has released its first advanced meeting room controller, Logitech Tap. The touchscreen device works with web conferring apps from Microsoft, Google and Zoom.
Logitech has released a touchscreen tablet for controlling online meetings in conference rooms. The vendor claims the device will be easier for IT departments to install, and simpler for meeting participants to use, than the control hardware traditionally used in meeting rooms.
Logitech, one of the industry's leading manufacturers of USB cameras for video conferencing, has long shipped its audiovisual (AV) equipment with old-fashioned remote controls. For more advanced meeting room controls, Logitech has sold bundles that rely on consumer devices, such as the Apple iPad and Microsoft Surface Pro.
Logitech Tap, which will be available in the spring, is a blank canvas that web conferencing vendors can program with unique software-based user interfaces. The 10.1-inch, wedge-shaped device ships with USB cables as well as optional wall and table mounts, and has an HDM port for content-sharing.
The new product is more advanced than a remote control, but easier to install and cheaper than an integrated, wall-mounted AV controller. The vendor's challenge will likely be convincing customers the product is worth buying over consumer tablets.
Logitech's argument against consumer tablets in conference rooms includes the following:
They connect to AV systems via Wi-Fi or Bluetooth, which can be unreliable.
They require frequent software updates.
They aren't designed to be always on.
They are attractive to thieves.
In particular, the Surface Pro is too bulky, and first-generation Skype for Business room systems that relied on those devices required too many cables to operate, said Joan Vandermate, head of marketing for Logitech, based in Newark, Calif.
Rob Arnold, analyst at Frost & Sullivan, agreed the product addressed some concerns businesses have about devices traditionally used to control meetings. "It is aligned with the market direction of more choice and flexibility at lower cost," he said.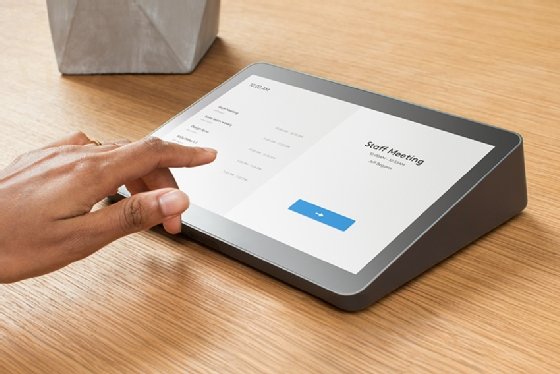 Logitech Tap partners are Microsoft, Google and Zoom
Logitech has partnered with Zoom, Microsoft Skype for Business and Teams, and Google Hangouts Meet in launching the new product. Logitech will sell meeting room systems for small, medium and large conferencing spaces that include AV equipment controlled by the device.
The bundles for Microsoft and Zoom will include Intel NUC computers for running the web conferencing software, while the Google package will ship with Chromeboxes. The Intel-designed NUC, or Next Unit of Computing, is a mini-PC with a 4-by-4-inch motherboard.
Google will only support bundles of Logitech's new meeting room controller that include Logitech's cameras and speakers. Microsoft and Zoom will let businesses connect the controller to certified USB video systems from other vendors.
Many other web conferencing providers are interested in certifying the product, including BlueJeans and Fuze, Vandermate said. Logitech Tap is compatible with any operating system and USB-connected computer.
Dig Deeper on Video conferencing and visual collaboration