Andres Rodriguez - Fotolia
Maximize collaboration with the right huddle room design
Huddle room design is an essential part of creating a good collaborative environment. Learn what equipment options are available for your collaboration spaces.
The age of large conference rooms is waning, as more enterprises redesign their meeting rooms to address changing collaboration habits among employees.
"Enterprises are redesigning office spaces in favor of smaller, more flexible meeting rooms," said IHS Markit analyst Prachi Nema.
These smaller meeting rooms, or huddle rooms, offer a more flexible collaboration environment across smaller, dispersed teams. Huddle rooms, which hold up to six people, have always been in the enterprise, but weren't considered a critical part of increasing employee productivity and collaboration, she said.
Now, huddle room design is changing, as the spaces are becoming more strategic within the organization, and companies need to maximize real estate within the office. Nema said an estimated 30 million to 50 million meeting spaces are huddle rooms, and that number is expected to increase.
Traditional huddle room design would include a table with a few chairs and a monitor for presentation. Huddle rooms lacked the mobile integration and audio/video (AV) functionality of boardrooms and telepresence suites, according to Nema.
"Users aren't expecting a board-level experience," she said in a recent webinar. "What users want is a consistent experience as they move from the desk to these rooms."
To support employee demand, more enterprises are outfitting their huddle rooms with video conferencing equipment. According to IHS Markit data, 75% of organizations are deploying video conferencing gear, and 88% of organizations will deploy video conferencing services by 2020.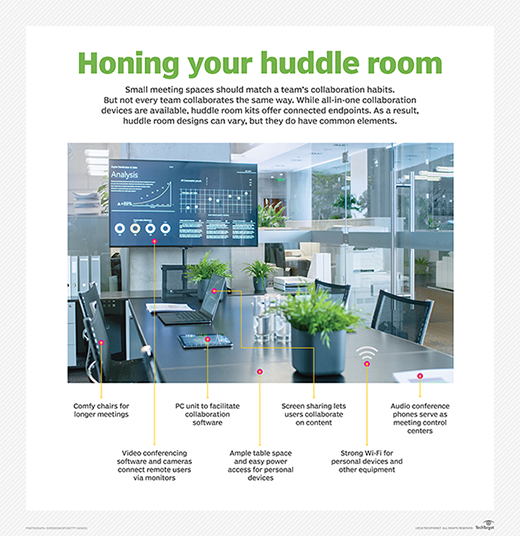 How to find the right huddle room design

Choose video conferencing endpoints. Organizations that want to bring video to their huddle rooms have two video endpoint options: multipurpose room services and USB conference cameras.
Multipurpose room services include single codec video platforms, ranging in price from $3,500 to $10,000. USB conference cameras range from $500 to $1,500 and work with any cloud-based video service, which offers more flexibility across the organization.
"USB conference cameras in conjunction with cloud-based video conferencing are an ideal pair in huddle room settings," Nema said.
Choose a deployment strategy. Once an organization has chosen the video conferencing endpoints for a huddle room, the IT or AV team must decide how to deploy them. Joan Vandermate, head of video collaboration marketing at Logitech, based in Newark, Calif., said organizations have three deployment options from which to choose:
Bring your own PC. IT places a screen on a wall and selects a camera and audio service. Users bring their own PCs to the meeting, connect PCs to the display through an HDMI or USB cable and launch their choice of conferencing app. Vandermate said bring-your-own-PC deployments are more common in small businesses or in organizations testing the video conferencing waters.
Room PC. In addition to providing the display, camera and audio equipment, IT will also equip the huddle room with a mini PC, such as the Intel NUC and HP Elite Slice. Vandermate said IT will load the video conferencing app into the PC and place the PC behind the display. Room PC setups will have some kind of device on the conference table that allows users to launch and control meetings, she said.
Dedicated systems. Some cloud video conferencing vendors partner with AV vendors to offer dedicated meeting room systems, such as Skype Room Systems, Zoom Rooms and Google Hangouts Meeting Room Kit. Dedicated systems include the software from the cloud video conferencing vendor and hardware from the AV vendor. Vandermate said dedicated systems are good for organizations with users who aren't tech-savvy or aren't comfortable with video, because the systems are intuitive and have one-touch join capabilities.
Once organizations select the deployment option, they can start to build out their huddle rooms. Important in huddle room design, organizations should purchase cameras with wide-angle lenses to accommodate the small room size and minimize cable clutter by investing in wireless microphone and presentation services, Vandermate said.