vectorfusionart - stock.adobe.co
Understanding key video conferencing components
Video conferencing is an essential tool for working with a team. Use this glossary to determine which components of video conferencing are best for your business.
Video has become an essential component of doing business. Video conferencing connects users in ways that audio alone can't, providing important visual context and improving productivity. Organizations taking advantage of video conferencing need to know what options exist to create a video conferencing system.
In its early days, video conferencing was a way to connect two conference rooms in the same building. Video conferencing components had limited capabilities and high price tags. In addition, interoperability was a challenge because devices and software from different vendors often didn't work with each other. But video conferencing has matured, and most organizations use some kind of video as part of their unified communications strategy.
Video conferencing is no longer relegated to use in the boardroom only. The number of vendors offering video conferencing components has increased, giving organizations more choice in selecting the best video options for their businesses. This glossary covers the terms you need to know when navigating video vendors' offerings.
Video conferencing delivery models
On-premises video. This delivery model is popular among large companies with security concerns. With an on-premises video conferencing option, all sensitive information is stored within the company's network, which gives IT more control over what information is accessible. An on-premises option requires a large amount of resources -- including dedicated monitoring and management of the video system -- which can drive up costs.
Video as a service. VaaS delivers cloud video conferencing over IP networks. VaaS can be a stand-alone option or used alongside on-premises video equipment. VaaS providers are typically responsible for the maintenance and monitoring of the video system. The lower cost of cloud-based video simplifies deployment, and the cloud provides more scalability. Easy scalability makes VaaS a popular option for organizations with multiple video-enabled rooms.
Components of a video conferencing system
Video conferencing hardware. Hardware refers to the physical components of video conferencing, such as cameras, microphones and speakers. Hardware has evolved from simple but expensive options aimed solely at large conference rooms to more mature offerings for smaller meeting spaces. Cameras now have more capabilities with a lower price point, giving organizations more options when it comes to the hardware that best suits their needs.
Video conferencing software. Software controls the video meeting experience by enabling users to make calls and, sometimes, providing additional capabilities, such as chat and file sharing. As the demands for video conferencing have evolved, the number of vendors offering video conferencing software has risen. Video conferencing software may be offered as a stand-alone product, or it may be built directly into video hardware.
Early on, interoperability between new video software offerings and legacy hardware was a challenge. Now, vendors are beginning to partner to bring customers offerings that blend hardware and software into a single integrated option.
Huddle rooms. Huddle rooms are small rooms intended for use by two to six people. Unlike larger boardrooms meant to disseminate information to large groups, huddle rooms are intended as a space for small groups to collaborate and get work done. Organizations have started adding video conferencing capabilities to theses spaces as employees increasingly need video to collaborate effectively. Because of their size, huddle rooms have different video conferencing needs than a traditional conference room, such as different microphone sensitivity and camera framing.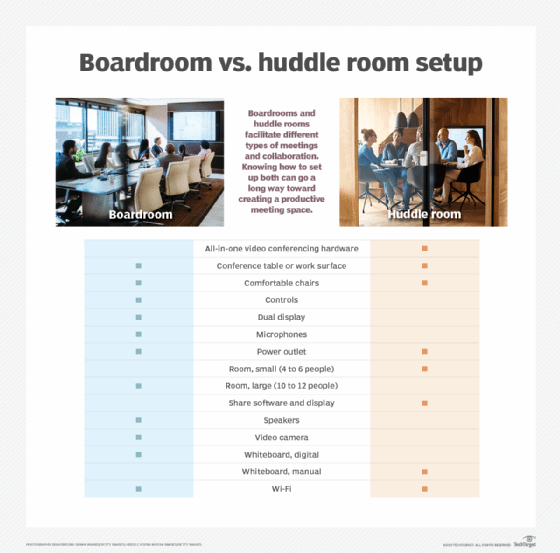 Video room kits. The marriage of video conferencing hardware and software has led vendors to offer video room kits for organizations that need more affordable systems. Kits are often intended for smaller spaces, such as huddle rooms. The components included in a video room kit vary from vendor to vendor but usually include a camera, speaker and microphone in an all-in-one piece of equipment. Video room kits also eliminate potential interoperability issues by providing all the necessary hardware and software.
USB video devices. To handle hardware and software interoperability issues, some vendors offer USB-driven video devices to provide universal compatibility with video software. The device connects to any laptop or control hub using a USB port. Organizations using different video services can benefit from the universal compatibility offered by USB video devices.
Smart cameras. Smart cameras are video cameras with AI capabilities. Unlike traditional video cameras that need to be positioned and operated to change the field of view, the AI in smart cameras can automatically zoom in or out to track active speakers. Some smart cameras can also blur backgrounds, identify objects and count the number of people in a room.
Dig Deeper on Video conferencing and visual collaboration