Fotolia
A collaboration program is essential for effective teamwork
Learn what steps must be taken in order to create effective enterprise team collaboration in an era when IT no longer controls what applications and platforms workers choose to use.
Succeeding in the modern business environment means providing workers with the capabilities they need to easily collaborate both with internal teams and externally with partners, suppliers, and customers. But collaboration isn't monolithic. Employees need access to a wide variety of tools and capabilities that align with their workflows to ensure they can collaborate in the context of their activities as seamlessly as possible. Gone are the days when IT had the power to mandate and control the applications and platforms in use. Thanks to the cloud, freemium delivery models and low-cost hardware, lines of business, workgroups, and individuals will often procure and use the collaboration applications they believe best meet their needs. IT leaders must establish a collaboration program and policy framework that enables this flexibility but also sets ground rules to ensure that tools are secure, manageable, and support governance and compliance requirements.
Collaboration program variations
For an increasing number of organizations, team collaboration applications are becoming the hub for work. Nemertes Research's "Workplace Collaboration: 2019-20 Research Study - Technology Trends" noted that nearly 64% of organizations are now using, or planning to deploy, team collaboration applications. Smaller businesses tend to settle on one companywide app, whereas larger organizations may have two or more apps, often with one enterprise-wide deployment coupled with siloed deployments of other apps within workgroups like application development and sales. This type of collaboration program allows those workgroups to use apps that best integrate into their workstreams.
For example, an Agile application development team may integrate Mattermost or Slack into their build, test and deploy tools, while the organization as a whole relies on Cisco Webex Teams or Microsoft Teams for general collaboration. Those using multiple apps must ensure that any app deployed meets specific requirements for access, encryption and retention of content. Typically, this includes mandating encryption at rest and in transit, single sign-on, and the ability to export and retain messages. Regulated or highly security-sensitive organizations may require further controls like end-to-end encryption or the ability to manage their own encryption keys.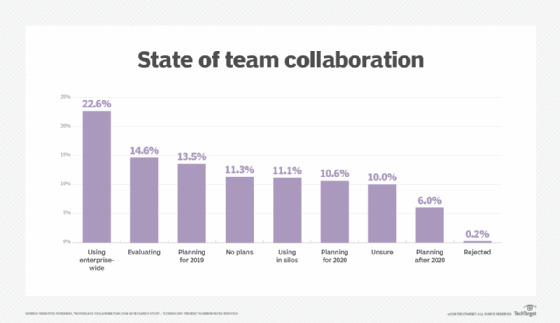 Only about 29% of organizations are adopting team collaboration as their workplace hub, replacing other apps like email and instant messaging to enable collaboration in context within persistent workspaces. Those who have identified demonstrable business value from their collaboration investments -- in the form of reduced costs, improved revenues or streamlined processes -- are more than twice as likely to have centered their collaboration strategy around a team collaboration application.
Gone are the days when IT had the power to mandate and control the applications and platforms in use.
Another high-growth area for collaboration program investment is video-enabled meetings. Here, too, many organizations use multiple apps, with 40% of research participants having at least more than one meeting platform. Flexibility is the key to success with software-based endpoints, which are able to run a variety of software clients. They are deployed into huddle spaces and fixed meeting rooms, enabling participants to connect to multiple meeting services or to connect a laptop or PC to an in-room camera system.
Additionally, roughly half of companies are investing in meeting interoperability services from vendors like BlueJeans Network, Pexip and Poly to enable participants to join a meeting using their own primary meeting client or endpoint. Success in expanding access to video apps comes from ensuring that apps are manageable and support the aforementioned security and governance requirements through single sign-on and the ability to retain and index recordings as needed.
The collaboration program landscape is constantly changing. Securely deploying team collaboration and video-enabled meetings that align with workflows and offer flexibility for users will lead to demonstrable business benefit.