auremar - Fotolia
Does Office 365 include Teams with enterprise licenses?
There are numerous issues that come with licensing for Microsoft Teams, including this key question: Does Office 365 include Teams with the different Office 365 licenses?
With the increase in the number of employees working from home, many organizations have had to adopt new ways of communicating with their team members and clients, including platforms such as Microsoft Teams.
Microsoft Teams provides workers with a way to communicate with one or more individuals using audio and video. The communications service also offers collaboration features, including document sharing, screen sharing, productivity apps for content viewing -- through applications such as Microsoft Word and Excel -- conferencing capabilities and town hall event hosting for up to 10,000 attendees. Microsoft Teams even includes an option for a full phone system to replace traditional private branch exchange (PBX) systems on desktops and mobile devices running Android or iOS.
There is some confusion about whether Office 365 includes Microsoft Teams, how organizations can get the proper licensing for Teams and what feature sets come with different Microsoft and Office 365 licenses.
Find out what edition of Microsoft Teams comes with each licensing model and what additional management responsibilities IT must take on based on the different enterprise licenses.
Does Office 365 include Microsoft Teams?
Office 365 includes a version of Microsoft Teams as part of the subscription. However, this isn't the only way to access it. The free version of Teams only offers the most basic functionality and management features for administrators; more feature-driven versions of Teams are available with different levels of Microsoft 365 subscriptions.
What Microsoft Teams features are available with the different licenses?
These high-level features include Microsoft's cloud PBX service, video meeting recording and integrations with Microsoft SharePoint. For example, the cloud PBX service is limited to Office 365 E5 license holders and organizations need an Office 365 E1, E3 or E5 license to record video meetings in Teams. Microsoft still has the Skype for Business offering for video collaboration, but organizations might be able to forego the Skype platform with the increased features offered by Teams.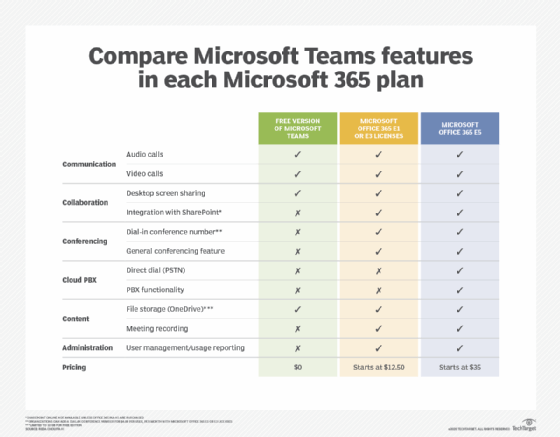 Organizations with Microsoft 365 Business Basic or Standard, or Office 365 E3, benefit from these advanced features. Organizations that do not subscribe to any of Microsoft's Office 365 business or enterprise plans can still use the Microsoft Teams Free edition to address some of their communication and collaboration needs when working from home.
However, the Microsoft Office 365 productivity suite is so commonly used that most enterprise organizations won't have to rely on the free version that users can run with any Microsoft account. Organizations may choose to go with Teams over other collaboration tools such as Slack due to Teams' integrations with other Microsoft services.
Office 365 includes a version of Microsoft Teams as part of the subscription. However, this isn't the only way to access Microsoft Teams.
What advanced features does Microsoft Teams offer to IT?
The free version of Microsoft Teams can help organizations with their collaboration needs. In the long run, however, IT administrators must learn all the data governance and permissions management required to deploy Microsoft Teams.
IT administrators must keep in mind the different feature sets that come with each licensing model and how that could potentially hinder the user experience. For example, users that have any paid edition of the Microsoft Teams platform can create content through software such as Microsoft Word and Excel without leaving the Teams app. This means Teams will automatically store any files created by users on Microsoft OneDrive or SharePoint within Teams, instead of on a network share or other corporate storage location.
IT also must have a data governance plan in place to ensure users create and share content securely within the Teams collaboration tool. IT will need to set permissions around which users can and cannot access this feature, where the files are backed up and more.
Dig Deeper on Application management
With a sales enablement strategy, sales leaders can make their teams more efficient, well-trained and ensure all reps are consistent when they ... Continue Reading
Ownership of AI-generated content currently lacks clear, regulatory guidelines. With deepfakes and voice cloning on the rise, businesses must learn ... Continue Reading
A sales enablement manager helps sales reps boost productivity and improves their workflows to generate more revenue. Some organizations may have a ... Continue Reading