How the Microsoft Teams app can boost collaboration
Microsoft Teams is an app users can work with to collaborate no matter where they're located. It comes as part of certain business-focused Office 365 subscriptions.
If an organization has users spread across the globe, the Microsoft Teams application allows them to function as a cohesive and well-connected team despite the geographical distance.
The Microsoft Teams app is a collaboration tool that integrates directly with Office 365 and enables users to make phone calls, send text chats, exchange files, share desktops, schedule meetings and more. It comes as part of an E1, E3 or E5 Office 365 subscription and works as a Microsoft Azure Directory tenant. There is no extra charge for Teams.
Teams does almost everything that Skype for Business does, only faster and in a more user-friendly fashion. It can be a major productivity enhancer for any organization.
How can the Microsoft Teams app help users?
Essentially, Teams can serve as a hub around which users can organize their work days. They can text chat to inform each other about activities, availability and to exchange information of all kinds.
They can also use the voice call/video meeting support to engage more directly, especially when brainstorming, problem-solving, or planning out calendars and schedules.
The ability to dig back into chat records is also incredibly helpful because it makes it easy to find information or resources users mentioned or exchanged in earlier interactions.
What can the Microsoft Teams app do?
The best way to understand the Microsoft Teams app is to look at its user interface. It's pretty intuitive, especially to users who already work with Skype, Skype for Business or any of a number of other online interactivity tools -- such as GoToMeeting and Join.me. Figure A shows the Chat tool at work.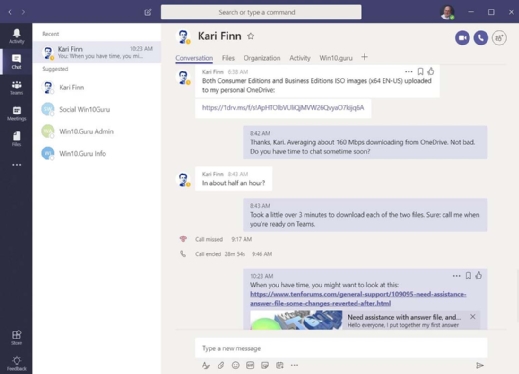 The vertical toolbar on the left shows Team's general capabilities.
Activity keeps track of individual and group activities, schedules, and interactions. It integrates directly with Microsoft Outlook Calendar.
Chat permits users to easily exchange text messages and enables them to send URLs, images, files and more. The menu at the bottom provides controls for Chat content that include formatting, attachments, emojis, image library items, stickers, scheduling tools and a variety of messaging extensions. If a person isn't logged into Chat when another user sends him a message, he will automatically receive the message in Outlook the next time he logs in. Chat also maintains a complete log of all the messages between two parties depending on formal retention policies.
It's a fantastic tool that integrates extremely well with the other Office components.
Teams provides access to prior message exchanges -- called Conversations -- and files users exchange through Teams. It also supports the automatic creation of Wiki content that members can share with others.
Meetings provides access to scheduling tools to set up meetings, invite participants, provide information and track meeting activities. It works much like Outlook Calendar with a Universal Windows Platform interface that is very user-friendly and easy to use. Meetings also integrates with Outlook Calendar for each user's organizational email account.
Files tracks the files users exchange in Teams. The files appear only in the file stores for individuals who have sent those files or who have received them.
Ellipsis (. . .) provides Teams access to Microsoft OneNote, Microsoft Planner, and other Office apps and capabilities.
Store delivers access to Teams-specific apps and capabilities -- some involving subscriptions and related monthly charges -- such as Adobe Creative Cloud, Google Forms and hundreds more items from the Microsoft Store.
Feedback opens a webpage through which users can provide feedback to the Microsoft Teams developer group.
The Microsoft Teams app alone might not be worth an Office 365 subscription, but it's a fantastic tool that integrates extremely well with the other Office components, and it works particularly well with Outlook and its Calendar and Contacts tools.