Fotolia
Microsoft OneNote goes mainstream after long adolescence
More than a dozen years after its initial release, is Microsoft OneNote finally poised for mainstream content and collaboration market success?
Microsoft OneNote is a powerful tool for content management and collaboration, but many think of it as a lightweight, personal notetaking tool rather than an enterprise-ready content and collaboration technology.
OneNote has been misunderstood in part because of rapid evolution and in part because of Microsoft's Office 365 strategy.
OneNote's walk in the Windows wilderness
Although notetaking and sharing apps are new to many people, OneNote has been available for over a dozen years. Microsoft OneNote was announced by Bill Gates in late 2002 as "an application designed to allow people to capture notes in one place and then organize and use them more effectively" and had its first release as part of Office 2003.
In many ways, the release was a break from the other Microsoft Office, with a flexible page-centric notebook model that had more in common with web-based authoring than the file model of Word, Excel and PowerPoint. OneNote also did away with the traditional File/Save model, automatically saving all changes. Microsoft made it possible with OneNote 2007 to seamlessly share notes among multiple people, which anticipated the concurrent-authoring approach in Google Apps, Microsoft Office Online, Quip and other tools. Overall, the original OneNote conceptual model required some unlearning for most users.
The biggest challenges for OneNote during its first years on the market can be summed up in a single word: Windows. OneNote was initially stigmatized by its close association with Microsoft's Tablet PC. OneNote could have been a killer app for the Windows XP Tablet PC platform, but Tablet PC failed to gain widespread market success. As Microsoft's platform group struggled with a series of problematic releases of Windows for PCs and mobile devices -- e.g., Windows Vista and Windows Mobile -- OneNote remained popular with a small, but enthusiastic user base.
There was also ambiguity about where OneNote fit relative to other Microsoft content and collaboration offerings such as SharePoint and Groove. Microsoft didn't explain how OneNote fit relative to wikis and other types of collaborative workspaces within SharePoint and filled the central content and collaboration role OneNote would have played via the Groove Networks acquisition in 2005.
To add further complexity, OneNote was not easy to acquire. It was initially available as a standalone app, later as part of the Home and Student and highest-end enterprise editions of the Office suite (Office 2007), and finally available for all usage scenarios in 2015.
As Microsoft OneNote struggled, Evernote, a notetaking app supporting Windows and other leading platforms, rapidly attracted a large user base. Figure 1 shows a Google Trends snapshot of the relative interest in Evernote (in blue) and OneNote (in red) from 2004 to early 2013:

Although Evernote was less feature-rich than OneNote and had -- and still has -- relatively primitive notebook-sharing capabilities, its freemium business model and early support for popular smartphone and tablet platforms made it a compelling alternative. Other content and collaboration apps came and went during this period, including Google Wave, demonstrating OneNote wasn't the only app that struggled to win mainstream market momentum.
OneNote in Microsoft's cloud-first, mobile-first era
There were some causes for cautious optimism in the OneNote community, including the introduction of OneNote Mobile for iPhone, OneNote for iPad and OneNote for Android. However, more dramatic changes came with Microsoft's 2014 Cloud-first, mobile-first strategic shift and its expanded commitment to sincerely support all leading platforms. The moderate success of Microsoft Surface eventually helped to expand OneNote's market, delivering on much of the earlier Tablet PC vision.
OneNote was expensive and difficult to acquire for many years relative to alternatives such as Evernote, but it's now freely available on a wide variety of platforms (see Figure 2).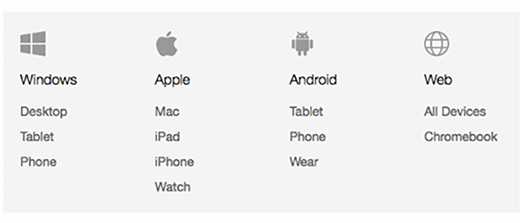 OneNote's web support, as part of Microsoft's Offline Online service, is another aspect of making OneNote broadly accessible. With Microsoft OneNote Online, for example, anyone with permission to use a shared notebook can work from any internet-connected device using a modern browser, so collaborating via OneNote does not require an app download.
In another important milestone, a Mac version of OneNote was released in early 2014. It's not yet as feature-rich as the full version of OneNote for Windows, but it's a solid first release and likely adequate for many users who are primarily interested in OneNote for personal information management.
OneNote also had a starring role in Apple's introduction of the iPad Pro in November 2015. As highlighted in "Microsoft Office Apps are Ready for the iPad Pro," the original OneNote vision had perhaps finally come to full fruition on the iPad Pro. OneNote for PC Windows is still the most feature-rich version, fully leveraging the Surface as a tablet and laptop hybrid, but OneNote for the iPad Pro is a compelling and state-of-the-art combination.
Microsoft's cloud infrastructure services have also matured since Windows Live Mesh. OneNote notebooks can now be shared via OneDrive as well as SharePoint -- on-premises SharePoint Server or SharePoint Online. While notebook-sharing with earlier releases of OneNote required several not entirely intuitive steps, the latest OneNote apps make sharing simple and easy to work with personal or shared notebooks across multiple devices.
Revisiting related competitive dynamics, Evernote has faltered since its popularity peak several years ago and is now considered somewhat bloated and buggy by users. Evernote significantly increased its pricing during June 2016, making the premium Evernote subscription as expensive as a personal Office 365 subscription, meaning a full-featured Evernote now costs as much as a license for Word, Excel, PowerPoint and OneNote (for Windows or Mac OS), along with a terabyte of OneDrive storage. OneNote is now free on all platforms. Figure 3 indicates Evernote's problems, with a Google Trends snapshot extending from 2013 to mid-2016 (again with Evernote in blue and OneNote in red).

OneNote still lags Evernote in Google Trends as of mid-2016, but is gaining momentum while Evernote strives to recover from several years of mixed results. There are competitors, including Apple Notes, Google Keep and Wunderlist (perhaps somewhat paradoxically acquired by Microsoft in mid-2015). None come close to matching the capabilities of OneNote as it continues to evolve.
Prominently positioned for continued growth
While for years OneNote seemed like a second-class citizen in the Office app family, Microsoft has expanded and clarified OneNote's role. OneNote Class Notebook provides a powerful example of how OneNote can advance content and collaboration tools. Along with other Office apps, OneNote is gaining a unified multi-platform extension model. Developers will be able create OneNote add-ins that work across Windows, Mac OS X, mobile and browser versions of OneNote.
OneNote's role within the Office team is also much clearer these days, with shared OneNote notebooks automatically provisioned for each new SharePoint team site, Office 365 Group and Planner subscription. While there was once ambiguity about OneNote's role relative to SharePoint, for example, the modern SharePoint navigation menu in Office 365 indicates that OneNote is part of the SharePoint story (see Figure 4).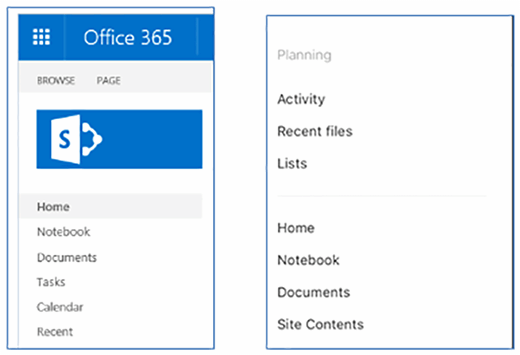 After a long and sometimes winding road since its first release in 2003, OneNote now reflects the best of the revitalized and cloud-first, mobile-first Microsoft and is likely to continue winning loyal users for years to come. If you're interested in exploring a more modern approach to content and collaboration, compared to traditional document-centric alternatives, Microsoft OneNote is a great place to start.