Fotolia
What IT should know about the Microsoft Office app for Windows 10
Microsoft released a new Microsoft Office app during an update to Windows 10. Learn about the changes that this new app brings and how to take advantage of its features.
Microsoft touts its new Office app as a way to help IT organize and access Office programs, but there are some...
Continue Reading This Article
Enjoy this article as well as all of our content, including E-Guides, news, tips and more.
gotchas that IT pros should be aware of.
The newest Microsoft Office app is an update to the MyOffice app. Windows Insiders received a preview of the new app in December 2018, but Microsoft made it generally available in February 2019 through a Windows 10 update. End users can find the Office app in the Microsoft Store or by typing "Office" in the Windows search bar.
How it works
The Microsoft Office app for Windows 10 is intended as an interface to Office Online or Office 365. If end users launch a locally installed version of Microsoft Word via the Office App, it will save to their Microsoft online account and then download to the local PC. The Microsoft Office app for Windows 10 focuses on Office Online documents, so end users should avoid this app if they don't want their documents stored online.
When end users open the Office dashboard and click on the Word icon, they can view both local and online documents. When end users right-click on a local Word document, the Word online option is grayed out, but they could choose to "upload and open" and edit with Word online. They could also open the local copy of Word and save it locally.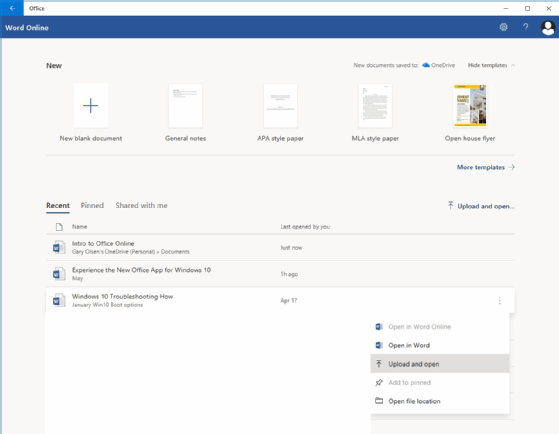 The default from the Office dashboard is to open the online version of Office and save it online. In the example here, the Window banner shows that the end user is editing using Word online and saving to OneDrive.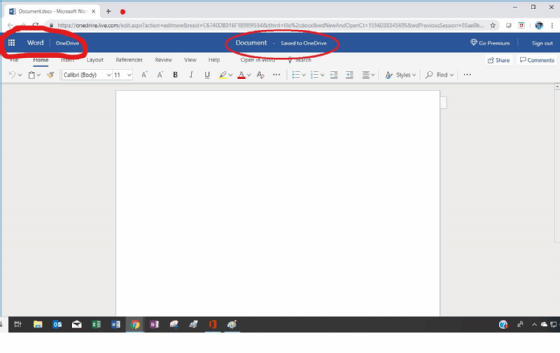 For those who do want to use the app, it is a great tool to consolidate all Office programs in a single dashboard and saves docs by default to end users' online account.
The Office App is not available for mobile devices. Apps for Office Products, however, are available for Apple iPhone and Google Android devices, which is simple to set up and allows sharing of docs via a OneDrive account, Office 365, popular content collaboration programs such as DropBox or locally saving on end users' mobile devices. From their mobile devices, end users can view and edit any document created online from their PCs via OneDrive sharing.
Getting started
End users can use the Microsoft Office app for Windows 10 if they have the following:
Desktop PC.
A work, school or personal Microsoft account.
Office 365 subscription, Office 2019, Office 2016 or Office Online. The app works with locally installed Office 2019 and 2016 products, but with limitations.
End users can go to the Windows search bar and type "Office" to launch the Office app installation, which will prompt a Microsoft account login. If end users don't have an account, the program will prompt them to make one.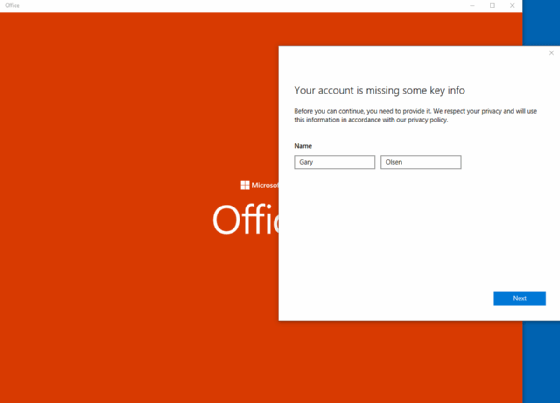 The installation will also create a free OneDrive account for end users if they don't have one.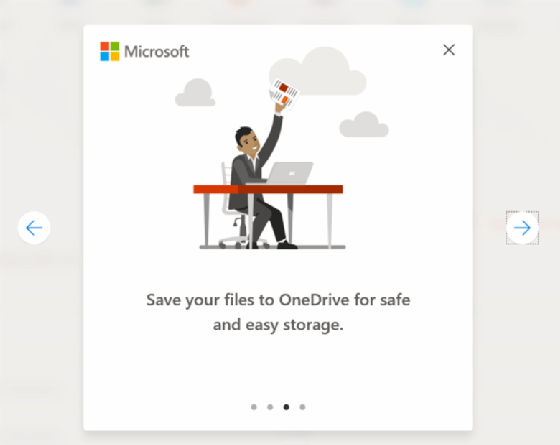 After installation, the program will present an Office dashboard. End users can pin the app to the start menu or task bar.
Using the Office dashboard
The Office dashboard or menu displays icons for all Office Apps.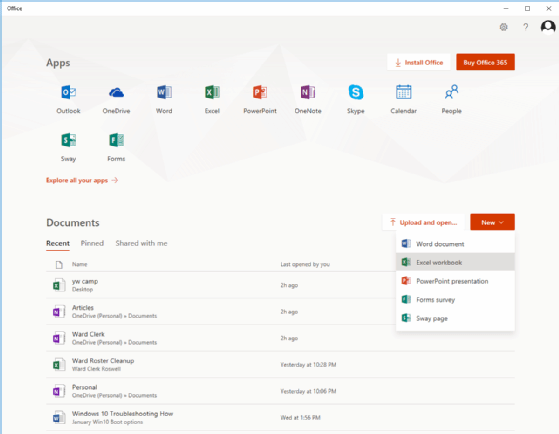 The dashboard also includes:
Buttons that prompt users to buy Office 365 and install Office.
"New" button that allows end users to create new Office documents using the online version of Office.
"Upload" and "Open" buttons that enable end users to save local files to the online account to then edit and store online.
"Recent," which keeps a list of recent documents just like the local versions of Office docs do. End users can see all recently opened Office docs, including OneNote, Word, Excel and PowerPoint, rather than just Word docs.
"Pinned," which lists pinned documents.
"Shared with me," which lists documents shared with end users by others.
An icon to explore a OneDrive account.
What the new app means for IT
This app is another way for Microsoft to move customers to their Office 365 products and subscriptions. For customers who already have Office 365, this is a good thing.
If IT pros want to take advantage of the free Office Online (Office.com) features such as sharing to a common OneDrive account and other collaboration activities, the app is a good way to start.
IT pros should look into the Office Online products due to the direction in which Microsoft is moving. The Office App helps users manage apps and docs on the PC and mobile devices, but it also takes some experience to keep track of local and online docs as well as the new menus and options. The good news is that it is all pretty intuitive for experienced Office users, so IT will have to conduct minimal or no formal training for end users.
Dig Deeper on Application management