Collaboration culture and technology drive meeting room trends
The meeting room experience is all about collaborative work. Learn how new video and productivity tools are influencing meeting room trends.
Meetings are a universal part of any business as teams come together to discuss everything from profits to projects. Traditionally, meetings were held in big boardrooms, where CEOs would disseminate information about the company. Now, new meeting room trends are changing the look and feel of the meeting experience as workplace culture shifts toward more productive and collaborative workflows.
Employee demographics are changing, and meeting room equipment has evolved to focus more on visual sharing. Meetings themselves are now smaller and more informal, taking place in huddle rooms and small ad hoc meeting spaces. Huddle rooms and other small meeting spaces facilitate a more productive meeting experience for small group collaboration. Moving from debrief-style meetings to collaborative productivity meetings elevates the role of visual tools.
The change of millennials entering the workforce has been accompanied by more flexibility and remote work. To connect with remote workers, meetings are relying on visual communications tools to support meeting room trends, such as workflow productivity and creating an accessible experience, regardless of location.
What differentiates boardrooms from huddle rooms?
In short, it's the number of people that each space fits. Huddle rooms are meant for small groups of up to six people, while boardrooms are bigger and can accommodate much larger groups. The difference in group sizes serves as an indicator of the types of meetings that occur in each space. Boardrooms are ideal for informational meetings, such as profit meetings or any meeting where the focus is on disseminating information.
On the other hand, small groups in huddle rooms are more work-focused. Because the meeting room trend for huddle rooms is to be a space for collaborative work, they are often equipped with productivity tools, such as video conferencing and whiteboards, meant to support a specific group's workflow.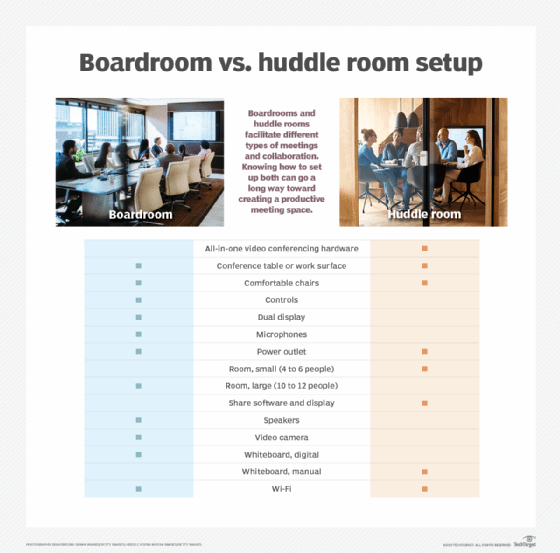 What tools should meeting rooms have to support workflow?
Teams will need different tools depending on their workflows. A good place to start is with ideation tools, which facilitate sharing information and ideas. Video conferencing-enabled meeting rooms can look to digital whiteboards as an example of an ideation tool that can communicate ideas across a video chat. Ideation tools also include screen-sharing tools and messaging channels that assist in optimizing a team's workflow and meeting experience.
An increasingly dispersed workforce also means the meeting experience needs to be accessible from locations beyond the physical meeting room. Video conferencing is now an essential part of most meetings as they focus more on collaboration and productivity, which can be optimized through a more visual experience. Video conferencing offers distinct benefits over voice calls. Meetings with a video calling element provide more context through visual cues, such as body language and facial expression, which enrich communication and create the feeling that everyone is meeting in the same space.
What is the difference between hardware- and software-based meeting rooms?
The line between hardware-based and software-based meeting rooms is blurred. Nearly all meeting spaces have both hardware and software components, but the difference lies in the purchasing decisions.
More organizations are looking to buy hardware that is compatible with multiple software options. For a software-based meeting room, IT decision-makers can first purchase software and then choose the best hardware to support the software. However, if hardware is purchased as a package with its own software included, it is more likely to be considered a hardware-driven meeting room.