Definition
HIMSS (Healthcare Information and Management Systems Society)
The Healthcare Information and Management Systems Society (HIMSS) is a nonprofit organization whose goal is to promote the best use of IT and management systems in the healthcare industry. The organization provides thought leadership, professional and workforce development and public policy. The group may be best known for its annual conference in the winter, which draws tens of thousands of attendees.
HIMSS counts more than 70,000 individuals, 630 corporations and 450 nonprofit organizations as members, according to its website. Its volunteer board of directors, whose representatives serve three-year terms, consists of HIMSS members who are elected by the organization's membership.
As a nonprofit, HIMSS receives revenue from advertising, data and publication sales; exhibitions and educational events; membership fees; and other means.
The organization has its headquarters in Chicago, with additional offices in Washington, D.C., Germany and Singapore. The organization also has a philanthropic arm, the HIMSS Foundation, that focuses on charitable giving, education and research. HIMSS' government affairs staff lobbies for health IT policy to U.S. government leaders and also assists members by providing background research and legislative information.
Conference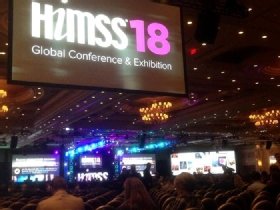 The HIMSS Global Conference & Exhibition is the largest health information and technology conference in the world, attracting more than 45,000 attendees from more than 90 countries.
Attendees can choose from over 300 educational sessions and meet with more than 1,300 vendors. Some of the recent specialty exhibit areas include:
HIMSS Interoperability Showcase
HIMSS Analytics
Cybersecurity Command Center
Developer Innovation Lab
The 2019 conference will be held Feb. 11-15 at the Orange County Convention Center in Orlando, Fla.
Goals
The goal of HIMSS is to promote better health, including health outcomes, through the use of information and technology. It focuses its attention on health IT topics, such as electronic health records, Health Information Portability and Accountability Act (HIPAA) security and privacy provisions, interoperability and technical standards.
Collaborations
HIMSS collaborates with several other organizations, including:
College of Healthcare Information Management Executives (CHIME) -- HIMSS and CHIME offer a joint membership and co-host the CHIME-HIMSS CIO Forum and the HIMSS-CHIME Cybersecurity Forum at the HIMSS annual conference.
CommonWell Health Alliance -- HIMSS works with the CommonWell Health Alliance to provide education and promote communication about health information exchange and interoperability efforts.
Society for Imaging Informatics in Medicine (SIIM) -- The two organizations co-host the HIMSS-SIIM Enterprise Imaging Workgroup to bring together stakeholders to identify new ways for clinicians and IT professionals to advance enterprise imaging strategies.
HIMSS also collaborates with the Radiological Society of North America to sponsor the Integrating the Healthcare Enterprise (IHE) initiative.
History
HIMSS was founded in 1961 at the Georgia Institute of Technology as the Hospital Management Systems Society (HMSS), and its first national convention was held the following year in Baltimore. The primary purpose of HMSS was to promote the continuous improvement of hospital management systems through education, research and professional practice. The society adopted its current name in 1986 to include information systems and telecommunications professionals.
In 2006, HIMSS -- in collaboration with 45 partner organizations -- held the first national Health IT Week, which was jointly sponsored by the Massachusetts Medical Society, the oldest continuously operating state medical association in the world. The event is a nationwide awareness week that focuses on driving actionable change in the U.S. healthcare system through the use of information and technology. National Health IT Week participants include the current White House administration; congressional, federal and state agencies; healthcare providers; nonprofit organizations; and others.
In 2012, HIMSS launched a new initiative called mHIMSS that focuses on the ability of mobile technology to transform healthcare. The organization also provides resources for healthcare providers that want to adopt mobile health (mHealth), and it provides an mHealth roadmap and security toolkit.
This was last updated in
December 2018
Continue Reading About HIMSS (Healthcare Information and Management Systems Society)
Dig Deeper on Healthcare IT management and organization