Explore UCaaS architecture options and when to choose them
The first step to a UCaaS migration is choosing the deployment architecture. Learn how to choose which UCaaS architecture best suits your organization's needs.
Demand for cloud-based unified communications is on the rise. A growing number of vendors have sprung up to offer unified communications as a service and meet the need for cloud UC.
UCaaS platforms provide a variety of communication and collaboration services using a cloud delivery model. In addition, moving to UCaaS can help organizations reduce Capex compared to deploying an on-premises platform.
Organizations considering moving UC to the cloud should understand the architecture options and core features of UCaaS platforms. IT decision-makers should also become aware of the additional capabilities some vendors offer. Let's examine the different architecture types, features and additional capabilities of UCaaS platform offerings.
UCaaS architecture options
Organizations have three UCaaS architecture options to consider when planning a cloud migration: single-tenant, multi-tenant and hybrid. It's important to prioritize the architecture decision early on to ensure a quality UC experience, said Metrigy analyst Irwin Lazar.
Organizations should determine whether they want to build and run a communications platform in their own data centers or whether they want to rely on a subscription-based managed service to do the work, Lazar said. Often, the decision comes down to concerns around security, privacy and data retention. Most organizations that put a high value on data security will opt to run their own platform, explained Lazar.
The second deciding factor is based on cost, noted Lazar. For example, it could be more cost-effective for smaller companies to use open source software, with each phone system running in its own data center, Lazar said.
For organizations that want to maintain control of some portions of a UCaaS deployment, vendors like Cisco and Zoom offer hybrid architecture options, Lazar said. Ultimately, the decision for evaluating communication platforms is dependent on which architecture works best based on an organization's requirements, he said.
Below are the three UCaaS architecture options, along with their advantages, disadvantages and use cases.
Single-tenant. Organizations are the only users, or tenants, of a given software instance. Companies that value customization often prefer single tenancy. Once the tenant purchases the platform, the vendor can customize it to fit the specific needs of that customer. The user is in control of the data, where it lives, what features are rolled out, as well as security policies and integrations, Lazar said.
With single-tenant architecture, users have the option of a hosted offering, where the private software instance is run by a managed service provider, Lazar said. Those most likely to opt for single-tenant architecture are regulated companies concerned about cyber threats, such as utility, healthcare, government and financial services organizations, Lazar said.
Multi-tenant. More than one tenant uses the same software application in a multi-tenant architecture. This architecture offers limited flexibility with customization but provides cost savings. Updates and maintenance costs for the platform are shared by all tenants, rather than a single tenant taking on the full cost. Multi-tenant users often find this architecture to be lower cost than single-tenant and that it enables faster access to the different features provided.
Hybrid. This architecture offers the flexibility and customization of a single-tenant architecture, but with the same level of features as a multi-tenant architecture. The UCaaS vendor puts the software in an organization's data center, which ensures network performance and enables the organization to keep important data internal. Since the data is stored locally, calls, for example, won't be bounced out to external data centers, Lazar said.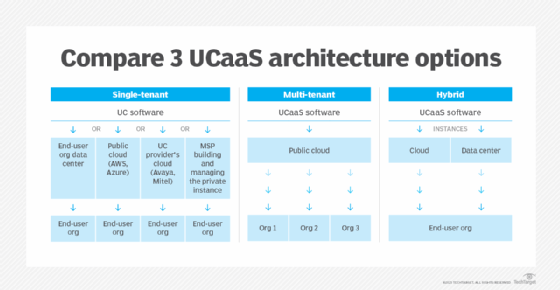 Features of a UCaaS platform
Typical features incorporated into a UCaaS platform include the following:
Voice over IP. Organizations that move UC to the cloud can use VoIP to meet their telephony needs. VoIP delivers voice and multimedia communications using a network or internet connection. Calls travel between two endpoints as data packets, and once the packets reach their destination, they are reassembled in the right order. Organizations using VoIP need to consider call volume to determine how much bandwidth they need to maintain VoIP call quality.
Video conferencing. Video conferencing adds visual context to a call. As more organizations support hybrid workers, video conferencing helps connect remote users with on-site teams. UCaaS enables employees to connect with any remote person using an internet connection and video-enabled device.
Team collaboration. Team collaboration tools include instant messaging, file sharing, scheduling and project coordination, as well as voice and video chat. Most UCaaS platforms include dedicated channels for real-time one-on-one and group chat, as well as persistent virtual workspaces for collaboration. Team collaboration features in a UCaaS platform may also include online whiteboards and the ability to co-author documents.
Enterprise mobility. Enterprise mobility is a business approach that supports remote workers through mobile accessibility. UCaaS platforms are built to be mobile-friendly, and, with the rise of remote work, a heavy emphasis must be placed on easy access to tools and applications, regardless of a worker's location. UCaaS supports remote access to tools and applications, giving workers the flexibility needed to work from anywhere.
Artificial Intelligence. With AI technology constantly evolving, it's no surprise that UCaaS includes machine learning capabilities. Collaboration-focused AI functionality is primarily being used for meetings, such as intelligent transcriptions and meeting summaries. Speech recognition also plays a large role in AI development: Users can add meetings and events to their calendars through voice commands, for example. As these features get used more and more, AI is able to recognize user patterns to better assist with more complex tasks.
Additional capabilities
In addition to the features included in a UCaaS platform, most vendors offer other capabilities, such as communications platform as a service, CRM and contact centers, with their cloud UC offerings.
Communications platform as a service. CPaaS provides organizations with real-time communications applications delivered through the cloud. CPaaS applications are easily integrated into business applications through APIs.
Customer relationship management. CRM is a mix of strategies and technologies used to analyze customer interactions and data. CRM compiles data from all points of customer contact. The data gathered is then used to improve the customer experience through automated processes and better access to information.
Contact centers. A growing number of UCaaS providers now offer contact centers in addition to UCaaS platforms. As customers change how they communicate, contact centers have evolved to be more than just call centers, making use of the features of UCaaS like email, VoIP and messaging. Some UCaaS vendors are offering UCaaS and contact center as a service as a single, integrated platform. Consolidating these services gives IT only one system to manage, one policy for data collection and storage, and a single structure for security services. Organizations that want a seamless UC experience may wish to explore partnering with vendors that have integrated contact centers as part of their UCaaS offerings.
Editor's note: This article was updated to expand information and improve the reader experience.