Understanding the anatomy of a UCaaS architecture
Organizations looking for cloud UC are migrating to UCaaS. Learn what features make up a UCaaS platform and what extra capabilities vendors may offer.
Demand for cloud-based unified communications is on the rise. A growing number of vendors have sprung up to offer unified communications as a service and meet the demand for cloud UC.
UCaaS platforms offer a variety of communication and collaboration services using a cloud delivery model. In addition, moving to UCaaS can help organizations reduce Capex compared to deploying an on-premises platform.
Organizations considering moving UC to the cloud should understand the architecture options and core features of UCaaS platforms. IT decision-makers should also become aware of the additional capabilities some vendors offer. This mini glossary reviews the architecture, features and additional capabilities of UCaaS platform offerings.
UCaaS architecture options
Single-tenancy. One UCaaS platform architecture model is a single-tenancy model, in which organizations are the only users, or tenants, of a given software instance. Organizations that value customization often prefer single-tenancy. Once the tenant purchases a UCaaS platform, the vendor can customize it to fit the specific needs of that customer.
Multi-tenancy. In a multi-tenancy UCaaS architecture, more than one tenant uses the same software application. This architecture offers limited customization but offers cost savings. Updates and maintenance costs for the platform are shared by all tenants, rather than a single tenant taking on the full cost.
Features of a UCaaS platform
Voice over IP (VoIP). Organizations that move UC to the cloud can use VoIP to meet their telephony needs. VoIP delivers voice and multimedia communications using a network or internet connection. Calls travel between two endpoints as data packets. Once the packets reach their destination, they are reassembled in the right order. Organizations using VoIP need to consider call volume to determine how much bandwidth they need to maintain VoIP call quality.
Video conferencing. Video conferencing adds visual context to a call. As more organizations support remote workers, video conferencing helps connect them with on-site teams. UCaaS enables employees to connect with any remote person using an internet connection and video-enabled device.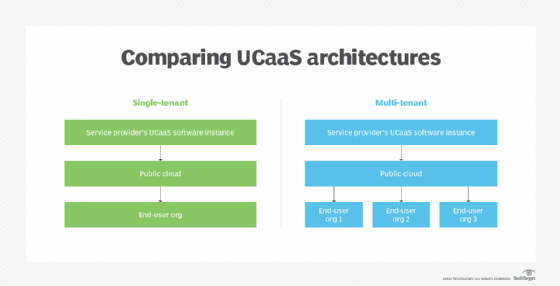 Instant messaging (IM). IM is an application that provides real-time messaging. Most UCaaS platforms come equipped with some form of messaging application. Unlike email, IM provides a continuous stream of chat in a dedicated channel. Traditionally, IM refers to the exchange of text, but most messaging applications are now enabled to send images, video and other rich media files. In some cases, IM applications may support voice calls and video conferencing.
Enterprise mobility. Enterprise mobility is a business approach that supports remote workers through mobile accessibility. UCaaS platforms are typically built to be mobile-friendly. The rise of remote work puts a heavy emphasis on easy access to tools and applications, regardless of a worker's location. UCaaS supports remote access of tools and applications, giving workers the flexibility needed to work from anywhere.
Additional capabilities
In addition to the features included in a UCaaS platform, several vendors offer other capabilities with their cloud UC offerings. Though these capabilities aren't standard across all vendors, they can help differentiate vendor offerings.
Communications platform as a service (CPaaS). CPaaS provides organizations with real-time communications applications delivered through the cloud. CPaaS applications are easily integrated into business applications through APIs.
Customer relationship management (CRM). CRM is a mix of strategies and technologies used to analyze customer interactions and data. CRM compiles data from all points of customer contact. The data gathered is then used to improve the customer experience through automated processes and better access to information.
Contact center. A growing number of UCaaS providers now offer contact centers in addition to UCaaS platforms. As customers change how they communicate, contact centers have evolved to be more than just call centers. Contact centers make use of the features of UCaaS like email, VoIP and messaging. Organizations that want a seamless UC experience may wish to explore partnering with vendors with integrated contact centers as part of their UCaaS offerings.