Video conferencing and visual collaboration
Video conferencing and visual collaboration incorporate several elements of hardware and software for conference rooms, desktops and remote workers. Businesses of all sizes need to keep up on the evolving video conferencing market to evaluate the latest trends and innovations to find the systems best suited to their needs.
Top Stories
Feature

06 Dec 2023

Some see immersive, 3D collaboration spaces as an upgrade from video conferencing because they offer better opportunities for socializing, brainstorming, onboarding and training. Continue Reading

News

16 Nov 2023

New generative AI capabilities enhance real-time meeting notetaking by identifying each speaker and enabling users to convert meeting discussion points into whiteboard formats. Continue Reading

Download this free guide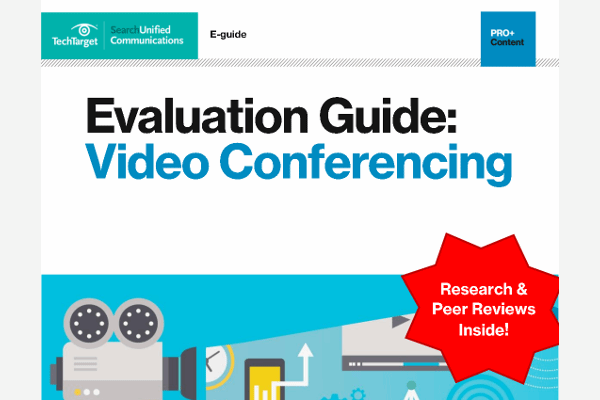 Download: Video Conferencing Evaluation Guide Includes Research, Peer Reviews
Zoom, GoToMeeting, Skype for Business, and two more video conferencing tools are reviewed by your peers in our new 35-page evaluation guide. Get an expert overview of the types of video conferencing tools, as well as bandwidth and interoperability requirements you need to be aware of before you make your purchase.
News

28 Aug 2020

News

27 Aug 2020

News

25 Aug 2020

News

20 Aug 2020

Answer

17 Aug 2020

News

16 Jul 2020

Feature

14 Jul 2020

News

09 Jul 2020

News

02 Jul 2020

Tip

01 Jul 2020

Feature

25 Jun 2020

Feature

24 Jun 2020

News

24 Jun 2020

News

18 Jun 2020

Tip

17 Jun 2020

Feature

05 Jun 2020

News

03 Jun 2020

News

29 May 2020

News

28 May 2020

Answer

27 May 2020

News

22 May 2020

Answer

19 May 2020

News

15 May 2020

Feature

14 May 2020

News

14 May 2020

Tip

08 May 2020

News

08 May 2020

News

07 May 2020

News

30 Apr 2020

News

23 Apr 2020

Feature

22 Apr 2020

News

22 Apr 2020

News

17 Apr 2020

News

16 Apr 2020

Video

14 Apr 2020

News

14 Apr 2020

Tip

10 Apr 2020

News

09 Apr 2020

News

08 Apr 2020

News

03 Apr 2020

Feature

02 Apr 2020

News

31 Mar 2020

News

27 Mar 2020

News

25 Mar 2020

News

20 Mar 2020

News

18 Mar 2020

News

10 Mar 2020

Tip

10 Mar 2020

Tip

09 Mar 2020

News

06 Mar 2020

News

12 Feb 2020

News

30 Jan 2020

News

17 Jan 2020

Feature

09 Jan 2020

Tip

06 Jan 2020

News

27 Nov 2019

Feature

19 Nov 2019

News

15 Nov 2019

News

14 Nov 2019

News

05 Nov 2019

News

01 Nov 2019

Feature

18 Oct 2019

News

17 Oct 2019

News

17 Oct 2019

News

16 Oct 2019

Answer

14 Oct 2019

News

03 Oct 2019

News

01 Oct 2019

Answer

23 Sep 2019

Feature

20 Sep 2019

News

19 Sep 2019

Blog Post

19 Sep 2019

Tip

18 Sep 2019

Feature

09 Aug 2019

News

08 Aug 2019

News

07 Aug 2019

Feature

31 Jul 2019

Feature

25 Jul 2019

News

24 Jul 2019

News

12 Jul 2019

Tip

02 Jul 2019

News

01 Jul 2019

News

28 Jun 2019

Tip

27 Jun 2019

Quiz

20 Jun 2019

News

12 Jun 2019

News

12 Jun 2019

News

06 Jun 2019

Tip

16 May 2019

News

16 May 2019

Tip

29 Apr 2019

News

18 Apr 2019

News

17 Apr 2019

Feature

16 Apr 2019

Answer

16 Apr 2019

News

29 Mar 2019

News

22 Mar 2019

News

19 Mar 2019

Tip

11 Mar 2019

News

07 Mar 2019