sommai - Fotolia
New enterprise video strategy must go beyond meetings
Workflows have grown increasingly digital, and video is necessary to support these changes. Learn how organizations are retooling video strategies to support new use cases.
The COVID-19 pandemic has fundamentally changed how organizations use video. When the pandemic first forced offices to close and employees to work from home, video was necessary to keep employees in touch and maintain business continuity. Now, organizations are looking to do more with video to incorporate the technology with other business workflows.
Organizations are now looking to use video in town hall communications, employee newsletters and training videos. Additionally, they are developing or planning to develop custom video applications, such as distance learning, telehealth and customer support. With all this video use, video content management systems and network support are becoming more important to ensure a quality experience that is securely managed by the organization.
Nearly 40% of organizations view video as critical to operations, said Nemertes Research analyst Irwin Lazar, citing a study of 528 global organizations conducted between April and May. The study examined how the pandemic changed how organizations approach video and their enterprise video strategy going forward.
The study found organizations are increasing spending on video conferencing and new collaboration apps, including team collaboration and document sharing, to improve employee engagement and enable users to work more effectively in remote environments, Lazar said. A significant percentage of organizations are also increasing networking spend to support the growth of video, he added.
COVID-19 has significantly accelerated the adoption of video, said Christian Rockwell, chief marketing officer at enterprise video provider Vbrick. Rockwell and Lazar spoke recently on an Enterprise Connect webinar that explored how COVID-19 is changing video strategies and how organizations can move forward.
"We are now five years ahead in terms of where we were pre-COVID-19 in our understanding, adoption and willingness to invest in video and recognizing the value that video has," Rockwell said.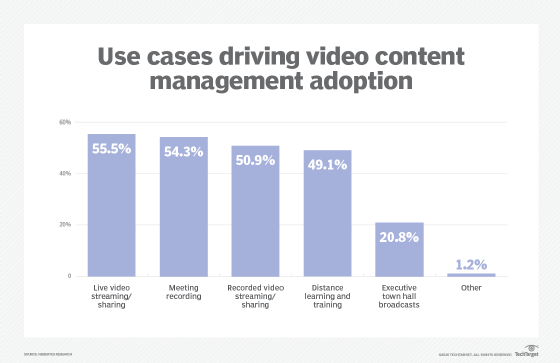 Enterprise video strategy needs content management
As video use increases, organizations need to proactively manage content and make it easier for users to search, store and provide additional information for video.
"Video content must be managed and secure," Rockwell said. Many organizations produce content for internal employees and external partners or customers. They need to have a system in place to differentiate between the two.
Organizations that don't have a plan to manage video content will find user-generated video will end up anywhere in the organization, which complicates features such as search, transcription and speaker identification, Lazar said.
"It becomes the Wild West, and that leads people to think about deploying a video content management solution," he said.
Video content management systems enable organizations to provide a central location to securely store and share video, including recorded meetings, and take advantage of advanced features, Lazar said. A challenge with recorded meetings, though, is no one goes back to watch the full meeting, he added. With more advanced features, key action items and discussions can be highlighted to make recordings more useful to those who missed the meeting.
Using a video content management system also correlates with video success, according to the Nemertes study.
"Companies using content management solutions are seeing measurable benefits in productivity, cost savings and potential revenue opportunities with video-enabled applications," he said.
CDNs support increased video usage
Some organizations are also making content delivery networks (CDNs) part of their enterprise video strategy to optimize the delivery and sharing of video. CDNs are geographically distributed servers that transport media files. They can reduce packet loss, latency and jitter for video content to prevent buffering and other quality issues that can negatively affect video performance.
Organizations that are the most successful in their video deployments are more likely to use CDNs to support video content as it travels from the corporate network and out onto mobile and wireless networks of remote workers, Lazar said.
Nearly one-quarter of organizations are using or plan to use CDNs this year to support their video deployments. Another 9% of organizations are planning to deploy CDNs in 2021, according to the study.
The bandwidth requirements of video can be a challenge for organizations that want to livestream video or provide video on demand to employees or customers.
"The minute video starts buffering, you start losing viewer engagement," Rockwell said. Therefore, he added, organizations need tools to manage the bandwidth and distribution of video content to ensure an optimal experience.
Dig Deeper on Video conferencing and visual collaboration