RFsole - Fotolia
Rollout of Google Meet attendance report paused
G Suite Enterprise for Education will soon allow teachers to track who is in class and who is absent with an attendance report on its video conferencing app Google Meet.
Google started rolling out an attendance report feature Monday for its G Suite Enterprise for Education -- but then backtracked the next day, saying the feature is paused for performance evaluation.
Attendance reports, which are emailed to the host after the Google Meet session ends, will include the participants' names, email addresses, the length of time they were on the call and when they joined and exited. The total duration of attendance is calculated as the total time students spent in class, even if they were booted off and rejoined.
The Meet feature requires a minimum of five participants and a maximum of 250, according to the G Suite blog. Students who have the ability to create meetings will get attendance reports as well, and participants are counted even if they dial in.
Keeping up with the class
Google has been somewhat behind its competitors in the UC realm, namely Microsoft, Cisco, and Zoom. According to Zeus Kerravala of ZK Research, the education vertical is one in which Google excels, however.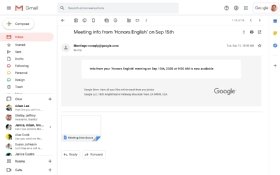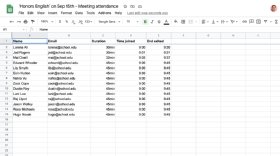 "If there's an area that they should double down on, it's education," Kerravala said. "It is the one vertical, from the cloud perspective, that they compete well in."
Kerravala said Google has the advantage of being a cloud-based collaboration product that syncs well with Chromebooks, a laptop that is more affordable and thus ubiquitous among students and schools. It is a cheaper option, and education is a vertical that doesn't have a lot of money, Kerravala said.
Google's announcement comes at a time when most UC providers are focusing on working from home and, likewise, teaching from home. Some teachers have turned to installing Google Chrome extensions to take attendance, such as Google Meet Attendance. And Google's competitors have had similar attendance features for a while.
Zoom, for example, has a nearly identical attendance feature that tracks how long participants were on a call for. It also tracks an aggregate amount of time students were on a call, but its reports take about 30 minutes after the session to show up and must be looked for within the app's settings.
Microsoft Teams has had attendance features since April. However, the feature requires meeting hosts to take attendance before ending the meeting. The updated functionality for downloading participant reports is in development, according to the Microsoft 365 roadmap.
Cisco announced attendance as part of its Webex Classrooms rollout earlier this year. The Webex version of attendance will have the same features as Meet, but it is not scheduled to come out until November.
Facebook Workplace does not offer a version of its UC product for students under the age of 18, and therefore lacks an attendance feature, according to a Facebook spokesperson.
Google also announced this week in a blog post that unlimited calls on Google Meet will continue to be free for everyone through March 31, 2021. Free unlimited access to Meet was introduced in April as a response to the coronavirus pandemic and scheduled to expire on Sept. 30. The scheduled sunsetting was pushed back because of the upcoming holiday season.
It is unclear how long the pause on the attendance rollout for G Suite Enterprise for Education will take to resolve. Inquiries into the matter were not returned in time for deadline. G Suite's attendance report feature will be available for other versions of G Suite, such as G Suite Basic, sometime in the future.
Dig Deeper on Video conferencing and visual collaboration