Fotolia
Crestron, Logitech release Zoom video system for home
Crestron and Logitech have launched a new product for Zoom video conferencing at home.
Crestron and Logitech have launched a new hardware bundle for Zoom video conferencing at home. The offering is among the first of an emerging new category of video products for residential use.
But at roughly $6,100, Crestron HomeTime is too expensive for a business to buy for most of its workers. Crestron is marketing the product to wealthy homeowners and business executives.
What's more, vendors have struggled to sell video devices for home use in the past, said Irwin Lazar, an analyst at Nemertes Research. He pointed to Cisco's failed video conferencing product for consumers, Umi.
"I still don't think there's a big market for this," he said. "I think home workers will mostly use laptops or mobile devices for conferencing rather than sit in their living rooms."
However, the coronavirus pandemic is changing how people work and socialize. Crestron plans to adapt several additional video products for use at home in the coming months.
"We make a lot of products that are specifically aimed towards the commercial space that all of a sudden fit into the residential space because of the times that we're in," John Clancy, vice president of Crestron's residential division, said.
Crestron isn't the only hardware vendor retooling its product roadmap. Poly, another leading provider of video conferencing gear for businesses, previously said it was developing a new line of products for the home.
Analysts expect vendors to develop microphones with better noise cancellation and cameras that compensate for poor lighting. Some businesses are also looking for affordable, all-in-one touchscreen displays that support video conferencing.
Crestron HomeTime, the new Zoom video system for home use, combines the Logitech MeetUp, a USB video bar, with a Crestron remote control. Customers would mount the product under a TV in their living room or home office.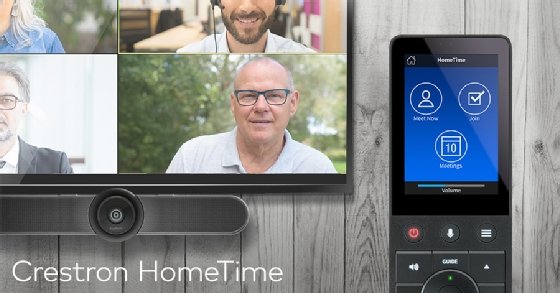 People can use the same remote that controls the video system to interact with Crestron's smart home products. The company makes things like lights, shades and thermostats that people can control remotely.
Crestron HomeTime natively integrates with Zoom. Crestron and Logitech both also make products for Microsoft Teams, but neither has announced a Teams system for the home.
The new product seems best suited for consumer use, said Rob Arnold, analyst at Frost & Sullivan. But the bundle could also serve home workers well. Although previous residential video products flopped, the market is different today, he said.
Other devices for home video conferencing include Facebook's Portal, Amazon's Echo Show and Google's Nest Hub. The companies target the tabletop products at consumers.
However, Facebook recently announced it would give business customers the ability to livestream using a Portal device starting this month.
Dig Deeper on Video conferencing and visual collaboration