RFsole - Fotolia
Zoom and DTEN to release home video conferencing device
DTEN plans to release an all-in-one device for Zoom video conferencing at home.
Zoom and DTEN plan to release an all-in-one touchscreen video conferencing device for home use next month. It's among the first of an emerging new category of collaboration devices for remote workers.
The online meetings vendor also announced a new program called Zoom for Home, which lets customers use specific video devices at home without extra software licenses.
The moves demonstrate how collaboration providers have adjusted their portfolios to cater to people working from home because of the pandemic. Vendors like Zoom are betting that many people will continue working remotely for the foreseeable future.
Zoom is on the right track with these announcements, said Craig Williams, CIO of telecommunications gear-maker Ciena, a Zoom customer.
"We all need to move the capabilities of the corporate office to the home office best we can," Williams said. "There are some challenges with doing that, but Zoom for Home is a good technology to test out."
However, some Ciena employees need a product that offers a more immersive experience than the new DTEN device can provide, Williams said. The company's product developers need not only whiteboarding features, but also wearable devices to mimic face-to-face interactions. Ciena is still looking for the right product for them.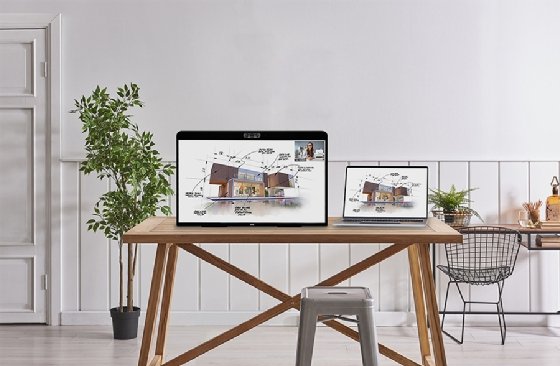 The new 27-inch DTEN device, called the DTEN ME, should appeal to executives, teachers and customer support workers. They often need a better video conferencing experience than webcams can offer, said Irwin Lazar, an analyst at Nemertes Research.
At $599, the device is less expensive than similar all-in-one touchscreen products on the market today. For example, online retailer CDW is selling the Cisco Webex Desk Pro for nearly $7,000 and the older Cisco DX80 for more than $3,200. The price tag of such devices has kept many companies from buying them for anyone except top executives.
"The $600 price point makes it the first such device to actually have a chance to gain market adoption," said Brian Doherty, an analyst at Gartner.
The device costs about as much as buying a monitor, speakers, camera and microphone -- but it comes with added benefits, Doherty said. Those perks include native Zoom integration and built-in whiteboarding capabilities.
The new DTEN device probably won't cause Cisco to lower the cost of its existing all-in-one video devices. But it may inspire Cisco to design new products that aren't so underpowered and overpriced, Doherty said.
Meanwhile, the new Zoom for Home program will let customers connect a personal Zoom account to certain video conferencing devices that were previously reserved for use in the meeting room.
When businesses install a Zoom room system in a conference room, they pay $49 per month to license that device for shared use. With Zoom for Home, all free and paid users can sync some of those same devices with a personal account at no extra charge. That includes linking the devices with a user's Zoom Phone plan.
The Poly X series, the Neat video bar and the new DTEN device are among the first products eligible for Zoom for Home, which provides IT admins with only limited management features. For example, they won't be able to take full remote control of the hardware.
The DTEN ME and Zoom for Home are scheduled to launch in August.
Dig Deeper on Video conferencing and visual collaboration