Rawpixel - Fotolia
Facebook to launch Workplace Rooms in challenge to Zoom
Workplace Rooms, a new video conferencing service for Facebook's business customers, falls short of competitors on features.
Facebook plans to expand the video conferencing features of Workplace by Facebook, its business collaboration product. But the enhanced service, Workplace Rooms, will lack numerous advanced meeting features at launch in June.
Facebook is late to the game, analysts said. The social media giant has grown Workplace by Facebook to 5 million paid users over the past few years. But the company hasn't attempted to build a business-class video service until now.
Facebook last month launched Messenger Rooms, a consumer video calling product. The company is now adapting that product for business use in Workplace. The Workplace product will integrate with single sign-on software and provide some control to IT admins.
But Workplace Rooms won't initially support polls, in-meeting chat, breakout rooms, personal meeting rooms or virtual backgrounds. It also won't give hosts the ability to control who can present or speak in a meeting. The service lets users invite external guests to meetings.
What's more, the product will come with a size limitation. Only 50 people will be able to join a meeting. Rivals like Zoom and Cisco Webex let hundreds of people participate in sessions on their platforms.
Facebook Workplace Rooms will display up to 16 people on screen at one time, compared to 25 people in Webex and 49 people in Zoom. The ability to see many simultaneous video feeds has become an essential feature amid the coronavirus pandemic.
Facebook will undercut competitors on price, however. Zoom, for example, costs $14.99 to $19.99 per host, per month for a premium license. Businesses can get access to Workplace Rooms and the premium version of Workplace for $4 or $8 per user, per month.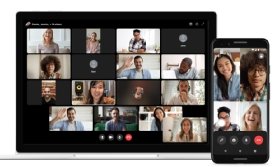 Facebook also has a free version of Workplace and gives nonprofits complimentary access to a premium edition. Workplace mimics the interface and features of the consumer version of Facebook. But the two platforms are separate, requiring users to create different accounts on each.
Julien Codorniou, vice president of Workplace by Facebook, said the company did not intend to match more mature platforms like Webex on features. Instead, Facebook wants Workplace Rooms to do "85% of the job for 99% of the people," he said.
Facebook intends to bring video conferencing to portions of the workforce that have never used such technology before, Codorniou said. Many Workplace by Facebook customers are multinational companies with a significant proportion of service workers.
"We don't go after just the market of knowledge workers," Codorniou said. "We go after the market of everybody who's employed with a working mobile device. That's billions of people who have never touched IT before."
But it remains to be seen how many nonoffice workers will adopt video conferencing platforms. It's also not certain that Workplace by Facebook customers will use Workplace Rooms.
Customers previously reported using Workplace by Facebook primarily as an Intranet replacement, rather than a team collaboration service like Slack or Microsoft Teams. Facebook added a basic video calling feature to Workplace for internal use in 2017.
"They're casting a line, and they're going to see if they get any nibbles or not," said Brian Doherty, an analyst at Gartner.
Dig Deeper on Video conferencing and visual collaboration