Rawpixel - Fotolia
Google utilizes AI for Series One Meet hardware
Google partners with Lenovo in developing video conferencing hardware for the Google Meet service. The Series One device uses Google silicon to boost its AI capabilities.
Google has introduced hardware for its Meet video-communication service. Called Series One, the room kit uses the company's AI software and proprietary silicon for noise cancellation and face-framing during conversations.
Built with Lenovo, Series One features Google's Coral M.2 accelerator chip and its Edge Tensor Processing Unit (TPU) to boost AI and machine learning app performance. Google plans to release Series One in October.
Google designed the smallest hardware package for meetings of up to six people. It costs $2,699 and comes with an audio bar composed of a 2.5-inch woofer, a 1-inch tweeter and eight beamforming microphones in a linear array. The audio bar contains a TPU aimed at canceling noises like bag crumpling or pen clicking.
The small package also features a 4K camera made in partnership with manufacturer Huddly. The camera's auto framing adjusts to fit all speakers. Series One uses image-based AI algorithms to identify the number of people in the room to avoid privacy concerns sometimes raised with facial-recognition technology.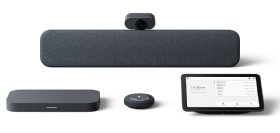 The medium pack is designed for meetings of up to 10 people and costs $2,999. It comes with everything in the small package. It also includes a voice-activated, touch-screen control panel, which is also in the room kit's largest version.
The premiere version is designed for meetings of up to 20 people and costs $3,999. Its dual stereo audio bar can process up to 44 channels of raw audio in less than 8 milliseconds.
The room kit's camera has pan-tilt-zoom functionality and a 4.3 x zoom. The hardware also uses a single Power over Ethernet cable to forgo a jumble of wires and make it easier to install.
The "Hey Google" voice activation feature included in Series One is a type of hands-free technology that will contribute to safer meetings as people return to work during the pandemic, according to Wainhouse Research analyst Craig Durr. Also, the hardware's audio and camera features will accommodate people maintaining a safe distance inside conference rooms.
According to IDC analyst Richard Costello, Google's strength has so far been in the education and government realms, lagging behind Microsoft and Cisco in the business sector. The Series One room kit could improve the search giant's standing with companies that employ more than 1,000 people.
Series One will compete against the Cisco Webex Room Series, Microsoft Teams Rooms and Zoom Rooms.
Series One isn't the first Meet hardware that Google has brought to the market. The company partnered with Asus on the Google Hangouts Meet kit and introduced a digital whiteboard product called Jamboard in 2017. More recently, Google partnered with Logitech and Acer on Meet hardware.
Google Meet hosts about 100 million meeting participants daily, while Microsoft Teams hosts about 200 million.
Dig Deeper on Video conferencing and visual collaboration