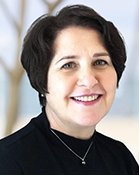 Beth Schultz
Vice President of Research and Principal Analyst, Metrigy Research
As vice president of research and principal analyst at Metrigy, Beth Schultz conducts primary research and analysis to provide metrics-based guidance for IT, customer experience and business decision-makers. She is also responsible for the firm's multimedia thought leadership content and research agenda.
With more than 30 years in the IT media and events business, Schultz is a well-known industry influencer, speaker and creator of compelling content. Most recently, Schultz was with Informa Tech, where she served as program co-chair for Enterprise Connect and editor in chief of the companion No Jitter media site.
While with Informa Tech, Schultz also oversaw the development, launch and management of WorkSpace Connect, a multidisciplinary media site providing thought leadership for IT, HR and facilities/real estate managers responsible for creating collaborative, connected workplaces.
Over the years, Schultz has worked at a number of other technology news organizations, including All Analytics, Network World, CommunicationsWeek and Telephony Magazine. In these positions, she has earned more than a dozen national and regional editorial excellence awards from American Business Media, American Society of Business Press Editors and Folio.net.
Schultz has a bachelor's degree in journalism from the University of Illinois Urbana-Champaign and lives in Chicago.
Beth Schultz's Most Recent Content