Getty Images/iStockphoto
Why is a customer experience framework essential?
A customer experience framework can help CX teams streamline their workflows, showcase the value of a customer-first culture and improve customer engagement and satisfaction.
Customer experience encompasses a dizzying array of tools and technologies aimed at delivering consistently fantastic customer service. But what's great for one customer isn't necessarily great for another, nor is what works best on one channel automatically applicable to another.
A well-built customer experience framework can help reduce, if not eliminate, that challenge by creating a mindful approach to CX decision-making.
What is a customer experience framework?
A CX framework is a conceptual structure that guides the people, processes and technology involved in customer engagement decision-making. This framework can serve a variety of purposes. For example, it ensures customer engagement is receiving attention at the highest levels of the company, supports a customer-first culture and helps provide a focus for continuous improvement.
A CX framework should result in a better customer engagement strategy and improve processes for CX leaders and their teams, resulting in streamlined workflows and greater efficiency. A CX framework defines how and when customer-facing employees, such as call center agents, can reach out to subject matter experts within the business to address customer inquiries in real time. This, in turn, can lead to streamlined workflows.
Essential features within a CX framework
Companies should build their CX frameworks as a blueprint for approaching customer engagement with an eye on people, processes and technology. While the details vary from company to company, most CX frameworks have a few common building blocks, including the following:
Technology
A CX framework should outline the core tools and technology impacting customer engagement. Included in that list should be the organization's chosen CXM software, customer journey mapping tools, the CRM platform and any unified communications and collaboration platform used to track interactions between customer-facing employees and business experts. Each facet of the technology stack should include support for artificial intelligence, automation and analytics.
Leadership designation
A CX framework should ensure customer engagement receives significant attention from the C-suite. A CX framework should designate ownership of customer engagement to a C-level position such as chief customer officer (CCO) or chief experience officer (CXO). Ownership implies control; this C-level executive must be empowered to implement change, and the framework should include guidance on how to budget and provide staffing under this role. Importantly, the framework should spell out decision-making authority so anyone with questions or concerns about CX knows who to go to for a discussion.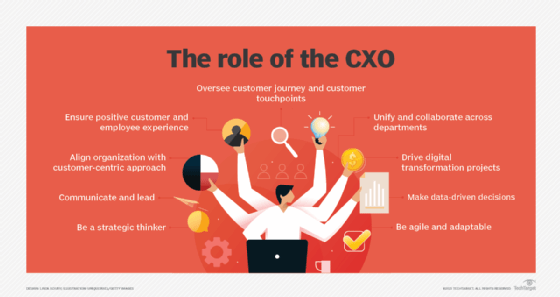 Customer-centric culture
A CX framework should ensure that all employees, whether directly or indirectly involved with customers, are highly focused on understanding what customers need and how to meet those needs. To achieve this focus, CX teams should include processes for gathering and analyzing customer feedback and using the collected insights to support continuous improvement of CX deliverables.
Customer voice
Give customers a voice by including a customer feedback loop. CX teams should ask customers to share information on their experiences, analyze those results, determine what actions to take and then share those actions with customers to show appreciation for their input.
Success measures
The CX framework should clearly outline how the company expects to achieve success and how it will measure that success. Organizations should evaluate CX initiatives and technology deployments using four key success metrics: revenue growth, operational cost reductions, customer rating improvements and employee efficiency.
Companies should build their CX frameworks as a blueprint for approaching customer engagement with an eye on people, processes and technology.
4 tips to help CX teams implement a CX framework
Implementing a CX framework can help deliver consistent, high-quality customer service. IT teams should use the following four tips to help guide the creation of their CX framework.
Create a customer-first culture by communicating value. Convey to all employees, with top-down support, that the contact center is a value center, not a cost center, as it likely was once considered. This shift in thought requires stringent processes for regularly measuring success, acting on the results for improved CX and documenting the decisions and benefits for all. When all employees understand the value, including revenue growth, derived from the contact center, they will be more engaged themselves.
Use customer journey insights. Take the time to understand how customers typically engage across all the various channels supported. What are their starting points? How often are interactions resolved in a customer's first point of contact with a company? What triggers them to escalate to another channel for service? With this knowledge, the CX framework can incorporate workflow and resolution guidelines.
Continuously improve. CX transformation is never a one-and-done exercise. Evaluate project lifecycles and incorporate a maturity model that helps guide thinking on new technology implementations.
Iterate. Regularly review and revisit the CX framework. Customer demands are always evolving, and so should a company's CX blueprint. This should be a primary responsibility of the CCO or other C-level executive in charge but also include constituents directly and indirectly involved in customer-facing activities.
Dig Deeper on Customer experience management