Definition
chief customer officer (CCO)
What is a chief customer officer (CCO)?
A chief customer officer, or customer experience officer, is responsible for customer research, communicating with company employees and taking charge of customer experience (CX) metrics. The position typically reports one level below the chief executive officer (CEO) and answers to the head of marketing or a business unit that reports directly to the CEO.
The role of the chief customer officer differs from company to company. In some companies, the CCO is in charge of customer complaints. In other businesses, the role is more operational, and the chief customer officer works with the customer service department. Many chief customer officers lead their organization's voice of the customer (VOC) initiatives.
CCO is a confusing abbreviation because it also stands for chief compliance officer, chief communication officer, chief commercial officer and chief client officer.
Roles and responsibilities of a chief customer officer
The chief customer officer can take on many different roles, including the following:
business leader
problem solver
strategist
evangelist
communicator
customer advocate
Many different aspects of a business end up in with the CCO, such as:
Customer experience management (CEM). The CCO is responsible for various CEM They must manage customer perceptions and feelings resulting from interaction with the company's brand and products throughout the customer journey.
Customer retention. The chief customer officer develops strategies to retain customers and reduce customer churn rate.
Internal growth. They capitalize on the existing customer base to improve customer lifetime value, which is the average amount of value expected from each customer.
Customer relationship management (CRM). The CCO improves relationships with customers and solves problems they have.
Customer profiling. The top customer-focused executive creates an enterprise-wide view of the customer and profiles them in a way that best suits customers' needs and the needs of the business.
Customer satisfaction. They work with the executive board to develop and implement customer satisfaction strategies.
Voice of the customer. These executives often oversee VOC programs, which collect customer feedback across multiple channels and analyze it to improve the CX.
Unify customer contact. The CCO consolidates multiple channels of customer communication. Channels may include face-to-face, email, telephone, text and social media interaction.
Employee satisfaction. The chief customer officer is responsible for leading and motivating customer support and customer success teams to meet customer-centric goals.
Revenue growth. They are also responsible for tracking customer experience metrics and calculating the return on investment of the organization's CX efforts.
The importance of having a chief customer officer
Chief customer officers play a key role in ensuring customers have good experiences with an organization. Businesses use their CX to differentiate from competitors and improve customer loyalty and retention. The CCO takes ownership of the customer experience and represents the customer service division in the leadership of the company.
The CCO communicates the importance of the customer to the executive-level team. They also establish and drive a customer-centric culture where all departments work to provide effective customer service and deliver a consistent CX.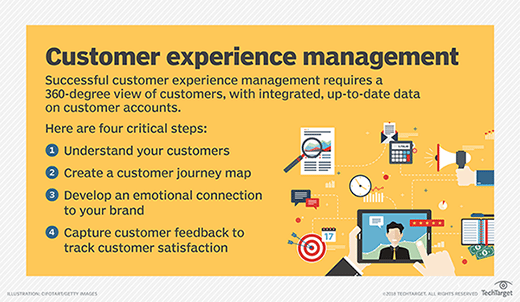 How to become a chief customer officer
The CCO is a C-level role. As such, it requires significant career experience. Top customer executives come from various backgrounds. Having a diverse background is often considered a strength for the role.
One potential career path for CCOs is to rise through the ranks at a company, starting as a customer service representative. It's important for CCOs to understand all aspects of an organization's customer base.
Typical qualifications for the CCO role and job description include the following:
a bachelor's and preferably a master's degree in finance, business, marketing or a related field;
at least five years of experience leading a customer-centric marketing or sales initiative, showing proven results;
a sales or marketing background with omnichannel experience;
an understanding of provider contracting, strategic planning and service delivery;
supervisory or leadership experience with proven ability to meet business goals and take corrective actions; and
skills in consulting, writing, public speaking, negotiation, persuasion, organization, time management, problem-solving and decision-making.
In addition to the generic skills above, the CCO should be well-versed in their organization's and industry's products and services.
How does the chief customer officer fit into the organizational structure?
The chief customer officer can work out of different parts of organization, depending on how it handles the customer experience and customer service. The CCO is generally two levels below the CEO and the C-suite. For instance, when the marketing team handles CX, the CCO reports to the chief marketing officer. They may also report to the head of a separate business unit that reports to the CEO.
If CX has its own frontline business function within the company, such as a customer success department, the CCO might report to the CEO or the chief operating officer.
Top chief customer officer tools
Some common software tools CCOs use to do their job are the following:
customer success platforms
VOC surveys
chatbots
digital self-service tools
email automation software
social media applications
journey mapping tools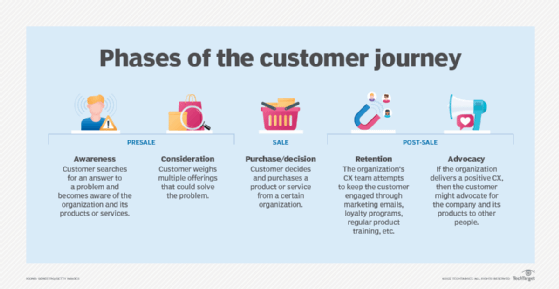 These tools are often incorporated into CEM tools and CRM software. Some vendors and platforms that CCOs work with include the following:
Alchemer
CustomerGauge
Forsta
IBM Tealeaf
Medallia
Momentive's SurveyMonkey
Oracle Maxymiser
Qualtrics
QuestionPro
SAS
Verint
Zendesk
Many of these tools let customer-focused managers and executives create VOC surveys. Customer data collected from these types of surveys is used to improve customer acquisition, customer satisfaction and customer retention. Some common questions to ask on a VOC survey can include:
How likely are you to recommend the organization's product to a friend, family member or colleague?
How easy was it to do business with the organization?
What words would you use to describe the product?
How satisfied are you with the company or product?
Collecting this sort of customer feedback helps CCOs measure the following:
brand awareness and perception;
a customer's intention to continue engaging with a brand;
how well an organization delivers on its product or service; and
where a customer is in the customer journey.
The CCO is responsible for improving customer experience and championing customer service in the organization. Check out our ultimate guide to customer service to learn more about developing a solid customer strategy.
This was last updated in
January 2023
Continue Reading About chief customer officer (CCO)