Definition
chief operating officer (COO)
What is a chief operating officer?
A chief operating officer (COO) is the corporate executive who oversees ongoing business operations within the company. The COO reports to the chief executive officer (CEO) and is usually second-in-command within the company. Alternative titles for the COO include chief operations officer, operations director, director of operations and vice president of operations.
A COO is a member of the C-suite, a term that describes a company's senior executives, including the CEO and chief financial officer (CFO), who often work collaboratively. COOs are found in various industries including business, government and healthcare. While a COO's responsibilities vary based on the industry they're in, their basic duties usually include overseeing an organization's daily operations.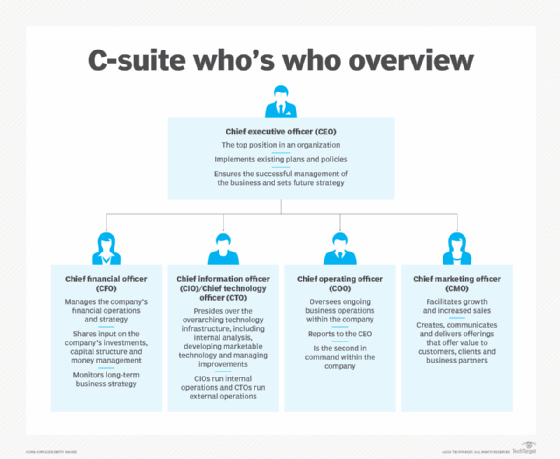 Responsibilities and duties of the COO
The role of the COO varies from one industry to another and even from one company to another. The one constant is the COO's close relationship with the CEO, who is often responsible for defining the COO's role.
Examples of COO responsibilities include the following:
overseeing day-to-day operations;
keeping the CEO apprised of significant events;
collaborating with the CEO and consulting with them on important decisions;
creating business initiatives, operation strategies and policies often related to minimizing expenses;
communicating business strategy and policy to employees and delegating projects;
executing a company's business plans;
fostering employee alignment with the business model and corporate goals; and
overseeing human resource management.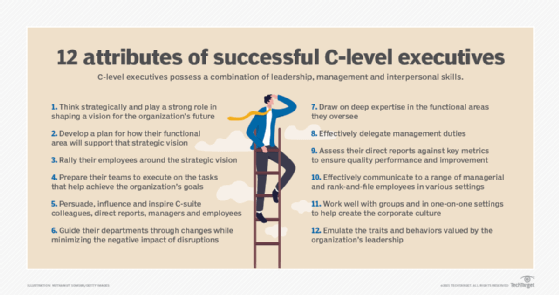 Types of COOs
The various types of chief operating officers reflect the individual's leadership style. There are generally thought to be seven different types of COOs.
Heir apparent COOs are brought in to learn from a CEO and become familiar with a company before taking over the top job. This is seen as the most common kind of COO.
Executors oversee and execute the strategic and organizational goals designed by senior management. The executor COO is responsible for delivering results to the CEO and the rest of senior management and providing updates on a daily or quarterly basis.
Change agents are brought into companies to lead major organizational or strategic changes and initiatives.
Mentors are hired to tutor and develop inexperienced CEOs and other senior managers. Mentor COOs are most often experienced executives brought in to young and rapidly growing companies such as startups. Their roles diminish as the CEO and executive team grow in experience and leadership skills.
MVPs are valuable executives promoted internally to prevent them from leaving the company for a competitor.
Partners co-lead an organization with a CEO. These partnerships work best when the COO has the same authority and responsibilities as the CEO and are COOs in name only.
Other halves are COOs brought in to complement a CEO's skill set, experience and style. The other half balances out the CEO.
The COO and the CEO
A COO is second in command to the CEO, who is the top executive at a company. While the CEO is responsible for an organization's long-term success, the COO is usually responsible for the day-to-day operations. Therefore, a COO's success hinges on their relationship with the CEO.
According to Second in Command: The Misunderstood Role of the Chief Operating Officer by Nathan Bennett and Stephen A. Miles, absolute trust and respect between the two executives is vital or else the relationship can become dysfunctional.
The COO role adds complexity to a company's reporting structure. As such, COOs tend to be employed by the largest organizations, essentially freeing up time for the CEO to focus on long-term business strategies and challenges rather than operations. Smaller organizations and startups that introduce a COO into the reporting structure risk creating power struggles and confusion among employees, according to some management experts.
The COO is often seen as the heir apparent to the CEO. There are a number of high-profile examples of COOs moving into the CEO job, including the following:
Tim Cook was COO at Apple before being named CEO in 2011.
Pamela Nicholson was COO at Enterprise Holdings before being named CEO in 2013.
Steve Ballmer was Microsoft's president, a title that's often considered equivalent to COO; he was considered second in command before being named CEO in 2000.
The state of the COO
Some management experts have said the COO position is in declining in importance because of C-suite changes such as fewer CEOs serving as the chairman of the board of directors for companies. This freed up modern CEOs to perform some of the duties formerly given to their COOs, making COOs unnecessary.
However, according to the 2022 "Volatility Report" by executive recruiting firm Crist Kolder Associates, the position of COO is making a comeback. According to the report, the percentage of companies with COOs has risen from a low of 31.9% in 2018 to 39.6% in 2022, the highest percentage in a decade.
There are several reasons this is happening.
Companies are growing in complexity, particularly with remote work challenges. Ongoing changes have forced some CEOs to hire a second in command to help share the responsibilities, especially with communication.
Research such as that reported in Strategic Management Journal has found that COOs have a positive impact on company performance.
COOs continue to be important in CEO succession planning, and the promotion to COO is still effective in keeping valuable executives from leaving companies.
Key qualifications for a COO
The following are key qualifications needed to obtain a COO position:
a bachelor's or master's degree in business management, administration or management and leadership;
experience both within a company's industry and working in the corporate world in general;
prior experience in the COO role or in similar roles;
an understanding of finance, marketing and IT infrastructure; and
competency and skills in strategic planning, business development, organization, leadership, fundraising, public speaking, interpersonal communication and problem solving.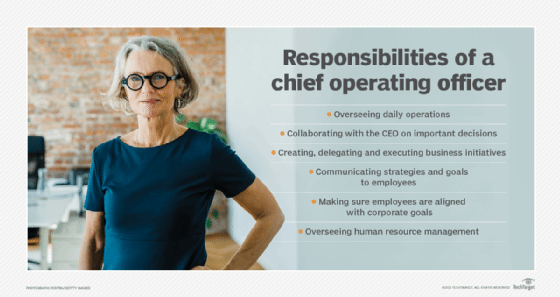 How to become a COO
It often takes over a decade of experience to become a COO. The key steps involved in following this career path include the following:
Obtain a degree or degrees in business management, management and leadership, or business administration.
Seek out companies in a field of interest with room for internal mobility. COOs are often internally promoted into the job, so employees who want to become the COO should work at a company in which they want to rise to an executive position.
Gain experience in various positions in a company. Successful COOs are often those with extensive knowledge of a business, so it's beneficial to get experience in various positions throughout a business. Management experience, in particular, is important as it involves critical skills for the job, such as communication, leadership, problem solving, cost management and experience managing both people and teams.
Build a resume that demonstrates success in corporate and organizational operations, including budgets and streamlined procedures. Potential COOs should be ambitious and seek promotions within their company, looking for opportunities that showcase their business acumen, accomplishments and aspirations for top executive spots.
Chief operating officers are important members of the C-suite. Learn how other members of the executive management team, like chief information officers are evolving.
This was last updated in
January 2023
Continue Reading About chief operating officer (COO)
Dig Deeper on IT applications, infrastructure and operations