10 factors reshaping the role of the CIO in 2023
Yes, the economy is a large factor in how CIOs will do their jobs next year. Insiders point to nine other factors that will influence the role of the CIO in 2023.
The CIO role is nearly a half-century old -- younger than most other C-suite positions but no longer the new kid on the block.
Still, the enterprise's top IT position remains a work in progress: Some 78% of the 800 IT leaders surveyed for the "2023 IT Priorities Report" from Snow Software said the CIO job has evolved immensely over the past 18 months.
The upcoming year is expected to bring yet more dimensions to the role.
Executive advisors, researchers and -- most critically -- IT leaders themselves all predicted that the CIO role will continue to evolve throughout 2023, citing multiple intertwining and overlapping issues that they said will impact the position and its work.
Here's a look at 10 factors that experts expect to shape the CIO role in 2023.
1. Economics
Forrester Research found that IT budgets will see more dollars in the upcoming year; Its "Predictions 2023: Tech Leadership" paper reported that 67% of responding IT decision-makers anticipate increased budgets. But Forrester vice president and principal analyst Bobby Cameron said many of those CIOs won't see enough of a bump in their 2023 budgets to beat inflation, meaning their budgets are actually flat or even down in actual spending power.
2. Increased pressure for efficiencies
Inflation along with concerns about a possible impending recession are impacting more than IT budgets. CIOs said they're also feeling pressure to do more with less.
"That's always been a theme for CIOs, but I think it's particularly prevalent going into 2023, with the global economy what it is and the potential for a recession," said David Burden, senior vice president and CIO at software company ForgeRock.
Burden said he and other CIOs are responding by "leaning hard into automation, artificial intelligence, machine learning and low-code [platforms]" to help deliver both productivity gains and lower costs.
3. Continuing focus on optimization efforts
Similarly, Cameron said CIOs will be feeling more pressure to transform how they run their IT shops to ensure they remain competitive. "There's a need to optimize," he said, explaining that CIOs will have to pay close attention to IT performance and look for ways to improve upon it.
This, though, isn't the same as past optimization efforts which stressed efficiencies above all else. Instead, CIOs today must find ways to deliver technology at lower costs while still delivering technology that supports transformation objectives and overall enterprise strategy. That means, for example, CIOs will have to bring in Agile development practices if they haven't already done so to enable dynamic continuous delivery of products rather than the slower, more costly requirements-based project delivery.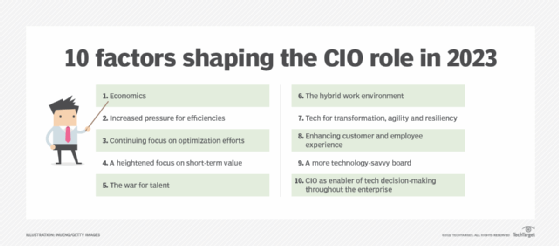 4. A heightened focus on short-term value
On another related note, Forrester research found the pressure to deliver short-term value will also influence the CIO role in the upcoming year.
Cameron acknowledged that CIOs in recent years have faced pressure to demonstrate that technology actually delivers business value, so that alone isn't new; but the existing and expected economic environment will up the need for CIOs "to pay attention to those things tied to revenue generation." He added: "There's still a need to invest for long-term value, but they also have to build for the short term."
5. The war for talent
Despite some economic volatility, the unemployment rate for technical workers hovered around 2% at the close of 2022. And CIOs don't expect to see much change in the labor market for 2023, as they brace for another year of challenges in recruiting and retaining top tech workers.
Gartner, the tech research and advisory firm, cited talent as an issue shaping IT leadership and said that "by 2025, 'labor volatility' will cause 40% of organizations to report a material business loss, forcing a shift in talent strategy from acquisition to resilience."
Deloitte, a professional services firm, also called out talent as one of the top issues in its "Tech Trends 2023" report.
"It's still a challenge to hire the right people. It's not new; it's something that's always affecting CIOs. And it's going to shape what we're going to do next year," said Greg Taffet, managing partner and CIO with Taffet Associates.
Consequently, CIOs must continue to evolve their talent strategies, he and others said.
In its Tech Trends report, Deloitte recommended CIOs adopt an approach where "technology talent can be curated, created, and cultivated." That means prioritizing flexibility in workers, so they can reskill as needed, as well as "tapping into creative sources for finding talent, and providing a compelling talent experience."
6. The hybrid work environment
Like other executives, CIOs are having to remake their leadership and management styles to fit the relatively new hybrid work environment.
"We're all in this hybrid work world and still trying to figure out how to get all these people in different spots onto common ground," said Brian Jackson, research director in the CIO practice at Info-Tech Research Group.
Jackson said CIOs are finding that their IT departments are actually more effective and more productive in the hybrid environment, but research also shows that IT workers are less engaged. "They're a little more disassociated from their employers and feeling isolated," Jackson added.
According to multiple sources, CIOs are exploring technologies that can help them (and their executive colleagues) to counter those feelings of workplace isolation and disengagement but without giving up the productivity gains that came with widespread remote work. CIOs are also evolving how they manage and lead so they can ensure all workers feel involved and included regardless of where they're working on a given day.
Burden said he has been focusing on what he calls digital equity, where "we treat everyone the same and that they have the same access to support and tools and resources" regardless of whether they're in the office or remote.
He added: "It's about making sure everyone feels part of the organization, making sure they can work collaboratively even when some are remote."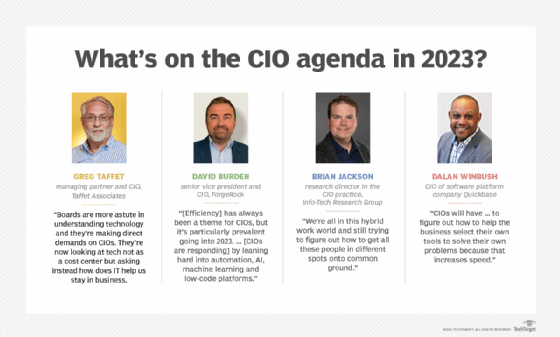 7. Tech for transformation as well as agility and resiliency
Although CIOs said economic concerns influence their agendas in 2023, they still see plenty of opportunities -- and, indeed, expectations -- to bring transformative changes to their organizations through the use of maturing and emerging technologies.
For example, the Tech Trends 2023 report from Info-Tech Research Group cited the metaverse, generative AI, industry-led data models and new digital processes as areas of opportunity.
Moreover, CIOs are expected to not only deliver big plays using technology but also to use those technologies to build agility and resilience, said Dalan Winbush, CIO of software platform company Quickbase.
8. Enhancing customer and employee experience
The need to use technology to reshape customer and employee experience will also require CIO attention in 2023, experts said.
"That's really going to push us forward," Winbush said, noting that CIOs must think about "the total experience that technology and digital gives employees and customers" as they build their strategies and devise product roadmaps.
In its "2023 IT Priorities Report," Snow Software found that creating better customer experiences with digital technology was among the top three important components for their organization's digital transformations, coming in just after embracing new technologies such as cloud and SaaS (No. 1) and enabling employees to do their jobs better with digital technology.
9. A more technology-savvy board
CEOs and directors no longer think of technology as a black box that they don't understand and therefore do not question. That means CIOs are hearing more from their boards and are expected to engage with board members more frequently, Taffet said.
"Boards are more astute in understanding technology and they're making direct demands on CIOs," he said, adding that boards increasingly have members who are or were CIOs or otherwise have deep technology experience. "So they're now looking at tech not as a cost center but asking instead how does IT help us stay in business."
CIOs must be able to respond to this increased board-level interest and oversight, Taffet said. He stressed that this means more than being able to address the board.
"Making presentations is [only] a piece of this shift," he said. "There's increased scrutiny of IT because the board now knows what tech can do."
10. CIO as enabler of tech decision-making throughout the enterprise
Although CIOs are feeling more pressure from CEOs and their boards to use IT to deliver both transformations and efficiencies in 2023, they're also being asked -- and expected -- to enable others within the enterprise to do the same.
Gartner already found it's a widespread trend, noting that a 2022 study found 74% of technology purchases are funded at least partially by business units outside of IT, leaving only 26% of technology investments funded entirely by the IT organization.
CIOs must enable business unit leaders and workers to efficiently, effectively and securely produce and use tech through intuitive self-service options along with easy-to-follow and even automated governance policies, experts said.
Winbush said not all IT execs are there yet but noted that "CIOs will have to find a way to do that. They're going to have to figure out how to help the business select their own tools to solve their own problems because that increases speed."