7 benefits of customer experience management
There are many benefits of a customer experience management strategy, including a reduced customer churn rate, lower marketing costs and improved crisis management.
Business leaders may know that it costs five times more to attract new customers than to retain existing customers, but they may not know the best strategies to ensure their buyers have a positive customer experience.
The top priorities of many sales and marketing professionals is to build lead generation programs, create demand for new target markets and buyers and to get as many new website visitors as possible. In executive offices and on annual business plans, strategies for retaining customers and growing existing relationships is often absent from the conversation.
Businesses shouldn't forget the value of retaining previous and existing customers, however, especially with the increase in SaaS-based offerings and the competition of e-commerce sales. It's important to explore the benefits of customer experience management tactics and how to increase profits from brand loyalty.
What is customer experience management?
To understand the benefits of customer experience management (CEM), CX professionals should have a clear picture of what that means to their brand. The goal of CEM is to manage customer interactions through each physical and digital touchpoint to deliver personalized, customer-centric experiences that drive brand loyalty and increase revenue.
Managing customer experience isn't just about how people perceive their experience with a brand or the actions a company takes, but rather how customers feel when engaging with a brand. Customers will change their perception of a brand -- hopefully in a positive direction -- each time they visit the company's website, reach out for customer support or see ads online. Companies can better manage that by identifying CEM metrics and having a customer experience management plan in place to increase customer loyalty.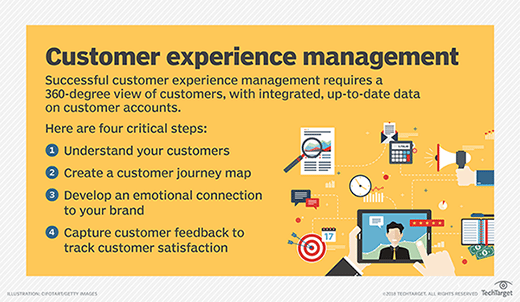 1. Higher customer lifetime value
Customer lifetime value represents the total amount of money a customer will spend with a business on products or services over a lifetime. Knowing this number allows brands to identify how much to invest in retaining customers versus acquiring new customers, but the real benefit of customer experience management is the ability to ensure that number increases.
Repeat business represents strong customer loyalty to a brand. It also highlights the quality of a company's products and likely is influenced by the various interactions someone has with a company. Companies roll out rewards programs, communicate often with customers and invest in customer service and support to increase customer conversions. The more the customer spends with a business, the higher the profits. Additionally, the odds of making a sale on an existing customer often exceed 60%-70%, whereas companies are only 5%-20% likely to sell to a new customer.
2. Reduced customer churn
Businesses that are seeing a higher customer lifetime value from a good customer experience management program are likely benefitting from reduced churn or customer turnover. It is more costly to acquire new customers than to retain them, so by putting resources toward keeping customers happy, companies will experience longer engagement.
Through regular touchpoints such as frequent phone calls, email updates or customer appreciation events and sales, a brand is likely to stay at the top of a customer's mind. When the time has come to make another purchase or renew a contract, those customers have an easier decision to make if customer service representatives have been attentive to their needs or wants over time.
How to implement a CEM program
The benefits of customer experience management strategies are just the start to why brands should focus on CEM programs. Companies can determine the how by encouraging their employees to discuss what they would want from their favorite brands. Business leaders already think about what is important to the customer, but they should also put themselves in the shoes of their customers, reflecting on how they feel when they have engaged with a brand and had a positive experience.
3. Increased brand equity
Brand equity is a marketing term that typically describes a brand's value in the eyes of the consumer. Brand equity, however, has more to do with the emotions a consumer has when thinking about a brand. Delivering on promises, providing high quality products and services and being responsive are all ways to build positive brand equity. Conversely, under-delivery, disappointing interactions and massive public declaration to avoid a brand are all examples of developing negative brand equity.
A company with positive brand equity has some big fans. These customers are happy to post their positive reviews, share their experiences through word of mouth referrals and even participate in other customer loyalty programs. An effective customer experience management plan can influence a positive brand equity and prevent negative reviews.
4. Higher customer retention
Brands that experience higher brand equity and reduced churn will also experience higher customer retention. High customer retention often correlates to high customer loyalty. A customer may buy from a brand once every few years, but the ability to keep that person as a customer is important.
Companies that are quick to resolve issues, reward loyalty, stay in touch, and most importantly, thank their customers will strengthen the positive perception that is at the root of the overall customer experience. Customer retention leads to more sales and higher lifetime value and an easier way to increase ROI from that initial conversion.
5. Improved crisis management
By implementing effective CEM programs, businesses are also preparing for any potential crises that may arise. Bad PR, the recall of a product or the inability to meet simple customer service requests can all leave a bad taste in the mouths of the public and more importantly customers.
Repeat business represents strong customer loyalty to a brand.
When customers trust a company to be there for them and with them, they are more likely to interact with that brand directly. Brands with effective CEM programs can better protect themselves from public outrage or humiliation. Even with short term setbacks, companies that own up to mistakes, enforce the trust their customers put in them and respond to complaints or negative experiences positively will come out on top in the end.
6. Reduced costs of service and marketing
When companies have a customer-centric approach to marketing, they are eliminating a lot of the guesswork related to what customers want. Customer experience management requires CX teams to look at customers in their own light, determine what products they bought and what they will purchase next, learn lessons through the sales process and understand why customers are reaching out. Teams can use this data to be more proactive and potentially anticipate the needs of the customer.
7. Better customer engagement
A successful customer experience management program requires brands to take an omnichannel approach to customer engagement. CX teams should determine where customers are interacting, and then go to where they interact most frequently -- whether that is through social media, email or phone. Companies should be responsive and proactive by frequently checking in, understanding needs and rewarding loyalty. That will result in those return interactions from the customers.
Dig Deeper on Customer experience management