CXM vs. CRM: Which platform is best for your business?
CXM and CRM systems help organizations boost customer satisfaction, but CXM focuses on how customers perceive a brand, while CRM helps employees understand their customers.
Organizations need to track a lot of customer information, but they also must know how to use it to create great...
Continue Reading This Article
Enjoy this article as well as all of our content, including E-Guides, news, tips and more.
customer experiences.
Customer experience management (CXM) and customer relationship management (CRM) are important technologies that help organizations keep track of customer data. However, these systems have distinctions.
Business leaders should know the differences between CXM and CRM before they decide which software to incorporate.
What is CXM?
CXM is the combination of processes an organization uses to oversee all interactions between customers and the organization, to build and enhance customer loyalty.
Organizations must have a customer-centric strategy that presents a 360-degree view of the customer.
Organizations must have a customer-centric strategy that presents a 360-degree view of the customer. They can use customer segmentation to organize consumers based on their interests, then create a customer journey map to predict future interactions with the brand. Organizations must use the information they gather about their consumers to create a brand personality and foster a relationship with the customer.
Comprehensive CXM software incorporates four major components: e-commerce, CRM, marketing automation and customer service. Successful CXM systems also collect customer feedback so CX teams know which customer experience aspects need improvement.
CXM strategies rely on various tools to improve the customer experience. For example, companies can use emotional analytics software to analyze the success of customer service strategies. By collecting customer feedback and analyzing customer behaviors, organizations can better measure the effectiveness of their CXM strategy.
The top CXM software vendors include Adobe, Qualtrics, SAP and Salesforce.
What is CRM?
CRM refers to the different practices and strategies organizations use to manage customer interactions with a company. CRM systems gather and store customer data from all contact points, including the company's website, phone, live chat, mail, marketing materials and social media.
CRM systems equip customer-facing staff with a consumer's personal information, purchase history and buying preferences that employees can then use to offer high levels of service and drive sales. Organizations can also use data from a CRM to determine how likely a customer is to recommend a product and how satisfied they are with the experience to develop marketing campaigns and customer service strategies.
The top CRM vendors include Microsoft, Oracle, SAP and Salesforce. These vendors offer on-premises and cloud-based options. Open source CRM options include Freshsales, HubSpot and SuiteCRM.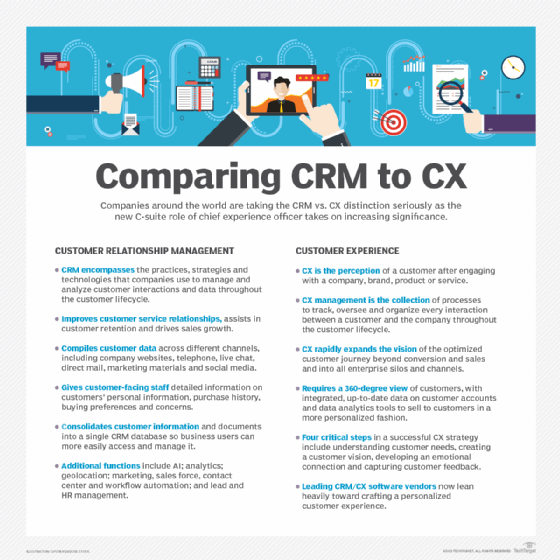 CXM vs. CRM
CXM is how the organization looks to the customer. Various parts of the overall brand experience -- including how the customer interacts with the organization, their emotional connection to the business and feedback on their experience -- all contribute to CXM. CXM software collects and analyzes customer interactions and monitors and responds to each stage of the customer journey. CXM software can integrate with CRM systems for more accurate results.
On the other hand, CRM is how a customer looks to an organization. When the business knows what the customer looks like -- from their various points of contact with the organization -- CRM software can manage, track and change sales, marketing and service strategies based on the customer's actions. Organizations can use the data from a CRM system to personalize emails or advertisements and provide customer service representatives with accurate information to assist consumers.
Deciding between CXM and CRM software
While CXM and CRM software can be bought separately, businesses can benefit from using the two systems to increase sales, retain customers and improve CX. Most CXM platforms include CRM software, enabling companies to combine the two concepts under one platform.
Organizations looking to incorporate CXM software, CRM software or both into their everyday functions must identify the challenges they face and then determine how this software will address those issues.
Dig Deeper on Customer experience management
While revenue operations focus on revenue growth and integration of sales, marketing and service departments, sales operations focus on sales ... Continue Reading
CDPs and marketing automation software collect customer data, automate processes and increase efficiency, but they also have features that set them ... Continue Reading
Contact centers accommodate all channels of communication, which means hiring managers must train call center agents to keep up with customer demands. Continue Reading