10 ways to improve the customer experience today
Many organizations struggle with where and how to improve CX, as the focus shifts from CRM to customer experience. Here are 10 strategies to use for a successful journey.
As customer expectations increase, so, too, does the need for both excellent customer service and customer exp...
Continue Reading This Article
Enjoy this article as well as all of our content, including E-Guides, news, tips and more.
erience.
There are many methods to improve CX -- some complex and costly, others relatively simple and inexpensive -- but one thing is certain: All businesses need a game plan.
Here are 10 initiatives organizations can use to improve the customer experience.
1. Get employee buy-in
Employees are the key to optimizing the customer experience, said Michael Lowenstein, thought leadership principal and director of qualitative insight services at Beyond Philosophy, based in Sarasota, Fla.
First, organizations must ensure they hire employees who are committed to the company and fully understand the company's mission -- beginning with sales and marketing staff and ending with customer service teams and customer support teams. Employee loyalty and satisfaction play big roles in improving the customer experience -- a disgruntled employee usually won't provide the type of customer experience the company is after. This can cause organizations to lose business if unhappy customers choose to take their business elsewhere.
For organizations looking to get employee buy-in for their customer experience initiatives, building a business case that explains why the initiative is important from a customer's point of view is a good starting point, said Lior Arussy, a consultant and author in the customer experience industry.
2. Run an open, transparent business
Businesses should be as open and transparent as possible in their dealings with customers and employees alike. This approach builds trust while increasing business efficiency.
Businesses can be transparent by:
owning up to and rectifying mistakes;
explaining the rationale behind decision-making that affects customers;
responding to customers in a timely fashion; and
being active on social media, sharing business updates and responding to customer comments.
Most experts agree that customer trust has a significant effect on the customer experience. Good CX can lead to customer retention and customer loyalty. The more open-minded, inclusive and transparent a company can be, the better.
3. Deliver a consistent experience
Businesses should also ensure the customer experience is consistent across the entire organization. Each department that interacts with customers in an organization should have access to the same updated customer information, eliminating the need for customers to share their information with a company more than once.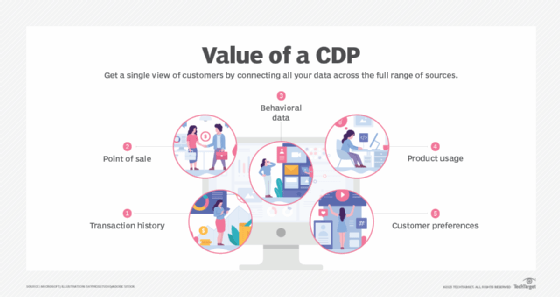 While CRM technology can help with this, businesses might consider adding a customer data platform (CDP) to their technology stack. A CDP collects customer data from multiple disparate systems -- CRM, ERP, e-commerce, sales and marketing -- into one system to create a single gold record of the customer. This would in turn give each department within a business access to the same customer information and prevent the need for repetition.
4. Train customer-facing employees
Customer service employees should be given customer experience training from day one, Arussy said. This process differs from traditional call center training in that it tends to be more customized to reflect the company's brand, desired customer experience and customer relationships. Some aspects to cover in training include the following:
the principles of customer experience;
the concept of delivering memories and not just transactions; and
the basics of customer segmentations.
5. Provide customer self-service options
Self-service resources help provide support and information for customers without human intervention. This takes some burden off call centers and enables customers to get answers to simple questions where and when they need it, which can improve the customer experience and lead to customer loyalty and satisfaction.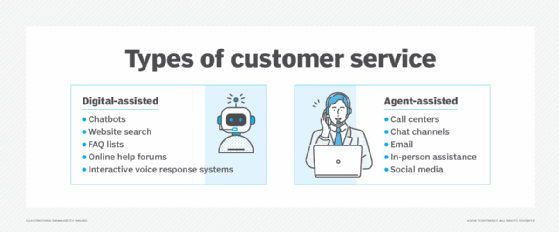 Typically, those resources include FAQ sheets or pages where businesses post answers to commonly asked questions. Other self-service options include interactive voice response systems and chatbot assistance over the phone and web. However, it is always important to provide customers with a way to escalate and reach a live human, as there are sometimes more complex problems that self-service can't solve.
Companies must be careful to ensure self-service resources are clear and complete; otherwise, this tactic may have the opposite effect and will lead to frustrated customers.
6. Engage customers on social media
Businesses need to meet customers where they spend their time, so it's important to be active on social media. There are a number of social sites on the internet -- such as Facebook, Twitter, Instagram, YouTube, LinkedIn, Snapchat and TikTok -- so it's important for businesses to know their audience and understand who uses each platform.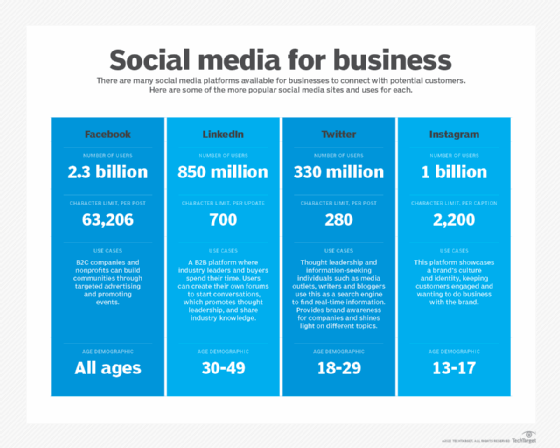 Social media monitoring can be a good option for customer engagement and to listen to customer experiences. For a company to effectively use this digital marketing channel, companies need to monitor conversations through social channels. This begins with hiring great communicators who work within those social channels and are organized and conscientious. They need to listen to customer feedback regarding product quality and experience, respond to it and create satisfaction to improve the customer experience.
7. Personalize customer experience
It is important to make customers feel like a company knows and understands them, and providing a personalized experience is key.
One way to do this is by tailoring the user experience to the individual consumer each time they visit a website. The website should remember customer behaviors, preferences and how many times the user has visited the site and adjust accordingly. This leads to an improved customer experience and better customer retention.
Another way to do this is by personalizing marketing content, which businesses can do with the help of a personalization engine. Personalizing content helps businesses get the right content to the right people at the right time, preventing an email inbox full of spam and useless materials that customers never open.
Personalization engines can help define customer segments, connect with appropriate marketing content in a content management system and monitor the choices that customers make.
8. Act on customer feedback
Everyone knows the importance of customer feedback, but not all companies actually act on the feedback and make the changes that customers seek. This is something all organizations should do to increase their number of satisfied, loyal customers.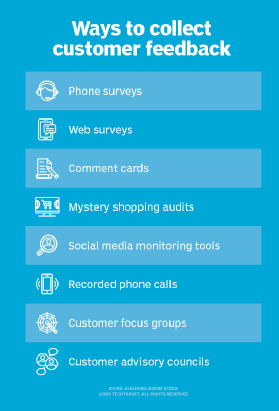 Businesses can use technology such as speech and text analytics, social media monitoring tools, net promoter scores and customer surveys and mystery shopping to gather customer feedback. Organizations should not only gather quantitative data; qualitative data is necessary as well. This is information that businesses cannot gather with a simple metric. It is instead direct, often verbatim feedback about a customer interaction, what they liked and what they would like changed.
To improve the customer experience, businesses should clearly communicate to employees what the organization expects of them and what type of experience their customers expect. And when companies receive feedback from customers that might cause a change in policy, businesses must clearly spell this out to workers, too.
9. Create a customer success team
Organizations should try to anticipate problems before they occur to ensure the best customer experience using various customer success strategies. Fixing a problem before a customer knows it's a problem leads to their -- and the company's -- happiness. Customer acquisition costs more money than retaining an existing customer.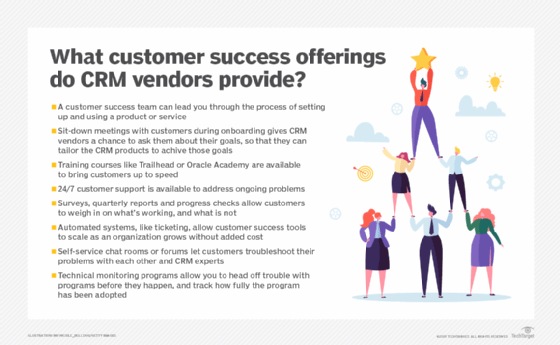 Customer success teams can be proactive in three different areas:
Product installation. An individual or team of professionals can set up software or hardware for customers, testing it along the way to ensure it functions properly, thus avoiding problems and questions that might arise in self-installation.
Product training in the form of FAQs, live demonstrations, videos and user groups can teach customers more about the software and how to make the most of their purchase.
Account management. Customer success team members can proactively reach out to customers, letting them know of updates and seeking feedback to identify opportunities for improvement.
10. Create a well-balanced customer experience team
Businesses with the best-run CX programs usually have a good mix of people from all areas of the organization responsible for and reporting on the customer experience.
A customer experience team structure should be made up of people who are focused on customer loyalty, customer satisfaction and process improvement, said Ed Thompson, a Gartner analyst.
Key roles to include on a customer experience team include a CX manager, sales and marketing liaisons, CX data analysts, IT manager and customer support manager.
Next Steps
Invest in people for better CX