kantver - Fotolia
The right leader, team crucial for digital CX strategy success
Having the right team in place can ensure digital CX success. Here are some leadership and team roles that organizations should consider when creating a plan.
Through web ratings and social media posts, customers wield unprecedented power to make or break a company's reputation -- and, ultimately, its bottom line. Consequently, business leaders are focusing heavily on developing strategies to improve customer interactions.
By the end of 2018, 59% of organizations had a digital CX strategy, and another 26% were planning to develop one in 2019, according to the Nemertes Research Digital Customer Experience 2018-19 Research Study of 697 organizations in North America, Europe and Asia-Pacific.
Of course, just because a company has a digital CX strategy doesn't mean it's a good one. Without the right leaders, organizational strategy, budget, technologies and success metrics, the strategy may do more harm than good.
From the research, Nemertes defined key practices common among companies that built digital CX strategies generating measurable success metrics. This piece will focus on the leaders and associated organizational structure.
Leadership
The most important component to a successful organization is an empowered leader who aligns with the company leadership culture. Successful companies hire a chief customer officer (CCO) -- or some similar title -- to develop and lead the digital CX strategy.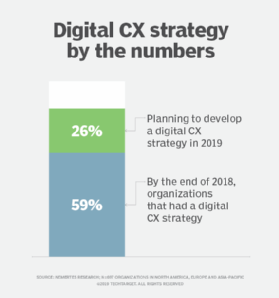 The CCO is an executive-level individual with ultimate responsibility for the strategy and all customer-facing activities to maximize customer acquisition, retention and satisfaction. This person often works closely with the chief marketing officer (CMO) and chief revenue officer, creating a customer-first mentality across the organization. In large part, the CCO achieves this goal through analyzing customer ratings, sales, agent performance and other key performance indicators and then enacting change based on the results.
In 2018, 25% of companies had a CCO; by April 2019, that number increased to 37%, with another 10% planning to hire one by year's end. Successful CEOs empower their CCOs. They are at the heart of the digital CX transformation, and they can point to measurable improvements in customer satisfaction (CSAT) scores, revenue, agent turnover and more.
The most important component to a successful organization is an empowered leader who aligns with the company leadership culture.
When organizing a leadership team, consider the following:
The CCO should report to the CEO and be on equal footing with the CMO and head of sales -- or above them. It can be disruptive, but companies that truly put digital CX first will organize their executive teams to reflect that prioritization. The Nemertes research shows that some organizations had CCOs reporting to CMOs, but this is not a good structure because there could be competing interests. For example, a CMO may want to launch a digital marketing campaign that uses the webchat channel, but the CCO knows that webchat does not generate positive CSAT scores. The CMO could pull rank and launch it anyway, which would not be to the company's benefit.
Personality matters. CCOs must be assertive, pleasant, good negotiators and data-oriented. After all, they are the voice of the customer. If they find any company activity is misaligned with customer feedback, they must effectively present a data-backed case to convince executive peers to make changes. During a digital CX transformation, these changes could be profound.
CCOs need budget and staff. The budget for digital CX projects comes from a variety of departments, but 74% of CCOs have budgets to fund their staffs and at least some projects.
Organizational structure
Leadership is important but so is the rest of the team. As companies execute on their digital CX initiatives, they require involvement from a variety of groups. Most commonly, digital CX projects involve IT departments because technology is a cornerstone to success. Other teams involved include executives, customer service, marketing and sales. The key is to have the appropriate representation of departments to effectively execute on each digital CX initiative.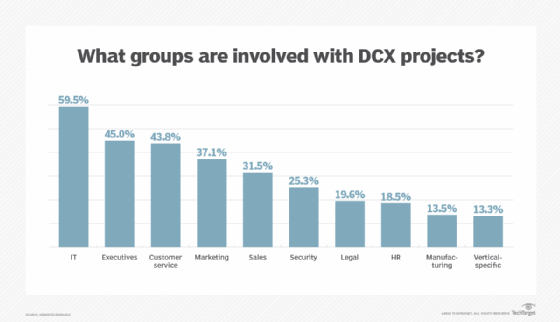 In some cases, the representatives from each group are part of the project team; in other cases, they are stakeholders or evangelists for the initiative itself. Part of the early planning of any new project -- such as adding new digital channels, mobile-enabling digital CX apps, agent analytics, custom apps, etc. -- is identifying who should have which roles. Then, it's up to leadership to pitch the project and gain buy-in from the desired groups.
Dig Deeper on Customer experience management