ra2 studio - Fotolia
5 digital customer experience technologies for a winning strategy
A strong digital CX strategy can help improve customer experience, drive revenue and reduce costs. Evaluate these five pillars to help you along your journey.
Transforming CX is high on the executive priority list. But knowing precisely which digital customer experience technologies to consider -- along with setting a reasonable budget -- can be a time-consuming and overwhelming task.
Here is some data that Nemertes Research collected in two recent studies that can help businesses narrow down technology categories and set budgets: the "Digital Customer Experience 2018-19 Research Study" of 697 organizations, and the "Nemertes DN7966 Intelligent Customer Engagement 2019-20" research study of 518 organizations.
Digital CX technology taxonomy
Though digital customer experience technologies encompass hundreds of product categories, they can be boiled down to five pillars: customer relationship management (CRM), contact center, customer service, customer engagement management and customer success analytics. The pillars may include software, cloud-based apps, technology platforms and AI-enabled apps that automate functions and aim to improve both customer and employee experience.
Specifically, here is how the five pillars are defined:
CRM. Software or cloud-based apps manage customer contacts, activities, opportunities, interactions and history; track revenue; and create reports. CRM may also include internal collaboration capabilities, such as persistent chat -- topic-specific chat streams. Vendors include Salesforce, Oracle, Microsoft, SAP, Agile CRM, NetSuite and SugarCRM.
Contact center. On-premises software platforms, cloud-based services or point apps enable agent-based communications with internal and external customers using numerous communication methods. Contact center also includes agent workforce optimization, performance management tools, analytics and reporting. Vendors include 8x8 Inc., Amazon, Avaya, Cisco, Five9, Genesys, Mitel, NICE InContact, RingCentral, Serenova, Talkdesk and Vonage.
Customer service. Software applications or cloud services manage customer interactions and track follow-up -- with or without a formal contact center. Functions include appointment management, complaint monitoring, help desk, self-service portals, trouble ticketing, alerts and automated customer notices. Providers include Gladly, LiveChat, Monday.com, Oracle, Pegasystems, Zendesk and Zoho.
Customer engagement management. Software applications invite, track and manage programs to further engage customers. The apps manage members, activity and rewards for customer loyalty programs; manage content syndication to deliver useful information to customers; provide gamification programs with rewards; manage communities with threaded discussions; and manage overall communications with customers. Analytics may be used to measure success, churn and feedback. Providers include Bright Pattern Inc., eGain, InTheChat, LiveEngage, Medallia, Oracle, Serenova and Ujet Inc.
Customer success analytics. Advanced software packages or cloud services manage customer satisfaction through survey management, feedback collection, complaint monitoring and call reporting. Vendors include Chattermill, Clarabridge, Gainsight Inc., MaritzCX, Medallia, Qualtrics and TheySay.
Today, 71.1% of companies are using CRM software and 62.5% run a contact center.

Intelligent Customer Engagement research study
Today, 71.1% of companies are using CRM software or services and 62.5% run a contact center, according to the Intelligent Customer Engagement research study. Less used, but growing, are customer success analytics coming in at 37.1%, customer service apps at 21.8% and customer engagement management apps at 20.9%.
As the data core of digital CX, a CRM tool is imperative. And as the communications core of digital CX, contact center technologies are imperative. The extent to which companies need customer service and customer engagement apps depends on the type of interactions.
Analytics and AI go hand in hand
Every IT and business leader should consider adopting customer success analytics tools. Without the information gleaned from such tools, it's very difficult to transform digital CX. Information such as internal and external customer ratings -- both structured and unstructured -- helps business leaders continually adjust scripts, outreach approaches and channels used.
When asked which technologies IT and business leaders expect to transform customer experience, customer success analytics was the top response, with 54% of research participants citing it. Next in line was artificial intelligence at 38%.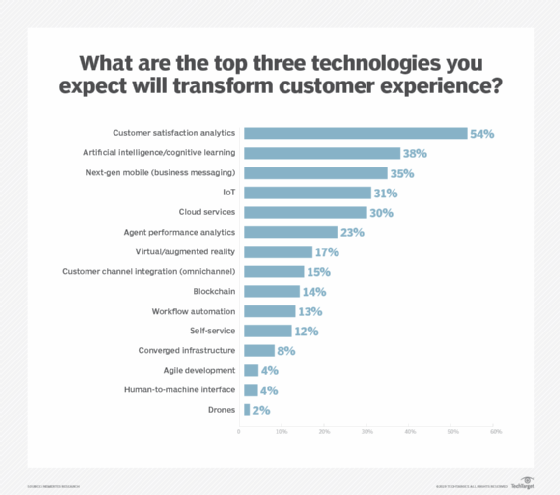 Analytics are key to empowering AI-based apps, which are becoming embedded in each of the pillars. Organizations are embracing AI in digital customer experience technologies. In fact, 60.8% of companies are using or planning to use AI in their digital CX initiatives in 2019, compared to only 44.6% in 2018.
Setting budgets
Determining the right budget for digital customer experience technology and initiatives depends on several factors, including funds available, people available to execute the strategy, existing technologies, and the number of problems and opportunities that your business is planning to address.
To provide some benchmarks, companies were asked how much they spent on digital CX initiatives in 2018. The annual budgets are:
Small companies (less than 250 employees): $384,842
Midsize companies (250 to 2,500 employees): $1,311,325
Large companies (more than 2,500 employees): $3,844,200
To gain a competitive advantage, drive revenue, reduce costs and improve customer experience, organizations must focus on their digital CX strategy. In doing so, evaluating the five key pillars of digital customer experience technologies will help shape a solid technology ecosystem that will support innovative ideas moving forward.