ag visuell - Fotolia
Collaboration tools in the workplace boost customer experiences
Collaboration tools improve personal digital experiences internally for contact center agents, marketers and sales pros and externally for customers in an e-commerce environment.
Companies are increasingly discovering that improving employee experiences is an important step in improving the customer experience. Part of the equation focuses on customer-facing employees and the way they collaborate with each other and engage with customers across multiple channels.
"Collaboration tools and techniques for agents allow for faster and more efficient response times, which improves customer satisfaction," said Jovan Milenkovic, founder of software advisory service KommandoTech. These tools make it easier to weave in context about customers, share procedures and manage credentials for social media, with the intention of creating a better experience for employees and customers.
Before the use of collaboration tools in the workplace, employees relied on CRM, email and a landline phone separately to do their jobs. Integrating these channels of communication into collaboration software under one platform smooths workflow and eases access to critical files, Milenkovic said. Collaboration platform makers include Zendesk, 8x8, ServiceNow, Genesys, Vonage, LogMeIn and enterprise vendors like SAP and Oracle.
A customer service rep on the phone with a customer, for example, can quickly shoot a message to a co-worker at another department asking for more information on the customer, resulting in shorter hold times. Emails are also linked to collaboration tools, so customer requests can be quickly triaged and dispatched to the appropriate department.
Training is half the battle
When introducing collaboration tools in the workplace or migrating to a new platform, Milenkovic recommended training employees for at least a month. In addition, any major changes to the infrastructure ideally should be done over a long holiday weekend when it's less likely that customers will be affected.
Sales enablement tool maker Better Proposals is using Zendesk for customer support, company founder and CEO Adam Hempenstall said. Every time an agent responds to a customer support ticket, the whole team can see who answered it and when, all the more critical since the customer support reps all work remotely in different countries. In addition, when a team member answers the chat box, all the reps know the status of each customer request. "We save significant time on communication and collaboration," Hempstall explained, "since we don't have to go back and forth every day."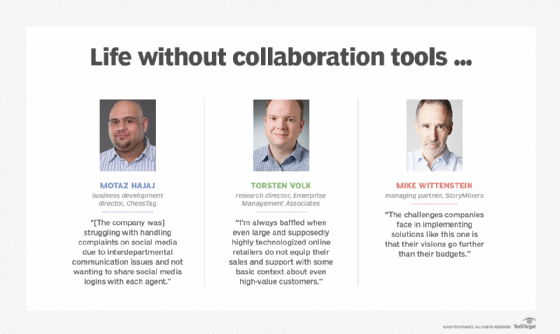 "I'm always baffled when even large and supposedly highly technologized online retailers do not equip their sales and support with some basic context about even high-value customers," said Torsten Volk, research director at Enterprise Management Associates. He sees this disconnect regularly, even with collaboration tools, probably because the tools are implemented incorrectly or employees aren't properly trained to use them.
Doing this right requires an ongoing practice that uses personalization and learning loops that allow the tools to get smarter with each interaction, said Mike Wittenstein, managing partner at storytelling and experience design consultancy StoryMiners Inc. "Knowing what a customer wants sooner means they can be better served and at a lower cost," he added.
Deciphering a customer's intentions
Interpreting customer intent involves mining the clicks, posts, calls and survey responses from customers. Natural language processing is used behind the scenes to convert those interactions into easy-to-digest insights for front-line employees. Collaboration tools in the workplace can also reduce the need for agents to manually enter data and update customer records.
Let's say a customer, for example, purchases a washing machine and has it installed. A week later, the customer calls the store. Through advanced analytics and collaboration tools, the retailer can immediately cross check the customer's phone number, pull up the customer's record and deduce that the customer is likely calling about the washer.
This level of sophistication takes time to set up and needs to be curated. "The challenges companies face in implementing solutions like this one is that their visions go further than their budgets," Wittenstein said. "As customers and front-line employees become more familiar with what access to a customer's intent can mean for the level of customer service and of store profitability, I believe that better brands will be more deeply trusted."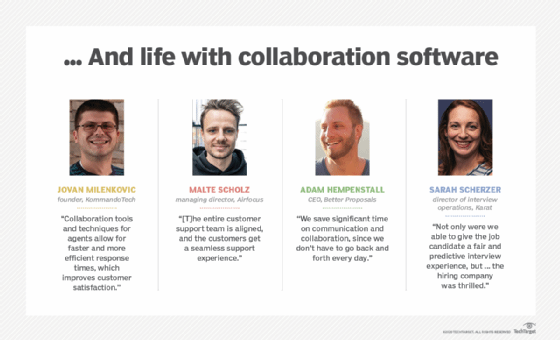 Collaboration tools can also help keep customer service reps on the same procedural page. Malte Scholz, co-founder, managing director and head of product at Airfocus, a roadmap and prioritization tool for product managers, said his company uses collaboration software to help new agents learn the process of handling customer requests -- seven steps in all, starting with a customer support ticket.
"In this way," Scholz explained, "the entire customer support team is aligned, and the customers get a seamless support experience." A Google Doc shares the main steps, and a template in Trello lists each step as an item on a checklist.
In addition, collaboration tools in the workplace can help large teams manage social presence across multiple accounts and social media services. Motaz Hajaj, business development director at customer experience consultancy ChessTag, worked recently with a large insurance company to improve its social media presence. "They were struggling with handling complaints on social media due to interdepartmental communication issues and not wanting to share social media logins with each agent," Hajaj said.
Zendesk software helped bridge the gap by routing social media inquiries to a group of customer service agents in a concise, easy-to-use dashboard with its own login. Response time was reduced from as much as five days to less than a day and even as little as one hour. And frequently asked questions were answered in just a few clicks. "Customers loved that their comments were answered quickly," Hajaj noted, "and the company benefited from having public-facing complaints resolved in a timely manner."
Treating employees as customers
Companies also see benefits in combining different collaboration tools to create new opportunities and even better digital experiences.
Karat Inc., a technical interview service, conducted more than 60,000 interviews on behalf of companies hiring software engineers. "As you can imagine, job interviews can feel like high-pressure situations, and people have strong reactions if they are struggling with things like scheduling, technology or accessibility requests," said Sarah Scherzer, director of interview operations at Karat. The company developed a candidate experience approach to treating interview candidates like customers.
One job candidate with a hearing impairment submitted an accessibility request to Scherzer's CX team via Zendesk collaboration software. The team quickly shared the context with the company's global network via Slack to locate an engineer who was fluent in American Sign Language to schedule the interview. "Not only were we able to give the job candidate a fair and predictive interview experience," Scherzer said, "but ... the hiring company was thrilled because they got to give someone a more enjoyable interview that put them at ease and let them showcase their full skills in a natural way and helped elevate their own employer brand."