FotolEdhar - Fotolia
Digital experience trends to watch in 2020
With the availability of AI, personalization engines and customer data platforms, businesses and consumers can expect improved digital experiences in 2020.
As the calendar turns to 2020, the dawn of the digitization age is breaking due to the continuing evolution of content technologies, AI and the cloud.
There are many digital experiences trends to watch in the coming year, as individuals and organizations will be increasingly enmeshed in technologies that sense and respond to immediate tasks at hand.
But don't expect a big bang or even new killer apps. These transitions are going to be much quieter and occur in the background. Beyond the devices themselves, the digital ecosystem empowering the web is going to become more intelligent and understand more about people's backgrounds, preferences, interests and intentions.
Better customer experiences
One digital experience trend may be that CX will improve with the familiar brands -- both online and in-store. The stream of irrelevant email generated from one distribution list or another will begin to subside, and people will receive many more customized promotions.
Consider how a supermarket chain might intuitively know its customers and better tailor weekly discounts to match their preferences. No longer will the company simply email offers to a single distribution list, analogous to mass-market advertising in local newspapers. Behind the scenes it might consolidate customer data into a customer data platform by one of a number of vendors including Microsoft, Salesforce, Oracle, Evergage and AgilOne. The supermarket chain might then incorporate a personalization engine into its marketing operations to personalize promotions.
With machine learning algorithms, business marketers can intelligently segment shoppers; dynamically determine who are the vegetarians, pescatarians and carnivores; and automatically send targeted messages about featured products. Customers in different segments might even receive different coupons in brick-and-mortar checkout lines.
Developing digital experiences in 2020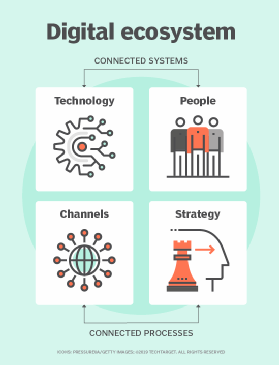 Another digital experience trend is the time and effort required to develop these innovative experiences may shrink. Application developers will increasingly rely on headless CMS platforms to manage the content components for these applications. Savvy enterprises will also continue to refine their information architectures for text-based and rich media content alike, exposing additional metadata to enhance the management of underlying content components.
For instance, news organizations might publish photos that are extensively tagged with multiple descriptors, maintained within a digital asset management system where image recognition software automatically generates tags. Search engines can use these tags to improve retrieval, and application developers can rely on these tags to dynamically incorporate relevant images into customer experiences. Publishers may also have new ways to verify the provenance of the assets they distribute, which can help to fight misinformation.
Video analysis
Video analysis may also improve dramatically. Today, it is easy to produce videos but difficult to unlock the content they contain. Many professional and industry conferences, for example, routinely record keynote and breakout sessions. They then post these video collections on their websites, indexed by session tracks. People unable to attend the conferences can view the events on their own time, and attendees can refresh their memories as needed.
However, searching for snippets about specific topics across multiple videos takes time and effort, viewing sessions with the most relevant titles and fast-forwarding where feasible. Organizations need algorithms, applications and editorial processes to analyze video streams, identify different topics, tag the topic segments with relevant metadata and automatically produce machine-readable indices suitable for searching.
This remains a dynamic area where next-generation tools are on the horizon. IBM, for instance, is charting a path forward with its Watson Video Enrichment program, a research initiative that uses deep learning to make video collections as useful as any other type of digital asset.
Content is the currency for competing in the digital age. Like money in the bank, content has value. As the digitization decade progresses, organizations must be able to manage content in ever-more sophisticated ways to produce better experiences.
Dig Deeper on Information management and governance