pixel - Fotolia
Customers stay connected with Talkdesk 100% uptime SLA
Talkdesk customer Cognosante sees 50% cost savings after switching to the vendor's contact center software and, so far, has seen no interruptions in service.
Picture it: After an hour of waiting in a queue to speak with someone at the electric company, you are finally connected to a live agent. Two minutes in, however, your call drops due to a service outage in the call center. You are frustrated, the agent is frustrated and the entire exercise needs to start again.
Contact center software vendor Talkdesk seeks to end the days of dropped calls and strives for perfection with its 100% uptime service-level agreement (SLA).
"We wanted to make a point that we do things in a different way," said Tiago Paiva, Talkdesk CEO.
In an attempt to ensure continuous service, Talkdesk outfits each of its nine locations with three servers running on AWS -- all in different regions. In the event of an outage in one region, the server redundancy enables calls to remain active. Engineers are also available 24/7 to address issues, and software monitoring tools trigger notifications to employees if the service isn't working properly.
However, even with this 100% uptime SLA, there is no guarantee that there will never be a disruption in service. Humans make errors, and technology breaks.
"You can't guarantee anything," said Scott Sachs, a contact center consultant. "It's a great vision and aspiration, but there are some things you just can't control."
A satisfied customer
Cognosante, a healthcare IT services company, moved to the cloud-based Talkdesk platform 3 1/2 years ago. Prior to making the switch, the company used different contact center software in each of its four locations, including Five9, inContact, Cisco and Mitel. Because Cognosante needed support experts for several different systems, the business contracted the work out.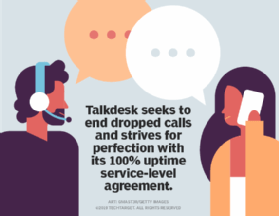 "It got to be troublesome and expensive," said Michael Zurat, director of engagement at Cognosante.
When Cognosante became a Talkdesk customer, it saw a 50% cost savings.
"From an operations perspective, we don't have to manage all the plumbing [now]," Zurat said. "We just need the internet access."
And contact center agents are more engaged too. In the past, Zurat said agents expected the phones to go down and would plan their work around that.
"[At the start of calls] agents used to ask, 'If we get disconnected, what's the best number to reach you back at?'" Zurat said. "Now, agents don't do that. They get right down to business and move on to the next call."
By using Talkdesk's software, Cognosante can provide a better experience and consistent service to its customers, Zurat said. Cognosante hasn't experienced any outages or degradations in service since making the move.
Downtime reimbursement available
Talkdesk's 100% uptime SLA rolled out in November 2018 and is available as part of the Enterprise package. The standard SLA, which is part of the professional package, is 99.999%. Even with the standard SLA, the company strives for 100% uptime for all of its customers, Paiva said.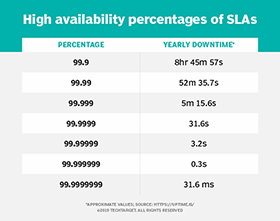 Talkdesk reimburses customers that have the 100% uptime SLA for any amount of time the service is out -- no matter how little it is. The reimbursement amount is a sliding scale based on the length of time the service is out. Customers with the standard SLA, on the other hand, don't always receive money back for downtime. Reimbursement is dependent on how long the service was down.
"I like that, if there's any issue that is a violation [of the 100% uptime SLA], you can submit for a refund," Zurat said. "They will just pay for and fix it, versus me haggling over how long it was down."