Fotolia
CXO role requires tenacity, cross-departmental influence
The CXO role is fairly new to businesses, focusing on customer experience strategies across the entire enterprise. In this Q&A, an executive discusses what makes a CXO successful.
As more companies realize the importance of customer experience, a C-level role has emerged to unify CX strategy across the entire organization. The role of chief experience officer, or CXO, ideally communicates with a variety of different departments, including marketing, IT and contact centers.
Since the CXO role is relatively new, it's still evolving. Many organizations are unsure about how to integrate CXOs into their corporate structures, who the CXO should report to and in which department the CXO should "live."
In this Q&A, Diane Magers, co-founder and chief experience officer of Experience Catalysts, a customer experience consultancy, discusses the CXO role. Previously, Magers worked in AT&T's Office of the Customer and helped to build the company's CX strategy.
Here, Magers discusses what it means to be successful in the CXO role and how organizations can best take advantage of a CXO's expertise to improve their CX strategies.
Is there a common path that leads someone to the CXO role?
Diane Magers: A successful customer experience practitioner has the breadth and depth of knowledge across an organization, so the most prominent practitioners have been in operations roles, have been in marketing, have been in UX, have been in sales. They have a wide range of interests and knowledge at every level of the organization at some point.
A lot of times people come from marketing, because that's where, typically, customer research lives and that's kind of where a lot of these practices start. Some people come from [customer] care support, but that's less likely. Sometimes it's somebody who just obviously has a passion for the customer.
Sometimes it's not something they seek out. Over the last few years it's been more that the company wants to do this, and they can either put somebody internally that doesn't have the skillset, but has the acumen and passion to do it and then give them the skillsets, versus hiring somebody from the outside, who doesn't know the organization but has the skillset and knowledge.
Why do you think it's detrimental to have the CXO role live in a particular department as opposed to across an entire organization?
Magers: The biggest problems that organizations have is two things. One is that executives don't really get what [the CXO role] is. They don't understand how transformative this is, the cultural shift or the financial impact. The second problem is silos. How do you get the organization to work differently together? That's what's creating a lot of the customer experience issues. If customer experience lives in a silo, it becomes [customer experience's] responsibility, and they have to kind of push. And if the CXO role lives in marketing, then it's marketing pushing that and it's all about their goals.
My role at AT&T was to be the mortar between the bricks, to be the connector between all the different experiences, to help optimize and build experiences from end to end. That really takes a very specific skillset or acumen … to be thinking about all the ways these things need to come together.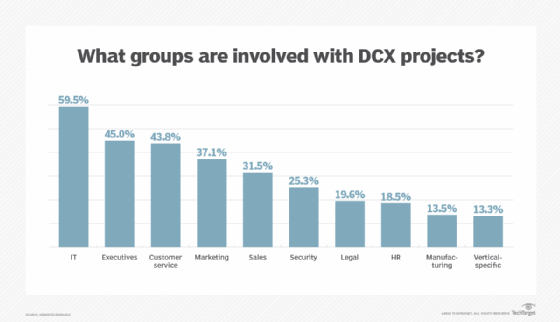 What does it take to be a successful CXO?
The CXO role is difficult. There are so many moving parts, and people underestimate that it's about changing how an organization thinks and works.

Diane MagersCo-founder and CXO, Experience Catalysts
Magers: They have to connect people and things. They have to be very influential. They have to be a little bit of a chameleon and understand the audience they're speaking to and be able to bring them to the table, because when everyone is in silos, they kind of have tunnel vision.
A CXO has to be a big-picture thinker. They really have to be able to helicopter up and see the organization in its entirety, and understand not only the experience of the customer, but of the employee, of the processes, of the infrastructure. To that point, they have to be very well-rounded and widely exposed to many parts of the organization. They have to be tenacious.
The CXO role is difficult. There are so many moving parts, and people underestimate that it's about changing how an organization thinks and works. And that is a lot to tackle.
Dig Deeper on Customer experience management