James Thew - Fotolia
5 crucial ways to prepare for the CXO role
Technophiles who have experience in sales and marketing, as well as social media awareness, may be best prepared for success in the role of chief experience officer.
The demographic and technology horizons of the marketplace are exploding with growth, innovation and shifting trends. There's a new spark in business -- new challenges and new opportunities. And customer experience is at the forefront of it all.
The chief experience officer (CXO) is a new addition to the C-suite, and it is a role more focused on CX than its more established C-level peers.
So how does one become a CXO? It's a role that requires a deep mix of experience, knowledge and demonstrable creativity in a spectrum of essential areas. Anyone seeking a CXO role should concentrate on these five areas.
1. Sales and marketing
CX is more than just an extension of CRM, but CRM is at its heart. In the end, it's all about the customer -- the defining theme of 21st century business, thus far. A background in CRM is a big plus for an aspiring CXO; even a well-studied familiarity with how CRM works is a major leg up toward ascending to the CXO seat.
2. Technology
CX is firmly rooted in technology, including IoT, analytics and social media. One doesn't need to be an IT professional to grasp it all, but it's important to be fluent in as much of the technology as possible and to understand how it works and why it's important.
3. Social media awareness
It's no longer enough to attract the customer to the enterprise; the enterprise must now go to the customer, and social media is where customers live. They talk about brands, congregate to discuss their general likes and dislikes, and leave breadcrumbs that reveal their thinking and behavior -- all critical information for CX initiatives. An effective CXO must be social media-savvy to be even marginally effective.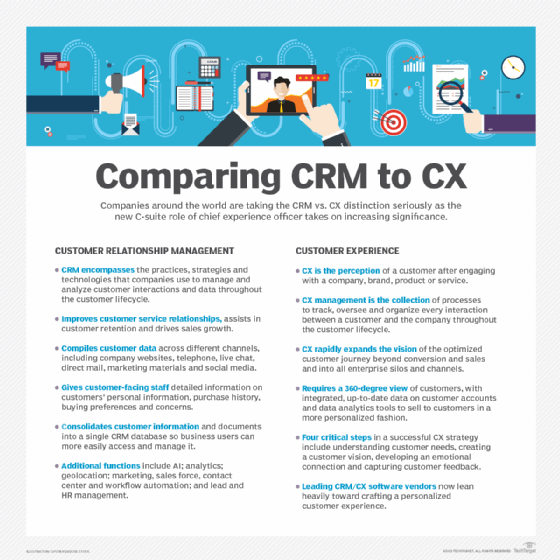 4. Personal psychology
An effective CXO must be one who understands, in some depth, how people think and feel and how that guides their actions.
Customer experience is just that -- experience. It's how a person responds, in the moment and long term, to what they're presented with. This is a pretty big chunk of the CX equation, and having a firm understanding of how it works is an essential component of the CXO role.
5. Acting on aggregated voice of the customer data
CXOs constantly measure the voice of the customer with surveys; sentiment analysis in comments, texts, emails, phone conversations and other available channels; test marketing and focus groups; and with other tools. Knowing how to mash up all this data and derive insights from the composite picture and make iterative improvements to CX? That might be the most important skill of any incoming CXO.
Dig Deeper on Customer experience management