kreizihorse - Fotolia
CX strategy a vital part of modernizing a business
Consumers are providing retailers with more data than ever before, with expectations that they will receive a personalized experience. But that can be challenging for retailers.
NEW YORK -- As retailers scramble to deploy the latest technologies to create the best experience for their customers, they face tough challenges.
The difficulties involved in putting customer experience (CX) software to use quickly and efficiently, the organizational restructuring needed to do that and collecting consumer data all can hamper a brand's attempt at modernizing its CX strategy.
Thousands of retailers from around the world gathered at the National Retail Federation's NRF 2019 conference here, as the retail industry is quickly being transformed by CX technology.
But, without an effective CX strategy, businesses won't lure more customers to their physical stores or to their websites, said Jeffrey Liss, director of management consulting at KPMG, a global professional services company based in New York.
"Just because you go and buy the new technology and implement it, it doesn't mean you figured out how to migrate your company," Liss said in an interview at the conference. "You can't just flip a switch."
Liss was among the roughly 37,000 attendees at the retail show, and his view was similar to that of other attendees: While new technology can help improve CX, organizations still need a concerted CX strategy to reap the benefits of the technology.
Driving traffic with the online experience
The importance of CX to the retail industry can't be understated, and it's becoming apparent that the right CX strategy can be a differentiator for brands.
According to a survey of 30,000 global retail customers conducted by digital performance vendor Riverbed, 89% of those surveyed said the digital shopping experience is just as important as product price, and 47% went to a brand's physical store for the first time after a positive digital shopping experience.
The idea that a consumer's online shopping experience can translate to better brick-and-mortar results is one of the emerging trends in retail. Newer, online-based retailers, like eyeglass vendor Warby Parker and mattress seller Casper, are growing their physical retail footprints, while traditional retailers are working to better connect customers' online experience with their in-store experience.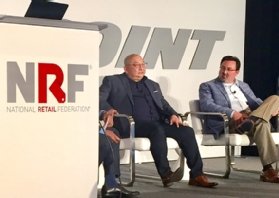 Beacon Lighting is Australia's largest provider of interior lighting, but the company noticed over the past five years that traffic in its stores was slowing.
"We wanted to have our e-commerce drive in-store traffic," said Mick Tan, CIO at Beacon Lighting.
Tan was on a panel talking about digital strategies for delivering a superior in-store and online CX.
"We recognized our traffic was down, and we wanted to make a difference by concentrating on e-commerce," he said during the panel discussion.
By putting its CX strategy first, Beacon Lighting started concentrating on providing more digital-based experiences to get customers to start their shopping online before heading to the store.
"We were never taught how to sell lighting online," Tan said. "But now, we're getting our customers to gain interest at home and then go into the store, and [we're] adding new initiatives like in-store design studios to help bring customers in."
The importance of employee experience
Another trend affecting CX strategy for businesses is the connection between CX and employee experience. Retailers are realizing that, to provide the best CX they can, employee experience needs to be a priority, as well.
Just because you go and buy the new technology and implement it, it doesn't mean you figured out how to migrate your company.

Jeffrey Lissdirector of management consulting, KPMG
"Employee and customer experience are starting to blend," said Joseph Preciado, senior director for Asurion, a provider of device insurance and services for mobile phones, consumer electronics and home appliances, based in Nashville, Tenn.
Preciado was on the same panel as Tan from Beacon Lighting.
"It's important to our partners that we provide a good customer experience, and that starts with our employees," he said.
Other retailers are facing the same challenge of connecting employee and customer experience. Newer technology like AI can change how an organization operates, and getting employees equipped with the right tools and skills is essential, according to Liss.
"You have new technology that is forcing a challenge from a skill standpoint," Liss said. "You have people who have worked with traditional reports for years, and now they need a new set of skills to ask the right questions and to use the technology to help find the answers."
More customer data than ever before
One theme at NRF 2019 was the evolution of the modern customer, who brings more knowledge to the shopping experience than ever before. Shoppers often enter a store or visit a retailer's website armed with a substantial amount of information they get from doing their own research.
"CX is nothing new, but in the era where consumers have more power in the sales process, delivering a differentiating CX is business-imperative," said Sherry Egerton, director of client success for Acceo Retail, a business technology vendor based in Montreal. Egerton was speaking on a panel about the relationship between data and CX. "Businesses collect more data than ever before, but they are having trouble to connect that to customers," she said.
Consumers provide retailers with more data than in the past. And in return, customers expect retailers to build a personalized CX for them.
"It used to be about product, price, place and promotion, but that has changed," said Ian Holland, vice president at Acceo, during the panel session. "It's no longer about the masses; it's about an experience tailored to me."