Getty Images/iStockphoto
Customer success vs. customer support: What's the difference?
Customer support and customer success sound similar, but they're distinct business practices. Differences include approach, metrics, maturity and skills.
Organizations must help customers as problems arise, but they can also work to prevent future problems from happening.
Many business strategies and departments contribute to customer experience (CX), and it is easy to confuse various customer-focused roles. For example, customer support is a specific type of customer service that typically addresses customer issues with products and provides technical assistance. Customer success, on the other hand, focuses more on long-term customer service and support to prevent future problems and foster positive, ongoing relationships.
Explore the differences between customer support and customer success to understand how these departments serve customers differently.
What is customer support?
Customer support teams typically belong in the customer service department. Customer support offers technical assistance with products, including troubleshooting. The customer support team provides guidance to customers who have issues with products like electronic equipment, software and apparel -- depending on the industry.
Some of the key tools that help a customer support team operate efficiently are contact center software, call management systems, customer self-service tools, field service and dispatch systems, and chatbots.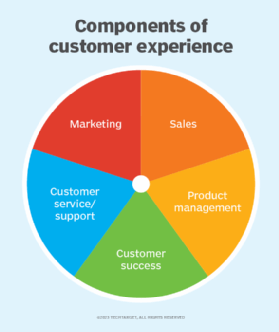 Customer support departments commonly use chatbots to help customers outside normal business hours. Chatbots can vary in complexity, but businesses frequently train their chatbots to answer more questions.
What is customer success?
Customer success is a strategy that helps businesses keep ongoing positive relationships with their customers. Organizations use this strategy to ensure their products meet customers' needs. Customer success teams make sure the product works properly and that customers know how to use it. Customer success also provides post-sale support.
The main steps for customer success teams are the following:
Installation. A professional services team sets up the software and ensures the product functions properly.
Training. The customer success team trains software users in how to use the product.
Account management. Customer success teams focus on maintaining relationships with customers post-sale and account management. Proper management can help teams ensure products work properly, gather feedback, improve the product, and drive contract extensions and add-on services.
What is customer service?
Customer service is an umbrella term that describes the reactive help that organizations offer potential and existing customers. Most organizations have call or contact centers that staff and train customer service and support agents to quickly respond to customer inquiries. These centers also offer self-service tools, such as chatbots and knowledge bases, so customers can find answers on their own.
Customer service agents typically answer basic inquiries from potential and existing customers, like questions about store hours, return policies and customer accounts. The customer support side focuses more on technical, product-related questions from existing customers.
Customer success involves many aspects of customer service and support, such as product-focused assistance. However, the discipline is more proactive and falls within its own category of CX.
5 differences between customer support and customer success
Although they sound similar, customer support and customer success are different entities that contribute to overall CX in their own ways.
1. Reactive vs. proactive approach
Customer support is reactive, which means these teams offer service when the customer reaches out for help. For example, a customer support agent for a CRM vendor may receive a call, email or help desk ticket from a customer having problems with the product's analytics dashboard. The support agent would then respond to the request.
Customer success teams, on the other hand, offer proactive support, which means they offer customers resources they need to potentially avoid customer support altogether. For instance, a customer data platform vendor may offer a training program to help new customers learn how to use and troubleshoot the product.
2. Metrics
Most customer support metrics measure the speed and quality of customer interactions. These metrics include the following:
First response time. This metric calculates the time between a customer's initial inquiry and an agent's first response.
Net Promoter Score (NPS). Customer service teams can use a survey to calculate their organization's NPS, which is a measurement of how likely a customer is to recommend a product to a friend or colleague.
Customer effort score. This metric uses survey data to measure how much effort customers had to expend as they used a product or interacted with the support team to resolve a problem.
Customer success metrics, on the other hand, mostly measure the following long-term business goals:
Retention rate. An effective customer success strategy should improve an organization's retention rate, which is a measurement of customer loyalty.
Customer lifetime value. This metric calculates how much money a typical customer spends with an organization in their lifetime.
Upsell rate. An upsell rate identifies how much revenue an organization generated from upselling strategies, which are sales strategies that encourage existing customers to purchase product upgrades.
3. Maturity
Modern customer support has been around since the 1960s when the invention of the toll-free phone call inspired the first call centers. Since then, customer support has become well established with clearly defined best practices. Customer success, on the other hand, came into popularity in the early 2000s, so CX leaders are still experimenting with different strategies.
Customer support has a longer history than customer success because it plays a bigger role in everyday business operations. For instance, if Amazon shut down its customer support team, the effects on core business metrics, such as NPS, would be immediately apparent -- and devastating -- to the business.
Customer success, on the other hand, is not as embedded into many organizations' CX strategies yet. While customer success can give organizations a long-term advantage over their competitors, the department's effects on short-term operations are typically mild compared to those of customer support.
4. Skills
Customer support professionals often help angry and panicked customers resolve complex problems. Aside from technical knowledge, these professionals need emotional intelligence to maintain composure throughout high-stress interactions.
Overall, customer support skills include empathy, patience, product knowledge, and verbal and written communication skills.
Customer success teams also need emotional intelligence because they, too, address customer problems. However, these teams aim to prevent future problems more than they address existing problems.
Common customer success skills include strategic thinking, data analysis, proactivity and relationship-building.
5. Narrow vs. broad focus
Most customer support interactions narrowly focus on specific customer problems. The customer reaches out to the business for help, and the customer support team addresses the problem.
Customer success, on the other hand, focuses more on helping clients meet broad business goals. A customer success manager may routinely check in with a client to form a bond, improve communication and learn about the client's specific goals or KPIs. The customer success team may then offer strategic advice and training to help the client achieve those goals.
How customer support and customer success work together
To optimize CX, customer support and customer success teams must work together. Organizations should ensure both departments stay in close contact with each other so they can use customer data to make better, more informed decisions.
For example, if customers frequently face the same issue and share that with the customer support team, the customer success team should also know about that issue so they can work with other departments to solve the problem.
Editor's note: This article was originally written by Demetra Edwards and expanded by Tim Murphy.
Dig Deeper on Customer service and contact center