Fotolia
Which business messaging app will prevail in the contact center?
Apple, Facebook and Google are rolling out messaging apps that connect businesses and consumers. As a result, contact centers should consider an omnichannel messaging strategy.
Just in time for Mobile World Congress last week, Google announced partnerships with carriers and enterprises around...
Continue Reading This Article
Enjoy this article as well as all of our content, including E-Guides, news, tips and more.
its rich communication services business messaging. This move is in line with other players in the market.
Apple's iOS 11.3 preview, for instance, includes Apple Business Chat, a messaging service that connects consumers and businesses. And WhatsApp is introducing its WhatsApp Business App, a messaging tool that allows businesses to communicate with WhatsApp's 1.3 billion monthly active users.
Apple addresses this business messaging market from the point of view of a handset manufacturer. Facebook, through WhatsApp, takes the point of view of a social network and messaging service. Google has focused on carriers, as it tries to establish a global footprint.
How might each of these initiatives become popular? And how should contact centers prepare?
Apple vs. Google vs. Facebook business messaging
Apple is looking at business messaging as a way to grow its iMessage service. By introducing Business Chat, Apple is letting customers communicate with businesses directly from their iPhones in an integrated service. For users, the experience is pretty seamless and natural. Apple is integrating Business Chat with iMessage, the Safari browser, Spotlight search, Siri and Apple Maps.
For businesses, the only solution is to implement an omnichannel messaging strategy for their contact center.
Interestingly, Apple's partners in this initiative at launch were LivePerson, Nuance, Genesys and Salesforce -- large and dominant players in the contact center space.
Google has tried to get into social and messaging multiple times, but has had little success compared to its competitors in this domain. In one of its latest attempts, Google has jumped on the RCS bandwagon, as it tries to become a dominant player in this space.
RCS, or rich communication services, is a mobile specification that's about 20 years in the works. The technology could replace text messaging in mobile devices. RCS faces the challenge, though, of "design by committee," where a large number of carriers and their suppliers need to decide on a single specification that everyone will use and build services around.
RCS has not had any meaningful adoption. And while Google RCS carriers boast a footprint of 1.8 billion people, actual RCS users around the world can be counted in the millions. To date, Google has not been successful in getting carriers and handset vendors to deliver devices and services that use RCS en masse. Such a project takes longer to mature because of the number of players and interests involved.
In addition to carriers and device manufacturers, Google's RCS partners include specific businesses and messaging partners. The businesses include 1-800 Contacts, 1-800-Flowers.com, Booking.com, SnapTravel and Subway. Messaging partners include 3C, CM.com, Mobivity, OpenMarket, Smooch and Twilio. None of the dominant contact center vendors are included yet.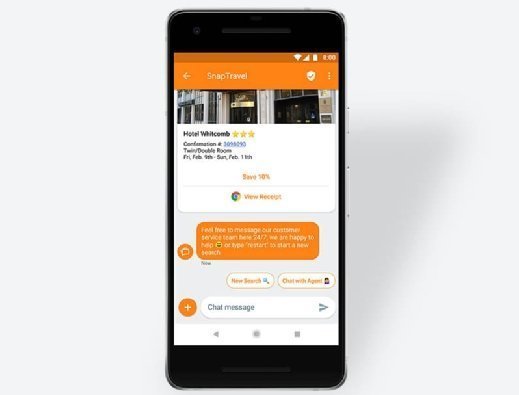 On a different front, Google is boosting adoption of Google Assistant, a virtual personal assistant similar to Apple's Siri and Amazon's Alexa. Google Assistant, expected to be available in 30 languages, should become important in the future, as businesses adopt it to automate conversations with customers. While RCS is the channel between business and customer, Google Assistant will be the brains behind it, giving Google the flexibility to place it on channels other than RCS, as well.
Facebook, for its part, has four of the biggest social networks and messaging services: Facebook, Messenger, WhatsApp and Instagram. In all these apps, businesses are already interacting with customers, and Facebook is adding more tools targeting businesses. For example, the new WhatsApp Business App lets businesses communicate with customers and automate parts of these communications. Doing this at scale would require integration APIs, similar to what Apple and Google are offering and what Facebook Messenger already offers.
Supporting several channels
Businesses won't be able to choose one channel over the others, as fragmentation and user behavior will vary greatly.
Apple Business Chat is only available on iPhones. While Apple users are usually known as the highest-paying customers, ignoring other consumers doesn't make sense for most businesses.
Going with Google and RCS will take time, if it matures at all. The energies needed to create and nurture this ecosystem are huge. Businesses taking this route should be patient and work with other channels, as well.
Facebook has numerous channels, with different users favoring different channels. User preferences depend on geography, age, socioeconomic status and several other factors.
For businesses, the only solution is to implement an omnichannel messaging strategy for their contact center. Businesses need to support as many channels as possible and let customers interact with them in whatever channel the customer prefers.
Getting to that point, however, will require contact center vendors to offer omnichannel messaging capabilities, as these integrations are bound to be expensive and time-consuming for businesses.