Definition
rich communication services (RCS)
What is rich communication services (RCS)?
Rich communications services (RCS) is a communication technology protocol that provides enhanced, or "rich," capabilities for messaging, voice, video and file transfer. RCS is sometimes referred to as RCS Chat.
Smartphone users demand powerful communications applications for chat and messaging, and WhatsApp, iMessage and Facebook Messenger simply deliver more features than short message service (SMS). RCS seeks to replace SMS and multimedia messaging service (MMS) as a more feature-rich approach for text messaging that operates across cellular networks as well as IP-based networks, including Wi-Fi.
RCS is a multimedia messaging platform that lets users send and receive messages; voice calls; video calls; and multimedia files, such as images, videos and documents. With RCS, users send and receive these messages in real time, fostering a more interactive communications approach than a simple text message. RCS supports an array of advanced capabilities, such as group chat, typing notification, message delivery status, user tagging and location sharing. RCS, unlike SMS, also offers end-to-end encryption to protect messages from interception.
Behind RCS are multiple technology standards to support message delivery and communication services, including IP Multimedia Subsystem, Session Initiation Protocol, Real-time Transport Protocol and Message Session Relay Protocol.
The mobile communications industry developed RCS, and its deployments are based on the Universal Profile, a standard developed by the Global System for Mobile Communications Association (GSMA). This organization, a group of network operators from around the world, operates with the support of a wide range of device manufacturers, operating system providers and software companies.
Why are rich communication services important?
RCS makes messaging more interactive and useful for individuals and businesses. SMS can't meet most users' expectations for more engaging communications and chat tool options, but RCS can.
Unlike SMS, which is limited to text as well as relatively low-quality images and audio files, RCS lets users share high-resolution photos and videos, audio messages and files. RCS affords wider participation than SMS, letting users create and coordinate group chats with multiple people simultaneously.
RCS technology is also increasingly prevalent in business activities, from marketing to the ability to order a product or service directly via message. Overall, RCS provides a more secure and reliable way for people to communicate in a personalized, interactive fashion.
What is RCS used for?
RCS purposes span personal and business communication applications.
For individuals, RCS customizes one-on-one conversations, group chats and video calls. Avatars, emojis and other features highlight a more personalized interactive experience. For everyday consumers, RCS reintroduces features previously accessible only through internet-based messaging apps.
RCS's diverse range of use provides creative opportunities for business engagement in customer service, collaboration and project management. For example, RCS allows branded rich communication with customers. Companies can send multimedia content, suggestive actions and interactive elements such as chatbots over RCS. Specifically, airlines send booking confirmations with boarding passes, or retailers send personalized offers and loyalty cards.
Providers around the world -- Verizon, AT&T, T-Mobile, Sprint, Deutsche Telekom, Vodafone, Telenor and Orange -- offer RCS services. Google launched RCS business messaging through its Jibe platform, which benefits from a growing list of messaging partners. Meanwhile, device brands, including Samsung, LG, Huawei, Sony and Motorola, have integrated RCS into their messaging apps.
However, as of October 2023, Apple had yet to adopt RCS for iPhones, which exacerbates interoperability challenges among Android and iOS devices and their users.
RCS specifications and features
RCS, as defined in the Universal Profile by the GSMA, has a robust set of specifications and features to enable enhanced messaging capabilities. RCS is interoperable across providers and devices that comply with the Universal Profile. It can also be enabled as the default messaging service on a device.
The core features of RCS include the following:
One-to-one messaging. Users can exchange conversational messages with another party.
Audio messaging. Users can send audio messages within their one-to-one or group conversations.
Group chats. Users can create a conversation in which they invite two or more participants and all participants are aware of each other.
Typing indicators. Users know another user is in the process of responding with typing indicators providing real-time activity information.
Read receipts. Users know when a message has been read.
Enriched calling. Users can share content before, during and after a voice call.
Interactive messages. A "rich card" lets businesses send interactive messages and potential replies or actions. For example, a restaurant sends an RCS message with a rich card that displays a menu, and the user places an order directly from the messaging app.
File transfer. Users can send files -- images, videos or documents -- within their one-to-one or group conversations.
Location sharing. Users can easily share location information in both one-to-one and group chats.
Messaging for multi-device. Users can register and utilize more than one device under a single identity.
Messaging as a platform (MaaP) and Chatbots. Users can enable MaaP, which lets businesses to send messages to customers via automated programs, or chatbots, that can interact with users in a natural language format.
Improved security. RCS can provide client authenticity verification, user authentication, encryption, and secure storage of authentication and identification data.
RCS vs. SMS vs. MMS
RCS represents the next generation of messaging for mobile phone carriers and mobile operating systems. In many respects it is the successor to SMS as well as MMS, providing an expanded set of capabilities. However, while SMS and MMS are supported by nearly every modern smartphone, RCS is not currently supported on Apple iOS devices.
Figure 1 provides a comparison of the features and capabilities of RCS, SMS and MMS,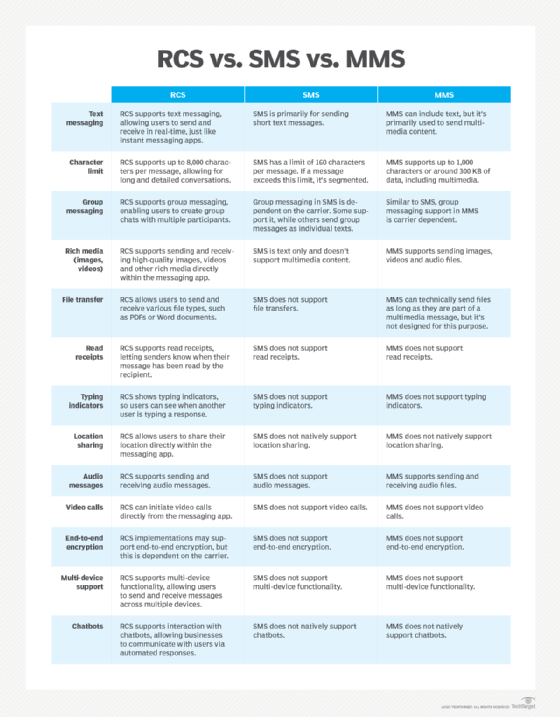 Benefits of RCS
RCS provides a powerful communication protocol for both individuals and organizations. Its many benefits include the following:
Enhanced messaging. RCS delivers a more engaging and interactive messaging experience, allowing users to send rich media, such as high-quality images and videos, and engage in group chats, file transfers and voice and video calls.
Improved customer engagement. RCS enables businesses to send rich media messages – product catalogs, video demos and personalized promotions, for example – to their customers.
Increased revenue. RCS allows mobile operators to generate revenue through the sale of enhanced messaging services, such as premium SMS and sponsored messages.
Better collaboration. RCS enables group chats and file transfer, making it easier for business teams to share information.
Wide reach. RCS is supported by a growing number of messaging apps, including Google Messages, Android Messages and Telegram, making it a widely accessible communication protocol.
Security. RCS uses advanced security protocols, such as encryption and authentication, to ensure messages are delivered securely and confidentially.
Future-proof. RCS is designed to enable future updates to support new features and capabilities.
Challenges of RCS
Like any beneficial technology, RCS carries its own set of challenges:
Interoperability. Not all mobile phones support RCS. Most notably, Apple does not support RCS and has not indicated any plans to do so.
Security concerns. RCS supports the use of advanced security protocols, such as encryption and authentication, to protect messages from interception and eavesdropping. However, the security protocols are uneven among network operators. Some do not implement or fully support these advanced protocols, creating security vulnerabilities.
Network congestion. Rich media -- high-quality images and videos -- consume a lot of network bandwidth and could lead to network congestion.
Latency. RCS messages require a continuous data connection for completion and, therefore, often have higher latency than SMS messages.
Lack of user awareness. Since many users are unaware of RCS or its capabilities, businesses must find ways to circumvent this difficulty and effectively communicate with their customers.
Competition from other messaging apps. Popular messaging apps such as WhatsApp, Facebook Messenger and Apple's iMessage are well-established challengers to RCS.
Technical complexity. RCS requires a certain level of technical expertise to implement and maintain, making it a challenge for small businesses or organizations to adopt and use RCS for their communication needs.
Cost. RCS may require additional infrastructure and resources to implement and maintain.
RCS history
The development of rich communication services traces back to the aughts, when the mobile industry began exploring ways to enhance SMS messaging. Here are some key milestones in the development of RCS:
2007. The basic concept of RCS was introduced by a group of industry promoters led by telecom companies. Their aim was to enhance traditional SMS and MMS messaging with features found in popular internet-based messaging apps.
2008. GSMA officially adopted RCS, publishing initial specifications.
2011. GSMA released a simplified RCS-e (enhanced) version to speed up adoption.
2012. Spain's major telecom operators launched RCS-e services under the Joyn brand.
2016. The GSMA launched the RCS Universal Profile with the goal of creating a standardized, interoperable version of RCS that would work across different mobile networks and devices.
2019. Google began releasing RCS to its Android users, aiding overall adoption.
This was last updated in
November 2023
Continue Reading About rich communication services (RCS)