Box Skills integrations give users access to AI
By integrating with Google, IBM and Microsoft, Box is bringing AI capabilities to its platform, but it still won't be enough to steal Google Drive or Microsoft OneDrive customers.
Box Skills integrations took more shape this week, as Box announced the expansion of its Box Skills private beta program with AI integrations with Google, IBM and Microsoft, though some details of the deals still are unclear.
Box first signaled the Box Skills integrations at its conference last year and the expansions of the beta program builds on the content management platform vendor's long-standing plans to add AI capabilities for document, image and audio management.
"This is the next step of what Box previously announced," said Alan Lepofsky, principal analyst at Constellation Research. "It's appealing, but it comes with complications."
It's not known if Box customers will have to license the AI capabilities through the integrations or if those costs will be covered within their Box licenses. Another concern is security, Lepofsky said.
"If Box is your approved data provider, do you also have to check to see if it's OK to pass those images to Google's API," Lepofsky said. "Box needs to be open and transparent about licensing and security."
The vendor's chief product officer, Jeetu Patel, said Box will announce pricing in the fall, with general availability of the private beta program sometime in the second half of 2018.
Among Box's roster of beta users are Virgin Trains, Ancestry.com, The University of Chicago and the city of San Jose, the company said.
Box is leaning toward letting customers use some Box Skills features for free, and charging for others, especially for larger custom Box Skills projects, Patel said.
"There will be a specific charge to use Box Skills," he said. "There will be a set of core foundational skills that we will make sure we will be helping with the contracting of, and then there's going to be others that you can also buy directly.
In the long term, Box is hoping that a kind of marketplace for Box Skills integrations develops, Patel said.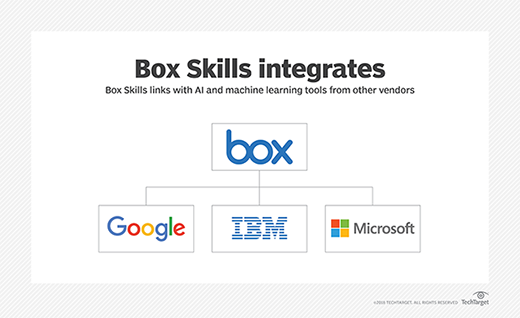 'Mainly about AI'
The use cases for the Box Skills integrations are abundant and range from simple automation to navigating giant data sets for sentiment analysis or image recognition. And by keeping the AI options open to various market leaders, the new capabilities give Box customers flexibility to integrate into whichever API is best for them.
What it does is provide an incredible amount of additional functionality for Box customers.

Alan Lepofskyprincipal analyst, Constellation Research
While this could be useful for Box customers, Box is unlikely to take any customers from competitors like Google Drive or Microsoft OneDrive to migrate due to these open APIs.
"If you're using Google or Microsoft or IBM AI platforms, why wouldn't you just use their content management tools too," Lepofsky said. "You're not going to get a Google Drive customer interested in Box because it can now use Google APIs."
But for Box customers, the Box Skills integrations can create value around AI tools, which can increase efficiency and reduce human error.
"Things like image recognition and metadata tagging -- that alone can save huge amounts of time and resources," Lepofsky said. "What it does is provide an incredible amount of additional functionality for Box customers."
As for its similarly named competitor, Dropbox, which recently went public, the Box Skills integrations do differentiate Box from Dropbox -- something that Box was surely thinking about with this release.
"There's nothing about Dropbox that says it can't plug into the same platforms," Lepofsky said, "but they haven't made it as developer-friendly."
When it was first announced in October 2017, Box Skills focused on image, audio and video intelligence.
The integrations with Google, IBM and Microsoft can help with those areas -- yet it depends on which vendor the customer is most comfortable with. If a Box user's organization runs primarily through Microsoft, it will most likely use that Box Skills integration.
"Each of them have some differentiation, but this announcement is mainly about AI," Lepofsky said. "This talks about these APIs being around images and image tagging, object detection -- and most people I speak to say Google image recognition is still the most advanced."
Patel asserted that the key difference between Box and major competitors such as Google Drive and Microsoft OneDrive is that Box is vendor neutral, partnering with all four of the major machine learning and AI vendors -- Google, AWS, Microsoft and IBM.
"As this market, which is in the pretty early stages, starts to develop ... customers can rest assured that when the data is in Box, they can take advantage of any of those skills or any of those machine learning models, and apply it to Box content," Patel said.
Box this month also unveiled a new service partnership with IBM to build custom Box Skills that apply IBM Watson AI tools to the Box Skills framework.
Box also announced support for the latest Azure cognitive services from Microsoft.
News director Shaun Sutner contributed to this article.