itestro - Fotolia
Box Skills Kit to hit market soon in general release
Box says its Box Skills Kit AI development system will be generally available in December 2018. Meanwhile, Box moved on workflow automation, cybersecurity and Google integration.
SAN FRANCISCO -- Box Inc. said it will launch a key piece of its Box Skills AI system in December 2018, adding...
Continue Reading This Article
Enjoy this article as well as all of our content, including E-Guides, news, tips and more.
expanded capabilities for customers to build and train their own AI-based content management tools.
In addition to the expected commercial release of Box Skills Kit, the cloud content management vendor revealed new AI and workflow automation tools, Google integrations, security features and third-party app integrations at its BoxWorks 2018 conference.
A few hundred Box enterprise users have been using prefab Box Skills, the Box Skills Kit and Google integrations in private beta over the past year; the Google connections now are available in public beta.
Box also previewed a new Automations feature for workflow automation and a new data security system, Box Shield. Both are slated to be released in beta in early 2019, along with AI-driven Box Feed updates and notifications feature.
Box said Automations and an updated version of Box Tasks, with which users can assign things and deadlines to co-workers, will be out in beta in early 2019.
Activity Stream embeds third-party apps
All this came after Box unveiled Activity Stream, a collaboration system that enables users to work inside the Box platform with popular third-party apps like Slack, Salesforce and DocuSign. That product is expected to go into beta next year.
Users at the conference said they welcomed the open platform design of Activity Stream, Box's progress on workflow automations, and the impending commercial availability of Box Skills Kit, which will include audio intelligence, video intelligence and image intelligence Skills, as well as the customization features.
The whole focus on workflow and integrations is really positive.

Rich LibbyCIO, Herbalife
"The whole focus on workflow and integrations is really positive," said Rich Libby, CIO at natural supplements manufacturer Herbalife.
"I have all kinds of workflows that rely on Box documents where Box is not the final destination but stops along the track, so I'm excited to do that," Libby said of using the Automations feature. "We have all kinds of contracts and agreements that we have to do offline or on email ... so putting it on DocuSign will be great."
Box highlights partner strategy
At the BoxWorks keynote, Box chief product and strategy officer Jeetu Patel speakers from Box partners like Apple, Google, Slack and ServiceNow.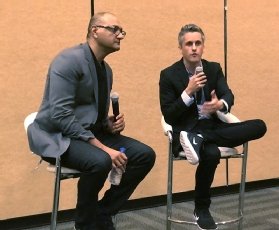 "In the digital workplace, what you need is a fundamentally modern set of tools to equip your users with so they can start innovating at a very different velocity," Patel said of Box's partner strategy. "For these tools to be effective they need to work seamlessly with your content. Regardless of the application that you the user may be working in, we want to make sure you can work with content in Box."
Analysts said Box appears to be successfully executing a series of product advancements in a range of areas that users have been calling for, though some outstanding questions remain, particularly about the cost of Box Skills and Box Skills Kit.
The AI tools for developers work with AWS, Google, IBM and Microsoft AI, enabling users to customize and derive insights from Box content using those different engines. Users will apparently have to pay both the AI vendors for their services, as well as Box on a volume pricing basis.
Box Skills costs uncertain
"There is a lot of power in combining multiple Box features, like Skills and Automations," said Alan Lepofsky, an analyst at Constellation Research who was at the conference at the George R. Moscone Convention Center.
"As the number of documents, images and videos stored in Box increases, the number of business use cases increases and the potential for AI goes up," Lepofsky said. "What customers need to be aware of is these AI calls cost additional on top of Box."
That cost does not appear to be fully worked out yet.
"The business model is actually quite simple for now. Skills Kit really just leverages our core platform, so it's sort of a volume-based business model with the volume of data you're moving back and forth between Box and third-party AI providers," Box CEO Aaron Levie said in a Q&A session with reporters and analysts.
"We want to make it really, really easy to adopt Box Skills and make it easy to deploy it at scale, so we think it's the fastest way customers are going to adopt this technology," Levie said.
Beta user eyes commercial release
Meanwhile, a Box Skills beta user, Rich Guerra, head of application development at Farmers Insurance, said in an interview that he's looking forward to using Box Skills Kit to develop AI applications for adjusters to enable them to work with videos and voice recording transcriptions from customers.
Farmers, which has standardized content on the Box platform, is also in the midst of a large-scale project to move legacy content from an old IBM on-premises file management system into the Box cloud.
As for Automations, "I was just texting our account rep how excited we were to take a look at that," Guerra said. "The automation of the workflow is something we're looking at to increase efficiency for adjusters, to make the process a lot easier."
Box creating a cloud ecosystem
Overall, Box has done reasonably well in coordinating its far-flung product undertakings and positioning itself as a "Salesforce-like hub" of content services and collaboration, said Bola Rotibi, an analyst and research director at Creative Intellect Consulting.
"They've gotten a bit slicker than in the past," Rotibi said of the orchestrated announcements on the day of the conference.
"There are areas they can sharpen -- like how much people are going to have to pay for Custom Skills -- but I think they're working behind the scenes to simplify that," Rotibi said. "On the positive side, what I really like is the contextual integration of the third-party apps."