Getty Images
New Box Hubs uses AI to curate content, target users
The vendor adds a new internal publishing system to its stable of content management tools. It enables users to curate and publish select content within an organization.
Box on Wednesday introduced a new feature called Box Hubs that allows users to publish content to targeted internal audiences using generative AI tools.
The content management vendor also said its Box AI collection of OpenAI-developed generative AI tools it introduced in May will be generally available in beta next month.
The product moves came at the virtual BoxWorks 2023 user conference, a day after rival Dropbox unveiled its own new AI systems, Dropbox AI and Dropbox Dash, an AI tool to improve content search. Both tools are in beta.
Box's latest offerings are an evolution of the company's main platform with the newest AI technology to surface content more easily and accurately for enterprise users, said IDC analyst Wayne Kurtzman.
The simplest benefit is that it appears that Box Hubs will make it easier to surface the information that you're working on and the content that you need.

Wayne KurtzmanAnalyst, IDC
"The simplest benefit is that it appears that Box Hubs will make it easier to surface the information that you're working on and the content that you need, and basically do what the promise of federated search always had," Kurtzman said.
Enterprise search
Effective enterprise search -- the ability to quickly find unstructured data such as documents, files and images in sprawling content management systems -- has long been a challenge for content management and services vendors. Federated search is an approach to retrieving information from scattered sources with a search engine application overlaying the repositories.
Rather than conventional search in which users seek out information, Box Hubs enables users to push specific information to the right audiences, whether they are in sales or HR, or on branding or product teams, Box CEO and co-founder Aaron Levie said.
"Hubs is really all about moving way beyond the kind of basic file and folder structure of sharing information to being able to have a portal for the content that you want to be able to share," Levie said.
With Box Hubs, users curate the content they want other users to see and then publish it with a name such as the HR hub, which is part of a larger Box Hubs gallery. Employees who want to find information about HR policies, for example, can click on the HR hub icon and find a selection of content items.
A likely hit with customers
Box Hubs represents a stab of sorts at knowledge management and should be popular with Box's customers, said Alan Pelz-Sharpe, founder and analyst at Deep Analysis.
"Box Hubs is a good new product for Box," he said. "The key to understanding its value is that end-user teams or groups can essentially curate their own relevant data sets, and then leverage Box AI to automate some of the work involved in summarizing and searching."
It makes sense for Box to focus its AI on users' daily workflow needs, but Pelz-Sharpe said the vendor would be wise to apply AI to enterprises' years of stored content as well.
"We would like to see Box utilize AI services more on the back-end repository as years of content accumulation -- much of it now redundant -- could benefit," he added.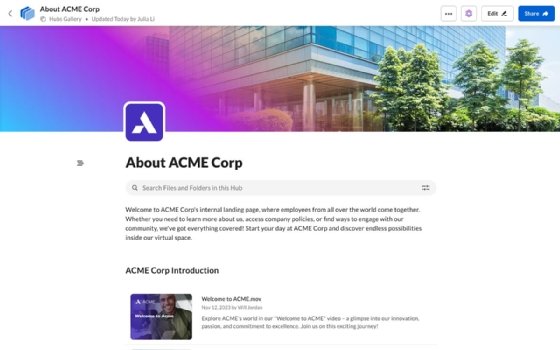 Hubs to tie in with Box AI
The Box AI tools will be integrated with Box Hubs when Box Hubs is released in beta sometime next year, according to the vendor.
Box Hubs with Box AI will allow users to ask questions of content curated in hubs to pull out key information, create summaries and compare files.
Box AI will also work with standard content in Box that is not published with Box Hubs. The company has also released integrations with Microsoft's generative AI-based digital assistant, Copilot, even as Microsoft's OneDrive and SharePoint platforms offer some similar capabilities to Box's.
The first two Box AI capabilities, which enable users to create content in Box Notes and ask questions of documents when previewing them on the Box platform, will be part of the Enterprise Plus plan.
Initially, Enterprise Plus individual users will get 20 AI queries and organizations up to 2,000 queries included at no extra cost before being charged. After that, for larger applications, extra queries will be available for purchase.
All content published in a Hub will be protected by what the vendor calls enterprise-grade security, governance and compliance capabilities.
"Through AI, content is going to become easier to manage," Kurtzman said. "It'll be easier to extract knowledge out of and extend collaboration on Box, and that is what is going to help make this successful for Box."
Shaun Sutner is a journalist with 34 years of experience, including 25 years as a reporter for daily newspapers. He is news director for TechTarget Editorial's information management team, covering artificial intelligence, customer experience and unified communications software, and analytics and data management technology.
Dig Deeper on Content management software and services