sommai - Fotolia
Dropbox Business gets integrations with G Suite, Slack and Zoom
Dropbox Business has been overhauled in an attempt to make it a hub for business communication and collaboration. The updates include new integrations with G Suite, Slack and Zoom.
Dropbox is seeking to become a hub for enterprise communication and collaboration with the launch this month of its most significant user interface overhaul to date -- a redesign that will let users get more work done without leaving Dropbox.
The initiative includes new integrations with G Suite, Slack and Zoom, as well as a redesigned desktop app that introduces commenting, to-do lists and activity feeds. Other new features include the ability to see who has viewed a file and to pin documents to the top of a folder.
Subscribers to Dropbox Business can register for early access to the new desktop app today, while updates to the web and mobile apps will roll out over the next few weeks. Dropbox will make the desktop app and updates available to all users, including consumers.
Dropbox's pivot fits a trend in the cloud collaboration industry: Vendors are maneuvering to make their platform the hub where work gets done, while at the same time integrating with competitors.
Dropbox has now articulated a clearer long-term vision for its enterprise subscription plan, Dropbox Business, addressing a lack of clarity that research firm Gartner had previously highlighted as a weakness for the company.
With a strong foothold in the consumer market, Dropbox is increasingly entering the space inhabited by Box, which thrives on enterprise deployments. Dropbox and Box compete with Microsoft, which makes the file storage platforms OneDrive and SharePoint available at no extra cost to the 180 million users of Office 365.
"There's a definite trend across the market for being a hub for collaborative work and bringing together not just content, but processes and communication," said Angela Ashenden, principal analyst at CCS Insight, based in London.
But with so many vendors seeking to place their apps at the center of work, users may soon face confusion about which platform to work in, Ashenden said. "It's very quickly going to become confusing for businesses to know where you should go," she said .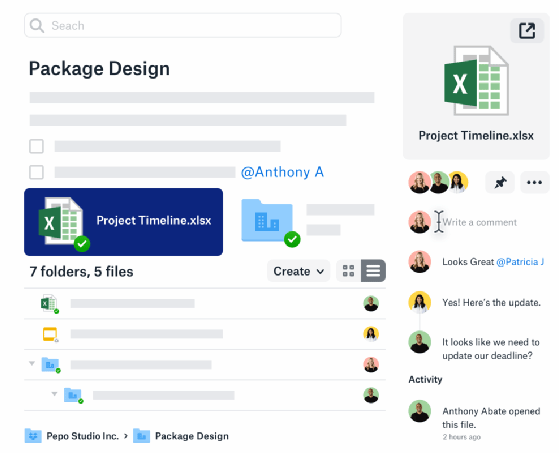 Business extends integrations with Slack, Zoom
Dropbox now lets users create and store G Suite files -- Google Docs, Sheets and Slides -- within Dropbox. Users can also open Microsoft Office files in Office 365 and G Suite with edits automatically saved to Dropbox.
The Slack integration lets users share files to Slack or begin a Slack conversation about a file or folder with a couple of clicks in the Dropbox app. Users can also opt to see Slack activity feeds that track which files have been shared to Slack and when.
The Zoom tie-in makes it possible to start and join Zoom meetings from Dropbox and to share Dropbox files in those meetings more efficiently. Dropbox said an integration with Atlassian's project management apps was coming soon.
Dropbox launched the first set of integrations that let users perform tasks within Dropbox in November. The vendor previously supported integrations with Adobe, DocuSign, HelloSign, Gmail, Vimeo, HelloFax, Nitro, airSlate , Smallpdf, Autodesk and Pixlr.
"Dropbox is realizing that the market is plug into something to get value or be plugged into," said Wayne Kurtzman, analyst at IDC. "Ultimately, it would not surprise me to see them integrate with many core business solutions, as well."
Dig Deeper on Content management software and services