News
Stay informed about the latest enterprise technology news and product updates.
Box vs. Dropbox outages in 2019
In this infographic, we present a timeline of significant service disruptions in 2019 for Box vs. Dropbox.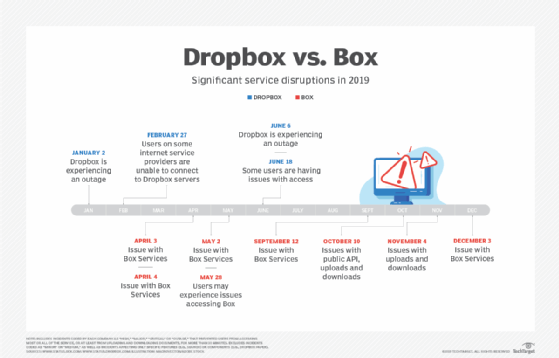 Cloud storage providers Box and Dropbox self-report service disruptions throughout each year. In 2019, Dropbox posted publicly about eight incidents; Box listed more than 50. But the numbers don't necessarily provide an apples-to-apples comparison, because each company gets to choose which incidents to disclose.
This infographic includes significant incidents that prevented users from accessing Box or Dropbox in 2019, or at least from uploading and downloading documents. It excludes outages that appeared to last 10 minutes or fewer, as well as incidents labeled as having only "minor" or "medium" impact.
To view the full list of 2019 incidents for Box vs. Dropbox, visit status.box.com and status.dropbox.com.