Getty Images/iStockphoto
Box to inject generative AI into content management platform
The vendor is working with OpenAI to put the AI research lab's GPT technology into its content management platform. Challenges include limiting AI copyright breaches.
Content management software vendor Box on Tuesday unveiled plans to integrate generative AI technology from OpenAI into its platform to enable users to create and manage documents and images with interactive commands.
Box is the latest high-profile tech vendor to integrate the Microsoft-funded AI research lab's popular large language models. It was quick among vendors in the crowded content services sector to disclose plans with OpenAI.
Box and competitors OpenText, Microsoft, Oracle, IBM and Hyland (which acquired Alfresco and Nuxeo but so far has left them as separate platforms) and others have long incorporated various forms of AI technology in their systems. Meanwhile, Dropbox last week laid off 15% of its staff and said it is focusing on AI.
Previewing generative AI
With this move, Box is ahead of most of its peers in unveiling a generative AI roadmap -- one that promises to substantially upgrade the Box Content Cloud platform, said IDC analyst Holly Muscolino.
Box is trying to get ahead of the curve from a messaging perspective of being one of the first content services vendors to make an announcement.

Holly MuscolinoAnalyst, IDC
"Every vendor is looking at this. In fact if they're not, they need to be because it really is a game changer, and they're going to have to look at how they integrate it in order to remain competitive," Muscolino said. "Box is trying to get ahead of the curve from a messaging perspective of being one of the first content services vendors to make an announcement."
Indeed, Box co-founder and CEO Aaron Levie acknowledged that generative AI capabilities won't be available until the second half of this year, and possibly next year.
Customers will be able to sign up soon for a private beta program and initial access to what the vendor is calling Box AI will be granted to select customers in a "design partner program."
"We'll work with select customers on their use cases, make sure that the performance is right and we get the pricing right, and then we'll make it generally available in the coming quarters," Levie said.
Content management use cases
Box will license GPT-3 and GPT-4 APIs from OpenAI and is developing specific applications for the Box platform.
When viewing a document in preview, a user can ask questions and pull insights from it, according to Box.
Applications will include summarizing and searching documents; creating blog posts, web copy and captions; drafting social media copy that meets character limits; generating new product names, ideas and designs faster; and developing engineering specifications and requirements.
"We're going to be incorporating Box AI in some pretty fundamental areas of the product," Levie said. "It's going be a breakthrough in how you can work with your content. It becomes this assistant that can prepare you for anything because inside of your data you now have all the power of AI to turbocharge your business in some pretty exciting ways."
Known for its emphasis on content security, Box said it plans to govern Box AI with built-in permissions that enable customers to control their data. Only approved users will be able to view and interact with files and content they are permitted to access.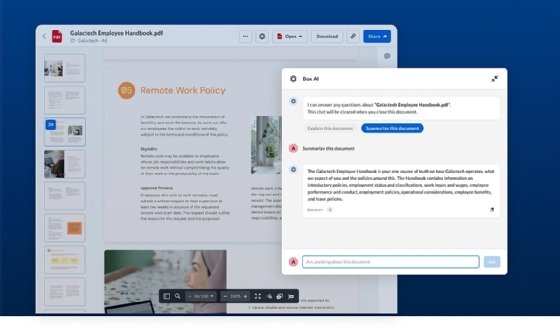 Limiting AI risk
Meanwhile, Levie said Box has been training the large language models to avoid what are known as "hallucinations" in the generative AI field, in which interactive AI chatbots can produce incorrect or irrational information.
The vendor is training the AI models to look at only the data Box provides to answer a specific question.
"It's not trying to make up an answer against its entire knowledge set," Levie said. "It's using its knowledge set as its ability to reason through the data that we're giving it, and so that has dramatically reduced the hallucination challenge."
Even so, IDC's Muscolino noted that such generative AI risks are among the top challenges facing Box as the technology, while growing rapidly, is still in its infancy.
Another problem for content management providers like Box is avoiding copyright problems that could arise if an AI chatbot appropriates copyrighted language, she said.
Levie said Box has anticipated both issues.
For Box, "the other part of it will be getting to GA, getting an enterprise-grade, secure and compliant system generally available before their competitors," Muscolino said.
Shaun Sutner is a journalist with 34 years of experience, including 25 years as a reporter for daily newspapers. He is news director for TechTarget Editorial's information management team, covering artificial intelligence, customer experience and unified communications software, and analytics and data management technology.
Dig Deeper on Content management software and services