Oleksiy Mark - Fotolia
Why EMM is the key to any enterprise mobility strategy
Now is the time to start incorporating EMM into enterprise mobility strategies. Here's why EMM is important and how organizations can take advantage of its benefits.
Enterprise mobility management software has been around for about a decade, but many midsize and smaller organizations still don't use it.
As products mature and SaaS app usage increases, however, now is the time for EMM laggards to get started.
Evolution of an enterprise mobility strategy
Since Apple iOS and Google Android came on the scene, we've seen some organizations think strategically about how mobility could become a competitive advantage or build an entirely new business. These mobile-first pioneers figured out how to make mobility work in the enterprise, including adopting mobile device management (MDM) and EMM. This sometimes involved trial and error, but it was worth it for the business outcome.
At the same time, some businesses had to figure out how to secure and manage mobile devices no matter what, even if it was more about covering their liabilities rather than a business need. As the enterprise began to embrace iOS and Android devices, compliance-bound organizations were obligated to figure out mobile security and management. Enterprise-scale organizations also had to figure out MDM because manual management just wouldn't scale.
But, outside of these first two categories, many organizations have simply approached mobility on an ad hoc basis. Yes, there was some trepidation about letting iPhones and Android devices sync corporate email and connect to the network for the first time. But, soon enough, many of these folks realized the sky wasn't falling. Microsoft Exchange ActiveSync and Wi-Fi were opened up in some form or another, and users found their way to publicly available clients for things like CRM and enterprise file sync and share (EFSS).
Organizations that have been managing mobility on an ad hoc basis -- that is, not using MDM, EMM or any other formal strategy -- have pretty much been fine for years. From a management and security perspective, the fundamental nature of mobile OSes and curated mobile app stores -- as opposed to Windows desktops and software distribution -- has meant that mobility could take care of itself most of the time.
But, by now, even these ad hoc organizations are heavily reliant on mobility. Mobile email, social media, file sync, CRM and other apps are critical parts of most employees' days. Many organizations never came up with a formal enterprise mobility strategy, but they would be stranded without mobility. Don't believe me? Replace users' smartphones with flip phones or old email-only phones, and see how productive they are.
The value of EMM in an enterprise mobility strategy
Since every modern organization relies on mobility, it's time for every organization to consider incorporating EMM into an enterprise mobility strategy. Here's why.
Even if it seems like the mobile devices are taking care of themselves, that's probably not the case. Look at how many help desk tickets are dedicated to configuring mobile Wi-Fi, email accounts and VPNs or finding and configuring other corporate apps. These tasks are all things that IT can automate with basic MDM and EMM features, saving time for IT admins and users.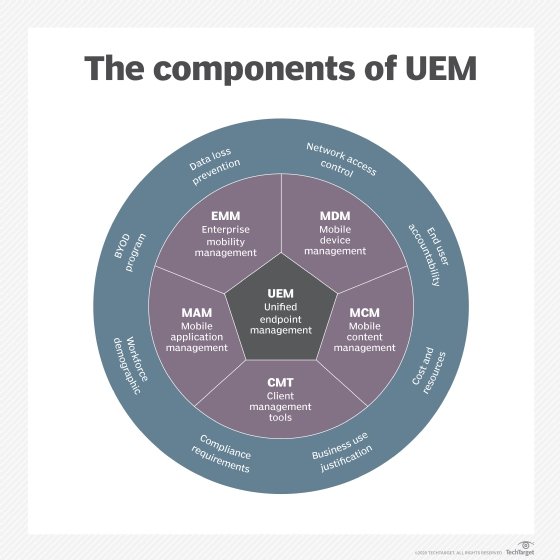 Many organizations now deploy SaaS apps, such as Office 365, EFSS and CRM. To go along with these deployments, organizations are adopting cloud-based identity management platforms to federate user identities to these apps. Today, the biggest trend in securing access to these services is conditional access. This often involves ensuring that end users can only access these apps from managed devices. To make this happen, organizations usually turn to some form of EMM.
Finally, it's time to have better visibility and control. If IT is only concerned about managing and securing user activity on corporate desktops, IT will have less control over a more mobile environment. EMM provides a management console that gives IT admins higher visibility over their organization's devices.
Choose and implement EMM
There's a lot to think about when implementing EMM. Organizations will have to worry about liability and user privacy on BYO devices, for example. The mobility industry, however, is now quite mature.
Thanks to Android Enterprise and other efforts from Google, Android management and security are no longer the Wild West that they once were. It's still difficult to mix work and personal data, no matter who owns the device, but there are a plethora of options, including enterprise email apps, work profiles for Android devices and, soon, User Enrollment mode for iOS devices. Built-in biometric sensors mean that almost all users encrypt their devices already, so there's no need to argue about enforcing basic passcode requirements.
Basic policies, such as Wi-Fi, email, passcodes and app configuration, will go a long way toward mobile productivity and security. And these capabilities are now usually bundled with products that organizations already have, like Office 365 and G Suite.