Definition
enterprise mobility management (EMM)
Enterprise mobility management (EMM) is software that allows organizations to securely enable employee use of mobile devices and applications.
In addition to addressing security concerns, EMM software also helps employees be more productive, because IT departments can provide them with the applications and data they need to perform work-related tasks on mobile devices. EMM software can help organizations with bring your own device (BYOD) environments to manage a range of device types.
EMM grew out of mobile device management (MDM), which focused solely on device-level control and security. After Microsoft's 2015 release of Windows 10, most EMM software providers expanded into unified endpoint management (UEM), which allows IT to manage PCs and mobile devices through a single console.
Components of EMM
EMM typically involves some combination of MDM, mobile application management (MAM), mobile content management (MCM) and identity and access management (IAM).
MDM is the foundation of any enterprise mobility suite. It relies on the combination of an agent app, which is installed on an endpoint device, and server software running in the corporate data center or in the cloud. Administrators use the MDM server's management console to set policies and configure settings, and the agent enforces these policies and configures these settings by integrating with application program interfaces (APIs) built into mobile operating systems (OSes).
MAM provides more granular management and security. It allows admins to set policies for a specific app or subset of apps, rather than for the whole device. Some apps have specific MAM APIs built in, while others rely on the device-level MAM APIs in most major mobile OSes.
MCM enables IT to control which applications may access or transmit corporate data.
IAM features control how, when and where workers may use corporate apps and data, while also offering some user-friendly features, such as single sign-on. Many EMM vendors incorporate identity features such as federation and multi-factor authentication.
These four technologies started off as individual products, but they are increasingly available through larger EMM software suites.
How EMM has evolved
As more organizations embraced enterprise mobility, vendors started to productize EMM, usually by adding MAM or MCM features to their MDM products. An enterprise app store or other self-service portal for application delivery and deployment is also a common component of EMM software.
Microsoft built MDM APIs into Windows 10, which opened the door for EMM software to manage PCs in the same way it manages smartphones and tablets. Apple also allows its MacOS desktops and laptops to be managed in this fashion. All major EMM vendors support this functionality, marking a market shift from EMM to UEM. UEM can manage a variety of endpoints, including internet of things (IoT) devices, wearables and tablets.
Today, most EMM vendors have rebranded into UEM vendors. Citrix, for example, renamed its EMM product, XenMobile, to Citrix Endpoint Management. Vendors such as Citrix and VMware are also incorporating UEM components into digital workspace offerings. Digital workspaces aim to unify the end-user experience even further by bringing applications, virtual desktops, mobile devices and more onto one platform.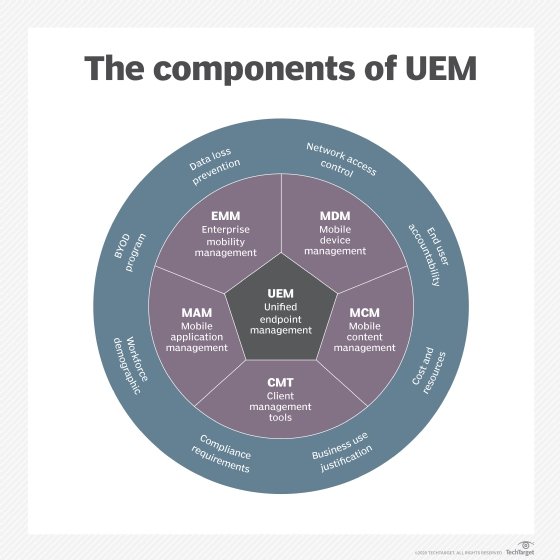 Top EMM software/providers
Industry analysts and research firms vary slightly in their rankings of the top EMM software providers.
In 2017, Gartner named four leaders -- VMware, MobileIron, IBM and BlackBerry -- in its Magic Quadrant, which ranks vendors according to their completeness of vision and ability to execute on that vision. IDC, which ranks vendors based on their capabilities and strategies, named VMware, MobileIron, BlackBerry, IBM and Citrix as leaders.
In 2018, Gartner released the first Gartner Magic Quadrant for UEM. Leading vendors in 2019 included VMware, IBM, Microsoft, Citrix, MobileIron and BlackBerry.
This was last updated in
April 2020
Next Steps
Enterprise mobility management (EMM) is a growing force as the modern workforce becomes increasingly dependent on personal and enterprise mobile devices. Learn what a solid EMM platform can do for a company, as well as how to build a solid business case for EMM. Assess and evaluate the key features a solid EMM platform should possess and how to compare the leading options on the market. Lastly, read these product roundups that detail the leading EMM providers on the market and their offerings.
Continue Reading About enterprise mobility management (EMM)