Understand how UEM, EMM and MDM differ from one another
IT should understand the differences between UEM, EMM and MDM tools so it can choose the right option for its users. Learn about the differences between these tools.
Over the years, endpoint management vendors have built more and more functions into their tools.
Mobile device management (MDM) products were one of the earliest endpoint management tools. Then, enterprise mobility management (EMM) tools entered the market. Now unified endpoint management (UEM) is the newest way to manage devices.
Vendors are the driving forces behind each change, and each product category provides a more granular level of control than its predecessor. This evolution has been part of a clear plan to offer more inclusive management that serves as an all-in-one tool for endpoints.
Here's an explanation of the differences between MDM, UEM and EMM.
Evolving endpoint management tools
MDM
MDM tools were the first of these endpoint management tools to hit the market, and they came shortly after the first smartphones. Like the name suggests, MDM tools exclusively managed mobile devices and provided controls such as configuring email and VPN settings through a remote management protocol. This allowed IT professionals to manage the mobile devices with a normal internet connection rather than having to wait to manage devices over a connection to a VPN or an organization's network.
MDM tools enabled a highly segmented approach to device management in which the apps, OSes and personal data all existed separately from one another. Some organizations even used separate tools, known as mobile application management (MAM) tools, to handle their apps.
EMM

EMM tools combined these two management roles and added in some additional functions to provide an all-in-one tool to manage all the aspects of a mobile deployment. Vendors consolidated their MDM tools with MAM and other tools to reduce the number of products IT needed to manage their mobile users and their devices. They wanted to provide a cohesive management console for all the mobile endpoint management functions.
These additional functions included enterprise file sync and share and identity and access management tools. IT could restrict access to certain data and applications to add another layer of security in case a mobile device was compromised.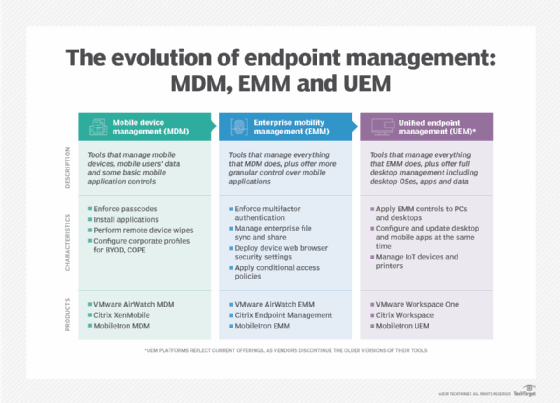 UEM
UEM, EMM and MDM tools can all manage mobile devices, but UEM tools also include the ability to manage other endpoints, such as PCs and laptops, and all the other aspects of these devices, such as user data and desktop applications. Vendors took the first step to improve endpoint management tools with the evolution from MDM to EMM, which provided a single tool for all the mobility management functions. Some organizations saw an influx of mobile users with complex management needs, and they could run one EMM tool to handle all of these functions.
UEM tools were the next step in this evolution; EMM vendors added PC management capabilities to their tools, while PC management vendors added mobile endpoint management functions. On top of the traditional user endpoints, such as PCs and smartphones, many organizations manage IoT devices as well, and UEM tools can accommodate the management of these niche devices.
These additional OSes, devices and apps add a level of complexity to the tools, so organizations will most likely need certain APIs, such as Android Enterprise or BlackBerry Web Services, that allow IT to manage the mobile OSes and desktop OSes in a similar fashion.
Dig Deeper on Unified endpoint management