How to create a mobile device management policy for your org
A mobile device management policy creates several essential benefits for an organization, like security measures and data and application guidelines for corporate information.
An effective mobile device management policy is key for any organization using mobile devices.
Creating an MDM policy is an important step toward protecting an organization's data and IT infrastructure. It helps secure data while providing clarity on acceptable use and privacy standards while allowing end users to be productive on their devices.
An MDM policy should guide how end users can use and manage any mobile devices used within the organization. As part of the MDM policy, IT must consider issues such as acceptable use of mobile devices, security measures, end user privacy and other policies relating to data access and application usage.
When developing an MDM policy, it's important to collaborate with stakeholders across the organization. This helps ensure that everyone is on the same page regarding expectations on how to use mobile devices at work.
What is a mobile device management policy?
A mobile device management policy is an organizational document that outlines rules and procedures for using company issued or personally owned devices. It details which activities are acceptable on the device and any associated consequences for not following the policy.
Organizations can ensure their mobile devices remain secure and compliant by having clear expectations. These guidelines can include restrictions on downloading certain apps and access to sensitive data, password-strength requirements, cellular data access and consumption if using corporate data plans, data protection and other security measures. A comprehensive MDM policy should also include guidelines for devices that are lost or stolen and standards for data removal and device return if an employee leaves. Additionally, an MDM policy can help avoid unexpected tech support needs due to a lack of user understanding or awareness of the policy.
Enforcement of a mobile device management policy is critical to its success, as it ensures that end users follow the established guidelines set by the organization. An effective enforcement strategy will include methods for monitoring user compliance and consequences for inappropriate behavior. For example, if someone downloads unauthorized apps or accesses sensitive data, an IT admin might quarantine them, revoking corporate applications and data access. In some circumstances, they might lose access to certain features or services entirely or, in more severe cases, have the device remote wiped and factory reset to ensure data security. These ramifications can help ensure all users are accountable, discouraging potential device misuse.
A good mobile device management policy can help organizations protect their data, reduce security risks and ensure compliance with organization standards. It also provides users with the freedom to use their devices while understanding the expectations that are in place. By setting clear rules and enforcing them effectively, companies can ensure their employees use mobile devices responsibly while protecting organizational resources.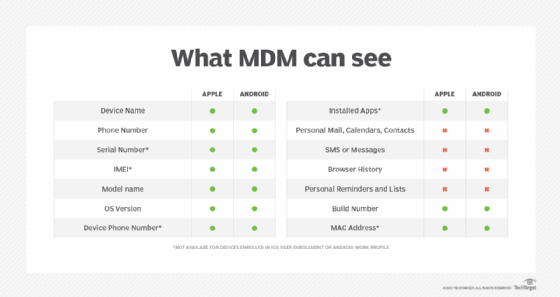 Common types of MDM policies
Organizations can use several different types of MDM policies, but not every approach is well-suited to every organization.
Access control
Identity and access management (IAM) policies and tools set the parameters for users to connect to company networks and access data on mobile devices, ensuring that only authorized personnel can access sensitive data or systems. Additionally, this may cover cellular data usage and consumption.
Data security
Data security policies set the rules around how corporate data should be stored, accessed and managed on mobile devices to prevent unauthorized use or information transfer. Companies can set limits and restrictions on what types of data and applications can be stored and installed on employee devices, what applications are allowed to access and share that data, and can enforce encryption and PIN code access to secure data.
Software update
These policies help IT departments ensure mobile devices remain up to date, secure, and running smoothly and include rules about how often IT should update device software.
Device management
Device management policies help IT determine and enforce security measures that protect the device's hardware and operating system. These security measures could include implementing encryption, PIN code access and certificate-based authentication, as well as limiting features and capabilities of a device, like removing access to things like iCloud backup or camera use, based on the device's use case.
Privacy policies
These policies define the rules around collecting and using user data from personal or corporate devices. Privacy policies are important as they show users how the corporation is accessing and monitoring data on their devices.
By creating and enforcing MDM policies, IT departments can ensure data security, device management, access control, end-user privacy and compliance with company regulations. Doing so is essential to protecting corporate systems and information while allowing employees to work efficiently.
Importance of an MDM policy
Organizations can reduce risks associated with unauthorized access or misuse of company resources by setting clear expectations around device usage. MDM policies provide guidelines on how employees should use corporate and personal mobile devices and determine what activities are permitted while connected to corporate applications and networks. They also include rules and procedures for the secure storage and transmission of confidential information, such as passwords and sensitive customer data, end-user privacy, device management, security and access.
5 steps to create an MDM policy for the organization
While every organization will want to customize their MDM policy to suit individual needs, there are five broad steps organizations can follow for success.
Start with a clear purpose and scope. Before writing the policy, it's important to ensure everyone involved in creating and enforcing it understands its necessity and intended scope. Make sure to consider any applicable local laws and regulations as well.
Identify key stakeholders. Identify who will oversee the policy, who will be affected by its implementation and any other stakeholders who should consult on the process.
Develop rules for mobile device usage. Create regulations covering all aspects of mobile device usage, including the standard MDM policies and details on acceptable use, security requirements, data handling procedures and more.
Establish an enforcement process. Develop a clear plan for addressing policy violations and what disciplinary action to take if necessary.
Implement, review and update. After creating the MDM policy, ensure leadership communicates its specifics to everyone affected. Additionally, periodically review and update the policy to ensure it effectively protects the business or organization's interests.