Getty Images
5 steps to ensure HIPAA compliance on mobile devices
IT must implement several measures to comply with HIPAA, and mobile devices can add further complexity to this process. Follow these important steps for mobile HIPAA compliance.
Complying with HIPAA requires diligence on the part of IT administrators, and mobile devices can make this even more of a challenge.
HIPAA is a comprehensive federal law that sets standards for protecting confidential data related to a person's health. HIPAA standards apply to all protected health information (PHI), regardless of how it is stored, transmitted or accessed. This includes PHI on mobile devices, such as smartphones and tablets, or electronic PHI. Following HIPAA standards ensures confidentiality when using any form of electronic media.
HIPAA violations can result in hefty fines and other penalties, so organizations must take every necessary step to properly handle PHI. This is especially true when dealing with mobile devices, which can be an easy target for malicious actors. Healthcare providers must regularly audit their systems and implement strong security measures to protect sensitive information and comply with HIPAA regulations.
Mobile devices are useful tools that can help clinical staff make quicker decisions and provide better care. But, while they offer access to critical information on the go, they also create new risks. Data security is a major concern for mobile devices because they are at greater risk of loss or theft.
Administrators must guarantee data security when using mobile devices for healthcare-related activities. The key is to stay aware of emerging technologies and threats. Additionally, develop policies and procedures for mobile device use, and tailor those policies to the organization's needs. Organizations can also work with a consultant to make sure they've taken all possible steps to secure their data and remain compliant.
HIPAA compliance for BYOD vs. corporate-owned endpoints
It's also important to keep in mind that BYOD and corporate-owned mobile devices come with different challenges. IT teams need to build out security and management controls for both use cases. Plus, in the case of a compliance audit, organizations must prove that they have the policies to ensure regulatory adherence.
HIPAA violations can result in hefty fines and other penalties, so organizations must take every necessary step to properly handle PHI.
With corporate devices, organizations have complete control and can enforce the highest security controls and device monitoring. This can include complex passcode policies, full wipe and reset capabilities, always-on VPN and more.
With BYOD, the user has control over the device, and the organization must balance user privacy and security. Depending on how a device is enrolled, organizations might lose commands such as full device reset. However, admins can still deploy managed applications, perform selective wipes and enforce other critical security controls.
BYOD and corporate-owned devices each come with distinct challenges, but HIPAA compliance is achievable for both ownership scenarios. With the right security measures in place, IT teams can protect their sensitive data and stay compliant.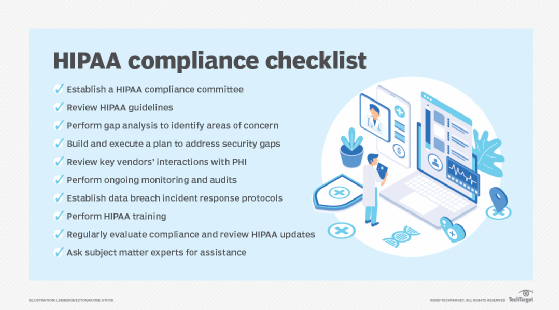 5 steps to ensure HIPAA compliance on mobile devices
Organizations should do a few things to maintain HIPAA compliance on mobile endpoints. Many best practices come down to how IT manages enterprise devices and approaches data security overall. In addition to ensuring their own regulatory compliance, organizations should vet any third-party service providers they work with. Confirm that providers such as app developers or cloud storage platforms also comply with HIPAA guidelines to prevent unauthorized access to sensitive patient information.
The following tools can help IT ensure mobile devices that access PHI are HIPAA-compliant:
Mobile device management (MDM) to control and manage security and information on devices.
Mobile threat detection to help prevent phishing and malicious attacks.
Endpoint security tools.
Network access control systems.
Authentication systems and identity and access management (IAM) services.
By taking steps to protect mobile devices, organizations are able to provide a safe and secure environment for handling sensitive information. The most important practices to apply include data encryption, strong authentication, clear policies, regular auditing and application management.
1. Ensure devices and data are secure and encrypted
The first step to ensuring HIPAA compliance on mobile devices is to secure the device through encryption. Encrypting mobile data prevents unauthorized access and protects patient information. IT teams should implement MDM for BYOD and corporate-owned endpoints with strong encryption protocols for the following:
Data transmission and storage.
Regularly monitoring systems for potential security issues, OS patching and updates.
Enhanced security and networking policies and tools to prevent malicious attacks.
2. Implement strong authentication controls
Organizations must have strong authentication measures in place so unauthorized users cannot access confidential data. One good strategy is to set up an IAM framework and look into authentication protocols, such as single sign-on and two-factor authentication.
It's also important to enforce secure passcode policies. Most newer devices are encrypted by default, and enforcing a passcode ensures that only approved users can access the device.
3. Establish clear device usage policies
To make sure that users have the resources and knowledge to remain HIPAA-compliant, admins should create detailed policies around the use of mobile devices. Provide specifics, such as who can access these devices, how often users must update them and which apps users can install on them.
Keep in mind that IT often needs to build policies for BYOD and corporate endpoints. Many organizations have a mix of both types of users, and securing both user bases is crucial. In addition to policies around corporate-owned devices, organizations should consider developing a BYOD policy. This can help ensure that staff members who use their personal devices for work purposes still follow HIPAA regulations.
A BYOD policy should include clearly defined rules about using the device. The policy can require secure password protection, restrict access to specific programs or applications, and specify when the device cannot be used while handling PHI. Organizations should regularly train staff on proper mobile device usage and enforce relevant policies.
4. Conduct regular security audits
Organizations should also know the potential risks of storing PHI on mobile devices and have processes to monitor compliance with HIPAA requirements. Admins should enforce regular audits to ensure that all devices used by staff comply with regulations and relevant policies. A formalized response plan for dealing with potential data breaches is vital as well.
5. Carefully manage applications
Lastly, IT must ensure that application data is digitally sandboxed to control how data can be accessed, viewed and shared. Admins can manage apps through MDM. Both iOS and Android support managed applications, although they handle them differently.
On Android, admins can use MDM to push managed Google Play apps to devices housed in their own container. A briefcase symbol is visible on the application icon to inform users that it is a managed app with extra security controls.
On iOS, admins can push managed applications from MDM to devices. If a user already has the same app installed on the device, MDM can ask the user for permission to manage it. Once the user approves, MDM can enforce data loss prevention (DLP), selective wipe and other security commands for the app.
Additionally, Apple introduced Managed Apple IDs, which admins can use to enroll a device into MDM and create its own container with sandboxed data. The organization then has visibility and management over that data.
DLP policies are another application management feature to consider. With MDM, admins can configure DLP policies to control how managed apps can interact with other apps and data within the OS.
Healthcare institutions must also ensure that any apps on the device comply with HIPAA regulations. This can include checking that any apps in use are managed by MDM and applying DLP policies for information security.
Many apps have additional application-based controls for enhanced data security. One example is Epic Rover, which admins can control the timeout session for. Suppose a user has not opened the app for a period of time. In that case, the app can auto log the user off, ensuring that application data is secure and cannot be accessed without reauthentication. Stacking MDM policies with app-based controls can give admins a more secure approach to HIPAA compliance.